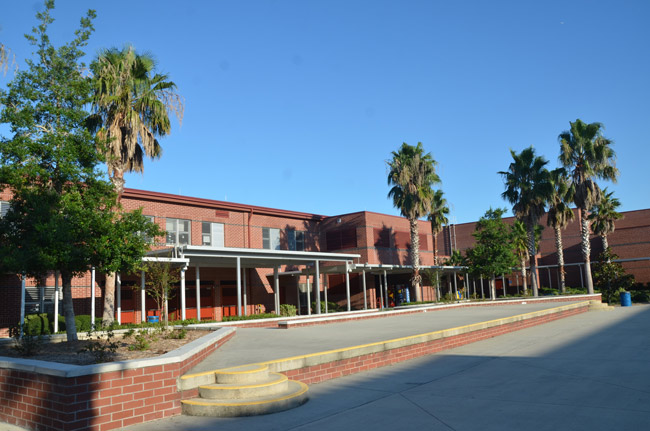 Last Updated: 3:26 p.m.
It is no longer going to be acceptable, permissible or excusable for students to so much as joke about guns in school. The consequences for doing so will be severe, judging from officials' reactions to recent such incidents in Flagler and Volusia counties (and indeed across the country), the latest taking place this morning at Matanzas High School and resulting in the arrest of a student on a felony charge.
At about 10 this morning, Matanzas High School Dean of Students Thomas Wooleyhan contacted John Landi, the school resource deputy assigned to Matanzas, and told him of an email he'd received about a student claiming he was going to shoot up the school.
Wooleyhan went to the student's classroom and pulled out the student in question: Raul Hernandez, 14. Wooleyhan took the student to his office for an interview, asking him about the comments.
Hernandez was doing poorly on a math assignment, according to his arrest report. He was frustrated. He allegedly admitted to making the statement about shooting up the school, but said it had been a joke.
Just as using a toy gun in a robbery or an assault does not alter the fact that the assailant is charged the same way as if she or he were using an actual weapon, it does not matter whether the threat to shoot up or bomb a school is made in jest: it is taken at face value, and treated as such under the law: it's a felony. That's why Transportation Security Administration officers have no tolerance for wise-cracking travelers at security checkpoints and treat inflammatory jokes uttered there as if they are actual threats.
In his interview with the dean of students, Hernandez stressed that he was not being serious. The deputy read him his Miranda rights and placed him under arrest.
Asked if he had any access to guns at home, Hernandez said no.
The incident took place in Lillian Elliot's classroom. The teacher said four students had heard Hernadez's remark. All four students, ranging in age from 14 to 16, filled out written statements about hearing the comment, but all four also said that they knew Hernandez was kidding around.
"We have zero tolerance for this type of behavior and we will not allow it in our schools," Sheriff Rick Staly was quoted as saying in a release on the incident issued early this afternoon. "We have a commitment to keeping our students and schools safe and we will continue to investigate all threats and file criminal charges when appropriate." In an interview with FlaglerLive on Monday, Staly said every threat, whether in jest or not, is being investigated, at great cost to the Sheriff's Office, and will continue to be investigated, suggesting that the severity of the consequences are also intended as a signal to all other students to be on guard against errant, threatening statements.
The incident and the way it was handled also reflects the degree to which schools and school officials are still on edge after the massacre in Parkland on Valentine's Day that left 14 students and three adults dead at Marjorie Stoneman Douglas High School.
"We have made it clear to Sheriff Staly that we will not tolerate threats on or to our campuses," Superintendent Jim Tager said in the same release (issued, ironically, as Tager was in a closed-door session with the Flagler County School Board to discuss security measures at schools.) "These are not joking matters and we stand with our law enforcement partners in ensuring all students, teachers, and staff can learn and work in a safe environment."
Hernandez was booked at the Flagler County jail, then was ordered released to home detention with a first appearance hearing Wednesday in juvenile court in Daytona Beach.
Last week, deputies investigated a similar incident at Imagine School at Town Center, though it did not result in the arrest of the student. The student at Imagine is 11 and had threatened to shoot a teacher and a student, according to a sheriff's incident report. The student had been building something with plastic hourglasses in class when the structure collapsed, and another student told him he was "insane" and "don't shoot." The students then started joking about who they'd shoot in school. The student was removed from school for the rest of the day.
Any suspicious activity should be reported to the Flagler County Sheriff's Office immediately by calling 9-1-1 for an emergency or 386-313-4911 for a non-emergency. Tips can be submitted through Crime Stoppers at 1-888-277-TIPS (8477) or by emailing [email protected]