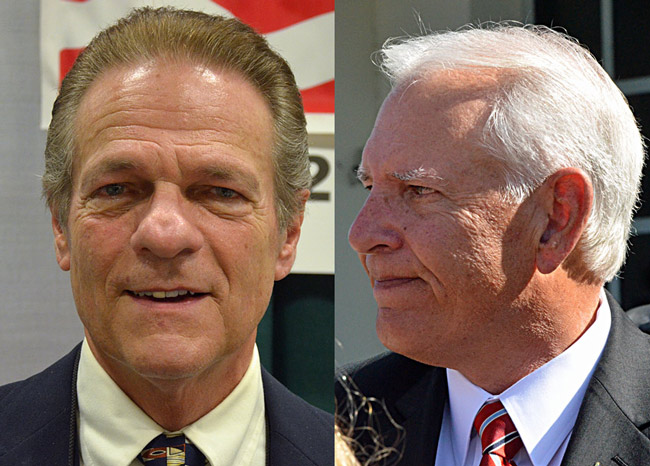 Anne-Marie Shaffer, a local member of the Flagler County Republican Club and the Ronald Reagan Assembly of Flagler County, filed suit last week against fellow-Republican Flagler County Sheriff's Office candidate John Pollinger to boot him off the ballot as a Republican in the Aug. 14 primary. Shaffer until two weeks ago was the campaign manager for Ray Stevens, also a Republican candidate for sheriff.
Shaffer claims Pollinger was not a registered Republican for 365 days prior to filing for office as a Republican, as Florida law requires, because he was—until January—still a registered Democrat in new Jersey, where he lived until 2008. Pollinger moved to Palm Coast that year, and registered first as an independent, then as a Republican, beginning on Sept. 7, 2010, when the supervisor's office issued him a registration card as a Republican. Pollinger says his New Jersey registration was nullified the moment he registered in Florida. His opponents don't buy that argument, saying he knew he was still a registered Democrat in another state when he claimed to be a Republican here.
Stevens last week said Shaffer resigned because "she is passionate about this Pollinger issue and she wants to take action independent of my campaign." Stevens has support in the Ronald Reagan Assembly but hasn't yet been officially endorsed. He is clearly supportive of her efforts. "It is my hope that in order to preserve the integrity of this upcoming primary," Stevens said, "that all the candidates are properly and legally qualified to appear on the ballot." Pressed for more clarity on the degree of his involvement in efforts against Pollinger, Stevens stuck to a series of "no comment." Shaffer did not return several phone calls.
Stevens and Pollinger are the two Republicans challenging two-term incumbent Sheriff Don Fleming, who is himself contending with several controversial issues that have put his leadership in question. Fleming's vulnerability makes the Republican contest a far more competitive battle: if Stevens can get Pollinger out of the way before the primary, his chances of victory in August rise dramatically. Stevens claimed early in the race that Pollinger was a Fleming plant to divide the vote and let Fleming take the spoils. Pollinger's lavish spending on the race, most of it from his own money, suggests otherwise.
The suit, filed in Flagler County Circuit Court by the pricey father-son team of Jon and Jake Kaney of Ormond Beach's Kaney & Olivari (formerly of Cobb Cole in Daytona Beach), seeks not only to have Pollinger declared not qualified to appear on the Aug. 14 ballot as a Republican candidate for sheriff, but also to enjoin Flagler County Supervisor of Elections Kimberle Weeks from placing Pollinger on the ballot.
Pollinger, in an interview last week, knew that the suit was coming. He was not changing course. He's retained Palm Coast attorney Michael Chiumento III, who's already been in a duel of emails with Weeks.
The legal argument revolves around legal minutiae that most people never have to deal with, even as they abandon voter registrations in previous states—and never bother to inform their former state of their change of party, but continue to vote without a problem in their new state: who is responsible for notifying a previous state of a voter's registration in a new state.
The Shaffer suit places that responsibility on Pollinger. But the law is not on Shaffer's side, at least not in that regard.
Florida law clearly states that "Within two weeks after approval of a voter registration application that indicates that the applicant was previously registered in another state, the department must notify the registration official in the prior state that the applicant is now registered in this state." The department in question is the Department of State, which handles state elections issues.
Florida law is just as clear regarding changes in party affiliation: "The voter registration official shall make the necessary changes in the elector's records as soon as practical upon receipt of such notice of a change of address of legal residence, name, or party affiliation."
New Jersey law also places the burden on New Jersey county officials, not on the individual voter, to ensure that the voter rolls are up to date. Individuals may, of course, inform New Jersey that they're no longer registered there, and at that point it's New Jersey's responsibility to comply with the purge. But most voters who move don't do that. New Jersey law recognizes the fact. New Jersey's equivalent of the supervisor of elections is required by law to remove a voter's registration from the rolls when, among other reasons, the voter has failed to respond to a periodic "confirmation notice" that he's still a legal resident of that state. The confirmation notice appears to place the recorded burden of proof on the elections office, not on the individual, though that law is less clear than Florida's, and would have no bearing at all in a Florida court of law. It only goes to Pollinger's responsibilities as a voter.
Where the Shaffer case has stronger ground is Florida law's quite clear requirement that "any person seeking to qualify for nomination as a candidate of any political party shall, at the time of subscribing to the oath or affirmation, state in writing: 1. The party of which the person is a member. 2. That the person has not been a registered member of any other political party for 365 days before the beginning of qualifying preceding the general election for which the person seeks to qualify."
In this case, Pollinger claims he was not a member of another party since his 2010 voter registration as a Republican proves it. But Shaffer claims he was a member of another party because Pollinger's own letter to New Jersey officials, requesting that he be removed from New Jersey's voter rolls, was dated January 2012 (Shaffer obtained the letter in a public record request).
Chiumento, separately from the Shaffer lawsuit, placed the responsibility of formalizing Pollinger's registration status on the supervisor's office in Flagler and election officials in New Jersey, not on Pollinger. In a May 7 letter to Weeks, the Flagler elections supervisor, Chiumento blamed Weeks for bringing "unnecessary scrutiny surrounding" Pollinger's qualifications by determining that he was ineligible for the Republican ballot. In fact, Weeks had not made that determination, though she had conveyed to Pollinger a state elections attorney's opinion that Pollinger could either run as an independent or have his status adjudicated by a judge. Pollinger decided to do neither, but instead to remain on the ballot as a Republican—and invite the third option that was presented to him: a legal challenge.
Shaffer obliged.
The case has rippled well beyond the question of Pollinger's registration. Weeks, for example (a Democrat facing what's likely to be a tough battle to stay in office, with four Republicans vying to replace her), made clear to Chiumento , almost in so many words, that she needs yet another controversy to shadow her re-election campaign like a hole in the head: "May I remind you this is not only election time for Mr. Pollinger," Weeks wrote Chiumento on May 11, "but for myself as well, and I do not appreciate being dragged through the mud by Mr. Pollinger or your office for the appearance of impropriety, bullying or a personal vendetta against Mr. Pollinger. I can imagine Mr. Pollinger's frustration; however, resolving this issue should be at the top of his priority list instead of engaging a blame war against me or my office and others."
The Shaffer action is also the second lawsuit in four months brought by one faction of Flagler County Republicans against another, with members of the insurgent Ronald Reagan Assemblies powering both suits against members of the more established Republican Executive Committee. In February, more than three dozen individuals were named in a suit against the REC. The suit claimed the REC improperly denied them membership. A circuit judge ruled in April against inducting the snubbed members, pending the REC's own election of new members next month.
"I know nothing about it other than what I read about it in the papers," Bob Hamby, who heads the Ronald Reagan group in Flagler, said Monday evening of the Shaffer suit. "I am supportive of not having a person who was a registered democrat run in the Republican primary yes I am supportive of that."
Of Stevens' candidacy, Hamby said: "There's no backing at this stage. We will be doing our endorsement meeting in July. It'll be by a vote of all members. There's not one or two members who decide who we are backing. I'm sure there are a lot of members who are backing Ray but as an assembly we have not made the endorsements at this time. " He continued, regarding Pollinger: "This is my own personal feeling about Pollinger, not the assembly: he obviously knew in January that he was still registered, and if he did not, I do not feel that he's qualified to be sheriff if he's claiming to be ignorant of the law."

Relevant laws discussed in this article:
Florida Statute 97.073 Disposition of voter registration applications; cancellation notice.—
(1) The supervisor must notify each applicant of the disposition of the applicant's voter registration application within 5 business days after voter registration information is entered into the statewide voter registration system. The notice must inform the applicant that the application has been approved, is incomplete, has been denied, or is a duplicate of a current registration. A voter information card sent to an applicant constitutes notice of approval of registration. If the application is incomplete, the supervisor must request that the applicant supply the missing information using a voter registration application signed by the applicant. A notice of denial must inform the applicant of the reason the application was denied.
(2) Within 2 weeks after approval of a voter registration application that indicates that the applicant was previously registered in another state, the department must notify the registration official in the prior state that the applicant is now registered in this state.
New Jersey Statute 19:31-15  Removal of name from Statewide voter registration system; change of residence; confirmation.
19:31-15.  a.  Upon receipt by the commissioner of registration of a county from a registered voter of that county of a request that the name of the registrant be removed from the Statewide voter registration system, the commissioner shall so remove the registrant's name.  Notice by a registered voter to the commissioner of registration of a county that the registrant has ceased to reside in the State shall, for the purposes of this subsection, be deemed a request for removal of the registrant's name from the Statewide voter registration system.
b.The commissioner of registration of any county may agree with the United States Postal Service or its licensee to receive information provided by the Postal Service concerning the change by any Postal Service customer of that customer's address within the county.  If it appears from information so received that a Postal Service customer registered to vote in the county has moved to a different address, then (1) if that address is within the county, the commissioner shall cause the registration records of the registrant to be corrected accordingly and shall transmit to the resident by forwardable mail a notice of the change and a postage prepaid, pre-addressed return form by which the registrant may verify or correct the address information, or (2) if that address is not within the county, the commissioner shall undertake the confirmation notice procedure prescribed under subsection d. of this section to confirm the change of address.
c.The commissioner of registration of a county shall cause the name of a registrant to be removed from the Statewide voter registration system if the registrant (1) confirms in writing, by return of a confirmation notice as prescribed under subsection d. of this section or by other means, that the registrant has changed residence to a place outside the State, or (2) has either not notified the commissioner or failed to respond to a confirmation notice as so prescribed and has not, in any election during the period beginning on the date on which the commissioner sends the confirmation notice to the registrant and ending on the day after the second general election for federal office following that date on which the notice is sent, (a) voted, or (b) appeared to vote in any county and, if necessary, correct the official record of the registrant's address.
Other than as provided under subsection a. of this section, the name of a registrant shall not be removed from the Statewide voter registration system on the ground that the registrant has changed residence except as provided by this subsection.
d.A confirmation notice sent to ascertain whether a registrant continues to reside at the address from which that registrant is registered to vote shall be a postage prepaid and pre-addressed return card, sent by forwardable mail, which shall include:  (1) space on which the registrant's current address may be entered; (2) the statement "To any voter who continues to reside at the residence address to which this notice is addressed or who no longer resides at that residence address but continues to reside in……………… (name of county):  please mail or personally deliver this postage prepaid card to the commissioner of registration to whom it is addressed not later than…………….. (calendar date of the 21st day preceding the next election to be held in the county).  If you do not return this card by that date, then at any election held subsequent to that date and on or before…………….. (calendar date of the day after the second general election for federal office following that date), you may be required at the polls to affirm or confirm your address before you are permitted to vote, and if you do not vote in an election during that period, your name will be removed from the registry of eligible voters."; and (3) a statement, the text of which shall be prescribed by the Attorney General, setting forth the means by which a registrant who has changed residence to a county different from that in which is located the residence to which the notice was originally addressed may retain the right to vote.  e.The commissioner of registration shall correct the registry list of eligible voters in accordance with change of residence information obtained in conformity with the provisions of this section.