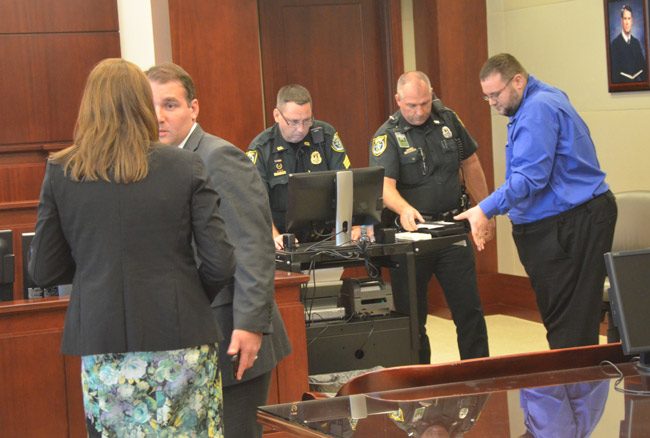 Eighty days after he was released from prison, and 78 days or so after he repeated some of the very offenses that had led to his felony conviction on abusing a child and misusing a minor's identity Michael Stavris is going back to prison, this time for 15 years, followed by five years' sex offender probation.
The severity of the punishment signals a turn-around for a court that had previously been willing to give Stavris the benefit of the doubt and a chance at rehabilitation.
Stavris, 34, had been released from prison just last Feb. 11 after serving less than three years on a three-year sentence for impersonating his ex-girlfriend's minor daughter on Facebook and using the Facebook profile to solicit sexually explicit images. He claimed he was trying to protect the girl (and made bigoted allegations along the way). He was arrested in 2014. At his sentencing in 2016, his lawyer and Stavris himself pleaded with the court to go easy on him because of his years as a Bunnell cop.
The court did go relatively easy despite other improprieties on Stavris's part. But no sooner was he released than he was back at his old habit, replicating the very same Facebook methods and within days getting charged with a probation violation, fraudulently misusing the identity of the same minor girl, a second degree felony, and stalking. Even before the additional charges were slapped on to his probation violation, his probation officer in his report to the court stated that Stavris "appears to lack the restraint necessary in complying with the conditions of his probation. He appears likely to re-offend in a similar manner for these charges that he is currently serving a probation sentence. Although having been sent to prison for the beginning portion of his current sentence, he was not deterred from immediately resuming creating and maintaining false online media profiles."
Circuit Judge Terence Perkins's sentence today reflects the same loss of patience with a man the court had previously been readier to indulge. The judge could have lessened the sentence by imposing concurrent prison terms. Instead, he imposed consecutive terms. Stavris himself saw the futility of contesting the case against him and pleaded no contest to all the new charges. Upon release, he will be barred from internet access, including social media (assuming such things exist in 2034), no volunteer work around children, and no contact with his victims. He must also undergo polygraph examinations at his expense, mental health treatment, and other standard conditions associated with sex offender probation.
"We consider this resolution a success and I'm glad to see that Stavris will go back to prison for a long time," Sheriff Rick Staly, whose detectives helped close the case for the second time in five years, said. "This defendant has been preying on juveniles and women since 2011 and didn't learn his lesson even after spending nearly three years in prison the first time, so it's time to go back where he can't prey on children. This was a combined effort between the Flagler County Sheriff's Office, the Florida Department of Probation, the 7th Circuit State Attorney's Office, and the Florida Department of Law Enforcement."
The case was prosecuted by Assistant State Attorney Melissa Clark. Stavris previously was represented by Aaron Delgado, a private attorney in Daytona Beach who, in 2016, had argued for probation only for his client. This time Stavris was represented by Assistant Public Defender Regina Nunnally.
As has repeatedly been the case with former law enforcement officers, Stavris's booking information never appeared on the sheriff's jail site. His image may be left out. His booking information may not be. Previously alerted to the fact, sheriff's officials have said the glitch was being worked on and would be resolved. It has yet to be.