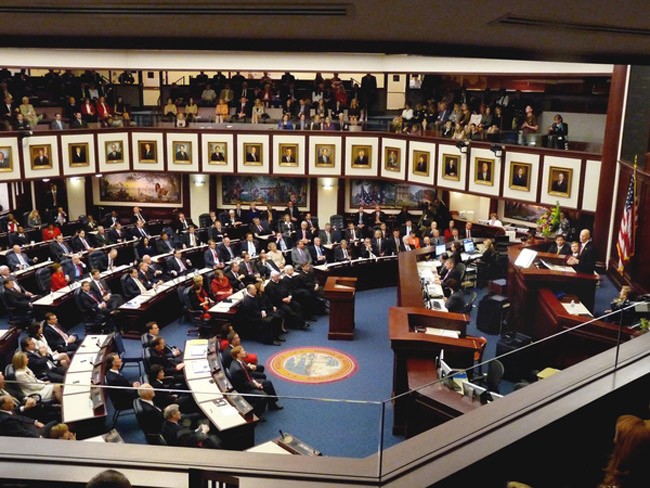 Calling on something he termed "Florida exceptionalism," Gov. Rick Scott used the annual State of the State address Tuesday to try to reinvigorate his legislative agenda after a difficult opening to his second term.
During the 21-minute speech, Scott pushed lawmakers to adopt his proposals to slash taxes, hold down the cost of higher education and boost public education spending to the highest per-student level in state history.
"Now that our economy is thriving, it's time to make major investments in education," Scott said. "Let's not squander our budget surpluses on special interests. Our budget should absolutely reflect the principles we campaigned on. Or in other words, we should do exactly what we told voters we would do."
Scott did not unveil new proposals in the speech which, after the introductions, was interrupted almost 40 times for applause. But as he has done in the past, the governor introduced an overarching theme to tie together his agenda. He used "dream" or some form of the word 19 times in the address.
"Florida's long been a place where dreams come true. But this is not just our past, it's our future. … We want more people to chase their dreams in the great state of Florida," he said.
The annual speech also gave Scott a chance to change the subject after a bruising two months that featured questions about the forced resignation of the state's top law-enforcement officer and speculation that Scott's influence might be waning as lawmakers begin looking past the term-limited governor.
Some of Scott's goals enjoy broad support, including his call to increase education funding. There is also agreement, at least among the Republicans who control the Legislature, on the need for further tax cuts, though the amount of those cuts and which taxes are slashed might differ.
The governor's call to "keep cutting taxes" was one of his best applause lines, and House Speaker Steve Crisafulli, R-Merritt Island, said he would like to lower taxes by at least $500 million, despite questions about whether the state could lose $2 billion in health-care funding from federal and local sources.
"I'd love to surpass the $500 million cut that we had last year," Crisafulli said. "That would be my goal for the House. Obviously, things happen, and we'll just have to see how things play out over the next several weeks."
Democrats, unsurprisingly, were critical of Scott's remarks. Senate Minority Leader Arthenia Joyner, D-Tampa, took issue with Scott's frequent references to dreams coming true in Florida.
"Dreams are not coming true for over a million Floridians who are blocked out of affordable health care," she said, referring to Republicans' refusal to expand Medicaid despite Scott's previous, tepid support for the plan. " … Dreams die when people get sick and can't get health care. One of the top issues facing this state is providing health care for 1 million people who don't have it, and the governor didn't even mention it."
Sen. Dwight Bullard, D-Miami, expressed concerned about Scott's push for more tax cuts.
"The idea of handing those (dollars) out in tax cuts every year means that things like teacher's salaries, more police officers, better-supported judges, better-supported public defenders and state attorneys, suffer the consequences," Bullard said. "We have to be about the business of protecting the revenue streams that we have and not losing sight of the good that government can do. Government should be in the business of helping and protecting people, and not be in the business of being shrunken to the point that it suffocates."
–News Service of Florida