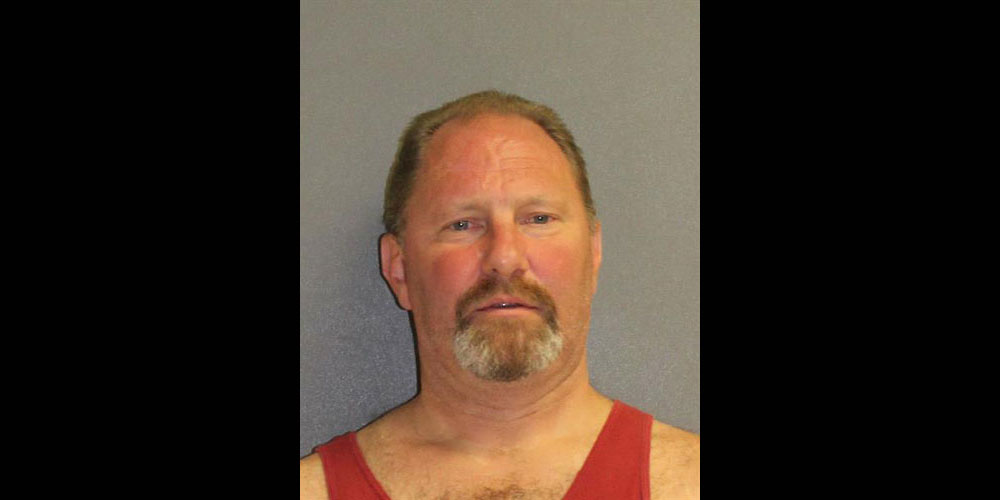 Last Updated: 9:39 a.m. Friday
What started as a potential domestic violence situation at 6 Welling Place in Palm Coast in mid-afternoon today turned into a nearly 8-hour stand-off between 51-year-old Mark Francioni, who had barricaded himself in his house, with firearms, and the Flagler County Sheriff's Office's Crisis Negotiating Team. Other occupants of the home were able to exit safely.
Francioni was eventually arrested just after 8:30 p.m. "The suspect was just apprehended," Sheriff Rick Staly said in a brief video from the scene this evening. "He would not cooperate, he would not negotiate with us. Frankly, he was a jerk. And he'd had too much to drink and he kept going up and down and making things worse."
The situation started in early afternoon, shortly after 1 p.m. The situation was reminiscent of a stand-off between the Crisis Negotiating Team and other sheriff's personnel and a 43-year-old woman in an upscale Palm Coast Plantation home on April 10. That standoff lasted seven hours and ended with the woman exiting the house after smoke bombs were pitched indoors, and the woman fatally shooting herself.
The Palm Coast Plantation incident had also begun as a domestic incident involving other family members who for a time feared for their safety. In today's incident, Francioni had been having a dispute with a woman. He was twice arrested in Volusia County, once on a domestic violence charge. He has no record in Flagler County.
The woman is heard in the 911 call telling the dispatcher, "he's got guns." She described two handguns and a rifle. Francioni had allegedly threatened to shoot her "in the back of the head," though he didn't have a gun on him when he did so. "They're in the closet." She referred to Francioni as her husband in a heavily redacted recording of the 911 call released by the sheriff's Office. The woman works from home. Francioni had picked up her keyboard and slammed it. She said she and her husband had been separated for two weeks, but she was trying to help him find a place to live. "It's just escalating," she said.
"I'm working from home, not saying anything, and he just comes in and just freaks out, gonna put a bullet in my head," she said. Both work for the same company. She didn't want to make trouble for him, so she did not report previous violent incidents, she told the dispatcher.
"He just came in, was like, do you want a sandwich? and I said no," she said. "And then he's like, well what are you hiding pictures on your computer for? I'm like, I'm working. And then that's how it all started."
"Fortunately the wife was able to escape and called us about 1:30 this afternoon after being held all night, with him threatening to kill her," Staly said. "He has restraining orders and so forth that he's not abiding by."
At around 5 p.m., the Sheriff's Office issued a notice on its Facebook page noting the "increased police presence at a W-Section residence due to a domestic disturbance. All people who were inside the residence, except for the suspect, have safely left the property." It isn't clear whether there were any other individuals aside from the woman and the man. The Crisis Negotiating Team was in communication with the man inside.




The house is part of a cul-de-sac, with residences on either side and two nearby residences to its north, along Wellwater Drive. There were no apparent evacuations, with the agency following protocols followed during the Palm Coast Plantation incident, when neighboring residents were asked to shelter in place and others asked to avoid the area.
The Sheriff's Office deployed numerous personnel, including members of its SWAT team, K-9 units, and a heavy-armored vehicle, and for a time Flagler County FireFlight, the emergency helicopter, appeared to be in the area.




"So as the negotiations continued, with my amazing team, he started deteriorating because he'd been drinking so much," Staly said. "So we took our BearCat and we went through his front door, and then we brought him out without any further injuries. So I appreciate the neighborhood understanding why it takes so long. We try to resolve these peacefully. But this guy is just an absolute jerk and wouldn't cooperate, so he got paid a visit by our SWAT team." Staly said the man will need a new front door, but won;t have to deal with that from the county jail. (The house is homesteaded by someone else.)
Francioni was charged with Battery with a prior conviction, a third-degree felony, and aggravated assault with a deadly weapon, also a third-degree felony. An unexpired injunction dating back from 2010 meant that he was barred from possessing any weapons. He was not charged in that regard.

Reader Interactions