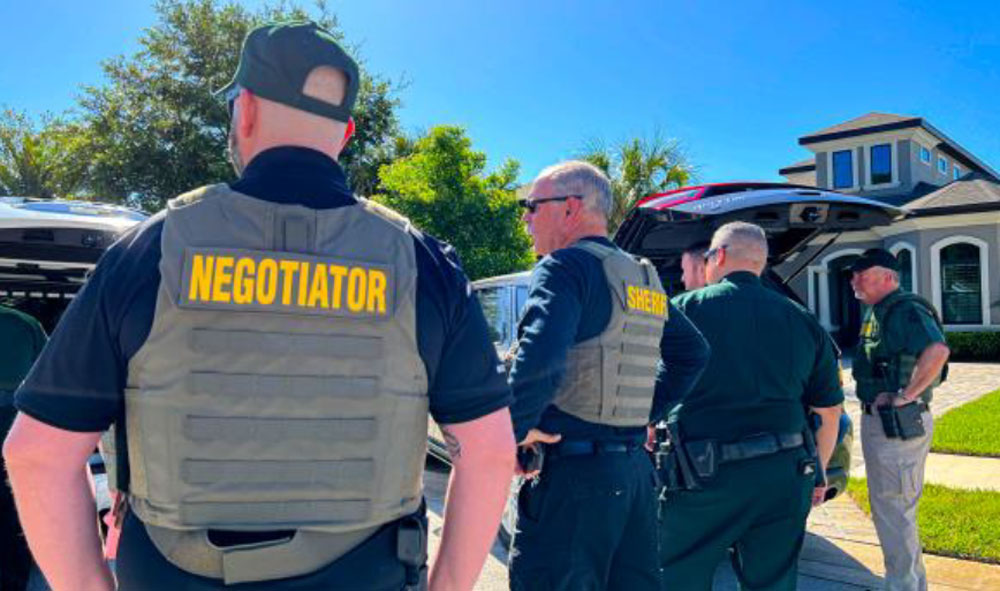 Last Updated: 5:50 p.m.
Julie Ann Demers, a 43-year-old woman who held Flagler County Sheriff's deputies, including units of the SWAT team, in a seven-hour standoff shot herself after she exited her house and dove into her pool at 112 Emerald Lake Drive in Palm Coast Plantation.
Deputies jumped to her rescue and firefighters-paramedics transported her to AdventHealth Palm Coast, from where she was flown to Halifax hospital in Daytona Beach with a severe head injury. She died at Halifax around 5 p.m.
"This was the most difficult situation since I have been sheriff, but this is what we train for," Sheriff Rick Staly said. "We pray we never have to use it, and we certainly pray that we have a different outcome, but this was a tough case, primarily because it was one-sided communication."
Deputies had been called to the house before 8 this morning in response to a domestic situation that at one point involved Demers holding her husband hostage at gunpoint. A 16-year-old child was also in the house, hiding, but both husband and child safely left the house as the standoff began. Demers never communicated with the sheriff's negotiations teams despite numerous efforts and means used.
"We tried to negotiate for about 7 hours," Sheriff Rick Staly, who'd been at the scene throughout, said this evening. "She was refusing to talk to us at all from the very beginning. We sent in a robot with communications, we sent in remote telephones, we tried calling her cell phone and texting her and she refused to answer any of them. We had observations, so we knew that she was having a mental health episode and she was armed and based on what we could see, we knew that she was extremely dangerous to herself and potentially to neighbors and deputies that were there."




Sheriff's deputies were assisted with drones from the the county and Flagler County Fire Rescue.
"We had about 40 deputies on the scene, from our SWAT team to crisis negotiations team to patrol deputies on the perimeters," Staly continued. "We also knew that a little over a year ago she did a similar incident with Brevard County, so we communicated with Brevard County on how their negotiations, which lasted nine hours, worked, and we knew from that intelligence information that she wasn't going to be cooperative. At the very end the decision was made to use our tactical tear gas to keep her out of the second floor, because that was even more dangerous for neighbors and deputies, and then ultimately we deployed tear gas into where she was. She never once dropped the firearm that she had."
The final minutes unfolded after 2:20 p.m. "She walked out into the lanai, into the pool, we used less lethal weapons on her, that had no success, even though we knew she was struck by the less lethal weapons, and then she shot herself–in the pool." the sheriff said. "Two of our SWAT team members immediately jumped in the pool with their gear on and pulled her out, and immediately began life saving measures." Rescuers who had been staging nearby arrived, continued the life-saving measures and took her to AdventHealth, from where Flagler County FireFlight, the emergency helicopter, flew her to Halifax.
Two gunshots were fired from inside the house at different times during the standoff, but not at deputies.





The situation caused deputies to advise residents in neighboring homes on the heavily built up street to shelter in place in rooms away from those facing 112 Emerald, which was surrounded by deputies.
"I ask that you remain out of this area from 80 to 120" Emerald Lake Drive, Flagler County Sheriff Rick Staly said in a video statement before noon. Staly, who was himself a Palm Coast Plantation resident before he was sheriff, directed residents of the gated community to contact the Sheriff's Office's non-emergency line to get escorts in or out of the area.
A gunshot went off from inside the home before 10 a.m. and another shot was heard around 10:30. The house being as large as it is–over 5,000 square feet–deputies initially had difficulties getting eyes on the victim, but were seen deploying a robot that was to transmit live images from within, then drones that flew around the house.
"We have no idea how long this incident is going to take," Staly said around noon. "Our goal is to rescue everybody unharmed. We already have two of the parties in the house out and we're trying to work on de-escalating what is going on inside this house for a safe resolution to this incident. I will come back to you as soon as I can. We've been on the scene for almost four hours now trying to work it."




At the end of the day, Staly–who at that could not confirm Demers's death but was aware of the severity of the wound–was addressing the matter more somberly. "It's a tragic ending to a very long day, not an ending that any of us were hoping for," he said. "As you know, we have a very successful track record of deescalating these situations but that requires communications, and based on what we knew from the Brevard County situation, we knew it would only be resolved by a tactical response." The Sheriff's Office has for over 10 years de-escalated almost every situation it's faced with armed individuals, once in that time span losing a man who shot himself on Point Pleasant Drive, and once having to shoot an individual in his car, who was armed and threatening to shoot others. That man was not killed, and he recovered. Deputies have not been involved in any police-initiated shooting resulting in a fatality in those 10 years. Deputies did not fire guns today. (Staly soon afterward confirmed Demers's death)
"There were many opportunities for her to communicate with us. Not one time did she ever take her hand off the gun," Staly said, noting that deputies during the day had received information that Demers had received tactical training in the past. As the day wore on, the deputies had secured a warrant for Demers's arrest on charges of aggravated assault and false imprisonment, which became moot.
"We express our deepest sympathy to the family, but we're glad that she did not hurt them or any deputies," Staly said. "It's just not the outcome that we trained for, that we want, but in these situations, when people are determined, we can't control that outcome."
Reader Interactions