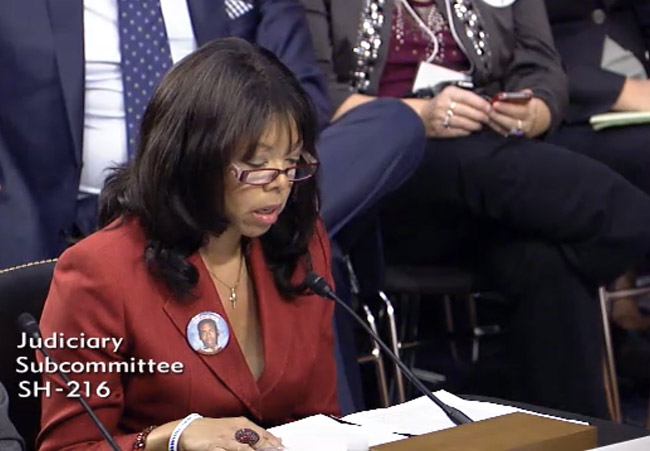 A panel of U.S. senators Tuesday dissected Florida's controversial "stand your ground" self-defense law with the help of the mothers of two young black men shot to death in the state last year. (Watch the full hearing here.)
"The person who shot my son is walking the street today," said Sybrina Fulton, mother of Trayvon Martin, who was 17 when he was killed in Sanford in a case that roiled the nation. "This law does not work."
"I face the very real possibility that my son's killer will walk free, hiding behind a statute that lets people claim a threat when there was none," said Lucia McBath, whose son, Jordan Russell Davis, also 17, was killed while sitting in a car during a dispute over loud music in Jacksonville.
Fulton and McBath addressed the Senate Subcommittee on the Constitution, Civil Rights and Human Rights, which took up the implications of "stand your ground" laws at the behest of Chairman Dick Durbin, D-Ill.
The hearing focused almost completely on Florida.
Durbin said Florida had adopted the first "stand your ground" law, which was used as a model by the National Rifle Association and the American Legislative Exchange Council to get approval of similar measures in other states.
"The gun lobby wanted to spread Florida's law across the nation," Durbin said.
Now, at least 22 states have similar laws, according to the National Conference of State Legislatures, and Durbin said the laws go too far in sparking confrontations that lead to deadly violence.
Ranking Republican Ted Cruz of Texas questioned whether the scrutiny of "stand your ground" was part of a broader "political agenda" and said it is a longstanding principle that Americans have the right to protect themselves.
"Self-defense is a bedrock liberty of every American," Cruz said.
The 2005 Florida law expanded the traditional "Castle Doctrine," which gives people the right to use deadly force to defend themselves in their own homes. It removed the duty to retreat for those who believe their lives are in danger and provided immunity from criminal prosecution or civil lawsuits.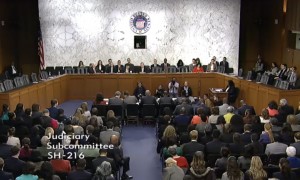 Martin was walking through a gated community, on his way home from buying a drink and candy, when he was pursued by a neighborhood-watch volunteer, George Zimmerman. Zimmerman, who claimed that Martin attacked him first, was acquitted in July, sparking a 31-day sit-in outside Gov. Rick Scott's office at the state Capitol.
Zimmerman claimed he shot Martin in self-defense but did not use "stand your ground" to avoid being prosecuted. The law, however, spawned changes to jury instructions that at least one Zimmerman juror said resulted in the not-guilty verdict.
Since the day of his death, in February 2012, Martin's case has sparked disagreement, and Tuesday was no different.
"Sadly, we know that some in our political process have a desire to exploit that tragic, violent incident for agendas that have nothing to do with that young man who lost his life," Cruz said. "We have seen efforts to undermine the verdict of the jury and more broadly to inflame racial tensions that I think are sad and irresponsible."
Durbin responded by quoting Hilary Shelton, director of the Washington bureau of the NAACP, also in the hearing record: "These ('stand your ground') laws and their applications have sadly resulted in no less than the murder of people who were doing nothing more than walking down the street."
Much of the debate centered on whether African Americans are targeted by the "stand your ground" laws.
In Florida, blacks comprise 16 percent of the population but 31 percent of those who invoked "stand your ground" as a defense, John Lott, Jr., president of the Crime Prevention Research Center, told the panel. And blacks who invoked the statute were acquitted "almost eight percentage points more often than whites," Lott said.
The "stand your ground" laws create ambiguity, said David LaBahn, president and CEO of the Association of Prosecuting Attorneys, because they combine the presumption of self-defense with immunity from prosecution.
"Particularly in Florida, you're put into that box," he said. "Either it's murder or it's nothing."
LaBahn also said that giving full immunity under the law is "crazy."
"That's not what it should be," he said. "It should be an affirmative defense. And that has caused these problems. …On behalf of prosecutors, these acts have caused us nothing but difficulty."
Sen. Lindsey Graham, R-South Carolina, observed that the "stand your ground" laws have enjoyed support from both Republicans and Democrats nationwide — including then-Illinois Sen. Barack Obama.
And Durbin pointed to efforts by state Sen. David Simmons, R-Altamonte Springs, to work on a bipartisan approach to change the Florida law.
Simmons' proposal, in part, strengthens language in the law barring aggressors from immunity under "stand your ground."
But the controversy sparked by the Zimmerman verdict and the sit-in that followed also has prompted state House Criminal Justice Chairman Matt Gaetz, R-Fort Walton Beach to say that "not one comma" of the law should be changed.
–Margie Menzel, News Service of Florida