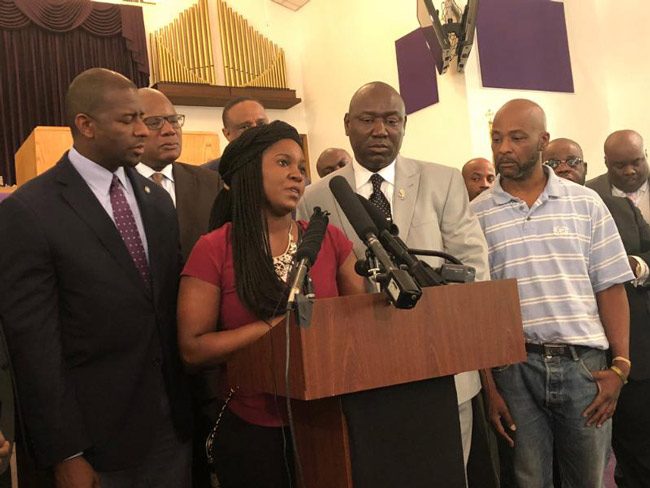 Joined by the longtime girlfriend of a black man who was shot dead in a dispute over a parking spot at a Clearwater convenience store, black pastors, civil rights leaders and politicians marched to Gov. Rick Scott's office Wednesday to demand a repeal of the state's controversial "stand your ground" law.
Tensions over the July 19 shooting of Markeis McGlockton, with his three young children nearby, escalated after Pinellas County Sheriff Bob Gualtieri decided not to arrest shooter Michael Drejka, who is white. Gualtieri said his hands were tied by the National Rifle Association-backed law that allows people who fear their lives are in danger to use deadly force without having to retreat.
"It's hard and, you know, I am still going to stand up and fight for what is right. My man was right. Markeis was right. He was just protecting us. He was a good man and a good father, and he didn't do nothing wrong," Britany Jacobs, McGlockton's live-in partner and the mother of his three children, told reporters and supporters gathered Wednesday morning at Bethel Missionary Baptist Church in Tallahassee.
McGlockton and Jacobs stopped at a convenience store to buy snacks for their children, Jacobs' lawyer, Benjamin Crump, said. While McGlockton was inside, Drejka began to berate Jacobs for parking in a handicap parking spot. A videotape of the confrontation shows McGlockton shoving Drejka to the ground. Drejka then pulled out a gun and shot McGlockton, who appeared to be backing away. McGlockton, accompanied by his five-year-old son, ran into the store and later died.
Gualtieri has insisted that the state's "stand your ground" law prevented him from arresting Drejka but that the case remains under investigation and has not been closed. State Attorney Bernie McCabe's office is weighing whether to press charges.
But critics of the sheriff, including the NRA and some Republican lawmakers, have said the law did not prevent Gualtieri from arresting Drejka, whom Crump said was the instigator of the confrontation outside the Circle K.
"If he never would have started the altercation, there would be no reason for you to be in fear for your life," Crump said.
An expansion of the traditional "Castle Doctrine," the 2005 "stand your ground" law gives people the right to defend themselves with deadly force in their own homes or any place they have a right to be. Florida's first-in-the-nation law, used as a model elsewhere, says people are justified in using deadly force and do not have a "duty to retreat" if they believe it is necessary to prevent death or great bodily harm. When the defense is successfully raised in pre-trial hearings, defendants are granted immunity from prosecution.
A change approved last year by the Legislature and Scott shifted the burden from defendants to prosecutors to prove whether a self-defense claim is justified.
The law has been a flashpoint for the black community since the death of Trayvon Martin, an unarmed teenager shot and killed by neighborhood watch volunteer George Zimmerman in 2012 in Seminole County. Black leaders maintain that the law is disproportionately used to exonerate white shooters of black victims.
The statute and the subsequent changes have created confusion for the public and law-enforcement officials, Crump said.
"There was never a problem or anything wrong with self-defense and the Castle Doctrine. It was very clear, and everybody understood it. If you came to my house, then I had a right to defend my house. Now, everywhere is somebody's ground. It almost suggests that for black people and people of color, our ground is only where white people deem it appropriate to be," Crump said.
Gualtieri further outraged black leaders in Florida and the nation following a Sunday rally in Clearwater led by civil-rights leader Al Sharpton, who demanded the sheriff either arrest Drejka or hand in his badge.
"I don't really care what Al Sharpton has to say. Go back to New York. Mind your own business," Gualtieri said.
The sheriff's comments elicited a sharp rebuke Wednesday from lawyer Michele Rayner, who represents McGlockton's family.
"Whether you are in Tallahassee, whether you're in Jacksonville, whether you are in Miami, whether you are in Tampa or whether you're in little old Clearwater, this is all of our business. And guess what we won't do? We will not rest. We will not rest until the shooter is arrested, until charges are filed, but most importantly, until 'stand your ground' is repealed," she said.
Jack Heekin, a Scott deputy chief of staff, met with Tallahassee Mayor Andrew Gillum, the Rev. R.B. Holmes and two others after the group marched to the Capitol. Gillum is a Democratic candidate for governor.
Scott's aides pointed to lawmakers when asked if Scott, who is trying to unseat incumbent U.S. Sen. Bill Nelson in November, would use his executive power to change the law.
"The governor expects that every Florida law be enforced and applied fairly by law enforcement and state attorneys, who are elected by Floridians. If the Legislature wants to make any changes to clarify Florida's laws next legislative session, they can do so," Scott spokesman McKinley Lewis said in an email.
Even the staunchest supporters of Florida's "stand your ground" law have questioned Gualtieri's decision not to arrest Drejka, while at the same time they have decried efforts to politicize the law.
"The law is very clear, if there is probable cause an arrest can be made. If opportunistic politicians took the time to read and understand the law they would know that issue is with the facts of the case not the text of the law," NRA Florida lobbyist Marion Hammer, a former president of the national organization, said in an email. "It's irresponsible to second guess law enforcement without all of the facts and it's appalling that politicians would attack a law that protects their constituents' constitutional right to self-defense to score cheap political points."
McGlockton's shooting death adds to the political minefield around firearms. Democrats and others have demanded stricter gun laws in the aftermath of the Feb. 14 massacre at Marjory Stoneman Douglas High School in Parkland that left 14 students and three faculty members dead.
"We have a major election coming up within 90 days," Holmes said, pointing out that all five Democratic candidates for governor have said they would work to repeal the "stand your ground" law. "So now it's in our hands to support a governor who has the courage and backbone to see the evil of the misapplication of stand your ground law."
The law "makes it less safe for everyone," said Gillum, the only black candidate running for governor.
"It creates tension in the community that shouldn't be there, between law enforcement, between citizens … but ultimately it comes down to voters," he said. "The best way to make good on the demand to repeal 'stand your ground' is to show up with your voter identification card or whatever credential you need and cast your vote consistent with your belief that 'stand your ground' has no place in the state of Florida."
–Dara Kam, News Service of Florida