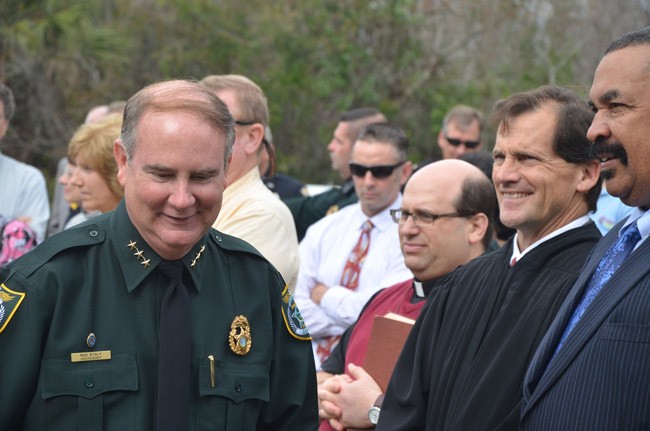 Last Updated: 11:36 a.m.
Flagler County Undersheriff Rick Staly said he will retire on April 17, a news release from the sheriff's office stated this morning. The resignation, framed as a retirement, is likely to fuel speculation that Staly–a registered Republican–may be preparing a run for the sheriff's office in less than two years.
"I've been thinking about it for some time," Staly said in an interview this morning. "Then when I was off for my surgery, you're kind of out of the woods if you will, looking in and looking at what you want to do. During that time my father passed," he said, and he got notices from his former agency about colleagues there who also died. His mother, who will be 94 Saturday, has been in and out of the hospital. "So I just felt the time was right," Staly said. He has investment cabins in Tennessee that are "doing extremely well," and proceeds from selling his security company several years ago enable him to look at a more leisurely time for now. He has been promising his wife an RV trip across the country, for instance. The RV has been sitting for three years. It'll now be used.
As for his political future, Staly was quick to say: "I'm not focused on that. I'm focused on doing the best job I can for the sheriff for the next 30 days and going on a motor home trip and handling my cabin rentals and building a nine-bedroom lodge in Tennessee. We'll figure out what to do after that, but that's what I'm focused on."
Staly was going to announce his decision to Manfre Friday, but Manfre had other commitments. So the two men, who met through Rotary several years ago, met Monday. "We had a very good conversation, he took it very well, probably one of the best conversations I've had with him," Staly said. The two also spoke about how to replace Staly. "If I'm going to bring you a problem, I'm going to bring you a solution, too, so I made several recommendations to him." Staly preferred to keep those suggestions private, as it will be the sheriff's decision. He described the meeting and its aftermath as "an emotional time for both of us, actually."
The announcement was discussed in an executive staff meeting this morning, then announced to the rank and file shortly before the news release was disseminated.
"I would like to thank the Sheriff for affording me with the opportunity to work with the many professional men and women of the Flagler County Sheriff's Office, it has been an experience that I have truly enjoyed and will miss, especially my Friday night patrols," Staly said in the release. "I am especially proud that overall crime in Flagler County was decreased 12% and clearance rates increased 6% during my tenure as Flagler County Undersheriff."
Sheriff Jim Manfre's comment, quoted in the news release, was more pro forma than admiring–as Manfre had been when he first hired Staly two years ago.
"Undersheriff Staly has been instrumental in implementing the agency's first Crime Scene Investigation Unit (CSI) and first Fugitive Unit, along with our Touch DNA and Juvenile Assessment and Monitoring (JAM) program," Manfre said. "He is a professional law enforcement officer and a professional police administrator. We wish him the best in retirement."
But in an interview this morning, Manfre was more candid and spoke with affection about his friendship with Staly, and his understanding of Staly's decision.
"I understand Rick's position," Manfre said. "He's had some health issues recently. For those of us who have known Rick, and I've known Rick for a lot of years, we started off as friends, I care about him, I see how much he's gone through with his shoulder operation, it's not a minor operation. I see how much pain he's been in and how much pain he continues to be in." Manfre also noted the family issues Staly has been contending with. "I think he's made the right call. Family comes first."
Manfre added: "He's been invaluable to me, I could not have gotten to this point without him. He's more like a co-sheriff than an undersheriff, because he's constantly bringing things to my attention to improve the place."
Manfre acknowledges that for that reason, Staly's departure leaves a void, which the sheriff says he intends to fill deliberately, taking his time. "It will not be someone from the outside. If we fill the position it will be filled with someone from inside the agency," Manfre said. One possibility is Jeff Hoffman, the chief deputy.
"Part of the problem is Commander Hoffman has been away for the past 10 weeks, at the FBI academy," Manfre said. "I want Jeff to come back, Rick and I will sit with Jeff and talk about scenarios."
Manfre was asked about political speculations regarding Staly. "If Rick had wanted to be sheriff I would have supported him this last time, I would have supported him the time before. I tried to get him to run for sheriff twice before," Manfre said, asserting that he (Manfre) "absolutely" intends to run again in 2016. But, he said, "this is not my career path being sheriff. I love the job, but it's not something I aspire to my whole life." If, Manfre said, he saw that someone better were to run for the job, he would "gladly step aside."
"As long as I'm the best person for the job, I will continue to do the job," Manfre said.
Staly, the release stated, joined the Flagler County Sheriff's Office in January 2013 as Undersheriff and has been a sworn law enforcement officer in Florida for 40 years, starting in Oviedo and Altamonte Springs before joining the Orange County Sheriff's Office as a Deputy Sheriff, where he rose to undersheriff. He retired from Orange County in 2001.
After his retirement Staly remained a fully certified Florida reserve deputy sheriff with the Seminole County Sheriff's Office and entered into private security management. In 2008 Staly started his own successful private security company, United American Security, which was sold to a national security company in 2012.
During his 40 years of public safety service Undersheriff Rick Staly received numerous awards, commendations, and medals, including the Medal of Valor and Purple Heart after being shot three times while saving the life of a fellow deputy sheriff who had been assaulted while investigating a disturbance
call.