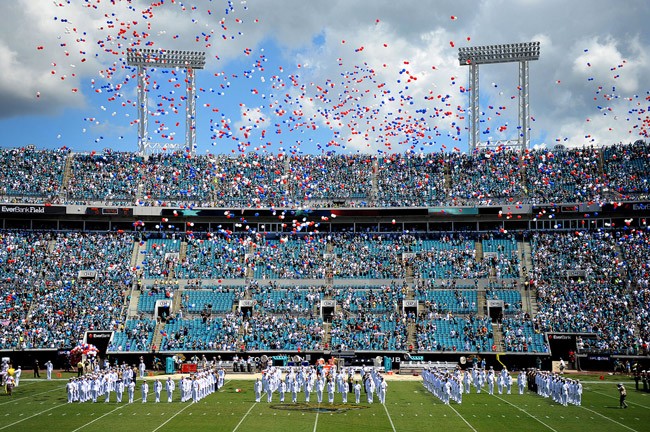 A much-anticipated decision about divvying up sales-tax dollars to sports-stadium projects was handed-off to the full Legislature on Thursday.
And now, a process that was intended to reducing lobbying may do the opposite.
The Joint Legislative Budget Commission, comprised of seven senators and seven representatives, agreed to move any funding decisions regarding the stadiums — Daytona International Speedway, the Miami Dolphins' home of Sun Life Stadium, EverBank Field in Jacksonville and a soccer stadium in Orlando — to the regular legislative session.
"I think it's important that 160 people make decisions of this magnitude, not 14," said House Appropriations Chairman Richard Corcoran, R-Land O' Lakes.
The joint commission, which is primarily set up to deal with mid-year budget issues, requires a majority of votes from each chamber's delegation for a measure to be approved. Corcoran and at least two other House members on the commission were ready to oppose the stadium-funding requests.
"This is a reversed, perverse Robin Hood," added Corcoran, who added he will oppose any stadium funding proposals during the regular session. "We're going to take from hard-working taxpayers and give it to the rich people. I don't understand that logic at all. Every economist, every study shows there is not any economic development to these proposals."
Lawmakers last year created a review process to try to reduce the lobbying for stadium-funding proposals. But lobbying efforts increased after the state Department of Economic Opportunity last month forwarded the four applications to the Legislature without providing expected rankings.
Lawmakers have been openly critical about not receiving rankings from the agency and had their own economists later rank the projects.
The move Thursday means that lobbyists will continue to suit up for the stadium projects during the upcoming 60-day session, which begins March 3.
---
A process designed to reduce lobbying is thrown aside, inviting more lobbyists.
---
"When you add up the amount that is being invested (in the projects) in Jacksonville, in Daytona, in Orlando and in Miami you're talking $1 billion," said Ron Book, a lobbyist for Sun Life Stadium. "That's what sports economic development is about. It's about bringing Super Bowls. It's about Major League Baseball games, soccer all-star games. It's about bringing concerts, it's about bringing full entertainment opportunities to the people of Florida that bring sales-tax revenue in, not only on what is being built on the facilities, but what comes afterwards."
The Legislature in 2014 set aside $7 million in sales-tax dollars that can go to stadium projects this year, but required applicants to go through the review process.
Daytona International Speedway and South Florida Stadium, the applicant for Sun Life Stadium, are each seeking $3 million a year in sales-tax revenues for 30 years for improvements. Orlando has requested $2 million a year for three decades to help pay for the Major League Soccer stadium. Jacksonville, with its application supported by the NFL's Jacksonville Jaguars, has asked for $1 million a year for three decades.
Because of the uncertainty involving the voting from House members, stadium backers said the commission made a good decision.
"I'm comfortable we'll come to the right place by the end of the session," said Orlando Mayor Buddy Dyer, a former state senator.
Orlando's planned $110 million downtown stadium was given the top ranking among the four projects by the Legislature's Office of Economic and Demographic Research.
Dyer said the commission's decision shouldn't delay construction of the facility.
However, Paul Harden, representing the Jacksonville Jaguars, said Field Club renovations, which are part of EverBank Field's $100 million in upgrades, will remain on hold pending the legislative decision.
"We won't go forward," Harden said. "We'll look for alternative sources, if they're there. This is a publicly owned building. It's the city of Jacksonville's decisions. As far as the football team is concerned, these are the dollars they were planning on spending for the upgrades."
EverBank Field in Jacksonville was ranked second by the Office of Economic and Demographic Research, followed by Sun Life Stadium and Daytona International Speedway.
Backers of the speedway and Sun Life Stadium projects separately disputed the state economists' rankings, each claiming that economic and employment impacts of the already-underway upgrades had been overlooked. The backers also contended that each project should have received a second-place ranking.
"We look forward to working with the Florida Legislature as they review and discuss the sports incentive applications before them, and continuing to tell the great story of Daytona Rising (the project) and what it means to the state," Joie Chitwood III, Daytona International Speedway president, said in a release after the meeting.
The commission's decision disappointed the conservative-advocacy group Americans for Prosperity, which calls stadium funding "corporate welfare."
"We expected the LBC to take a real stand on this issue," Chris Hudson, Americans for Prosperity's Florida director, said in a prepared statement. "Unfortunately the members decided to punt the issue downfield and we will have to wait and see when and how it will come back up throughout session."
–Jim Turner, News Service of Florida