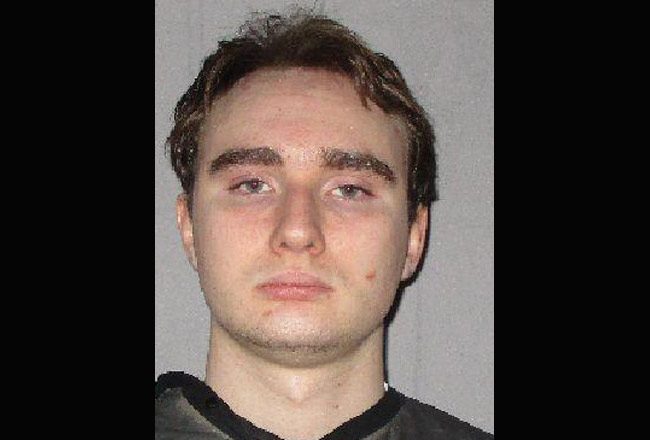 Last Updated: Thursday, 11:18 a.m.
See latest update and details on the way the confrontation unfolded here.
Michele Shimmel, 60, was stabbed and killed at 47 Woodhollow Lane in Palm Coast Wednesday evening, sometime between 7:15 and 7:30 p.m. Shimmel had reportedly been attacked by a man in a ski mask. But that was the story concocted by her alleged assailant, her son, immediately after the stabbing.
Authorities subsequently confirmed that the attack appeared to be the result of a domestic confrontation.
Just before 7 Thursday morning, Nathaniel R. Shimmel, 22, a resident of 47 Woodhollow Lane, was booked at the Flagler County jail on a first-degree murder charge. Shimmel is believed to be the son of the victim.
The victim was found on the ground in the yard of the house–or at least outside the house by someone who had heard screaming.
The alleged assailant was initially believed to be at large. That had quickly changed by 8:15 p.m. Wednesday.
"At this point what I can say is that we are working a suspicious death, and we have a person of interest that we are interviewing," Sheriff Rick Staly, who was at the scene, said within an hour of the stabbing. "So the community does not need to be worried, from what we know at this point, that there's any person–a dangerous person–on the run."
There was no search going on in the neighborhood, which strongly suggests that authorities believed they had the person responsible for the alleged attack, which at that point had not yet been ruled a homicide.
"We have established a crime scene, so there is a perimeter for the crime scene to make sure that nothing of evidentiary value gets removed or damaged," the sheriff said. "Based on the information we have at this point and what we believe has occurred, there is no person we are actively searching for."
He could not confirm whether the victim is a resident of 47 Woodhollow Lane, and stressed that all the information so far is very preliminary.
Staly was first interviewed around 8:30 p.m. Wednesday. In a subsequent interview at 9:45 p.m., he released a few more details, including noting the likelihood that there would be an arrest later in the night.
"I would say yes, I just don't have a time frame," he said in answer to a question as to whether there would be an arrest Wednesday night or early Thursday. "We are talking to potential witnesses, working on getting the search warrants required to collect the evidence." That will take time, including finding a judge on call–at his or her home–and getting the warrant signed. Staly expected the detectives' operation to be an all-nighter.
Others are also being interviewed. "We have people that may have information that may help us. Whether or not they're actually witnesses to the incident, our investigators will determine that," Staly said.
The identity of the victim was not yet confirmed. "We believe we know who she is but we don't have her positively identified," the sheriff said, though relatives of the victim were at the scene, speaking with detectives.
The house at 47 Woodhollow Lane has been owned by Michele Baker Shimmel, 60, since 1995.
"But what the community needs to know is this is an isolated incident involving an isolate house and they do not need to be in fear that there is some violent person running around Palm Coast," Staly said. "We do not believe that's the case."
The Palm Coast Fire Police was called in to close roads in the neighborhood, which branches off of Pine Lakes Parkway through Woodhaven Drive. Woodhollow Lane connects to Woodholme Lane. Woodhollow itself is closed, though additional roads in the neighborhood may be closed as well. The location of the attack is within walking distance of Shepherd of the Coast Lutheran Church and Mt. Calvary Baptist Church, and about half a mile south of Palm Coast Parkway.
There were indications, initially unconfirmed, that the victim and the suspect knew each other. Close to 10 p.m., Staly confirmed it: "It appears to be domestic related in this case," he said. The murder weapon has been recovered.
"It's going to be a long night," Staly said.
The Sheriff's Office is handling the investigation with the assistance of the Volusia County Sheriff's crime scene technicians. The State Attorney's homicide investigation unit is at the scene, assisting.
There appears to be no children involved in the incident, or children living at the house in question.
It is the third homicide recorded in Flagler County since January, the first in Palm Coast. Both previous killings involved domestic situations: a wife was accused of killing her husband in West Flagler, a father was accused of killing his son in Flagler Beach. Both of those homicides involved firearms.