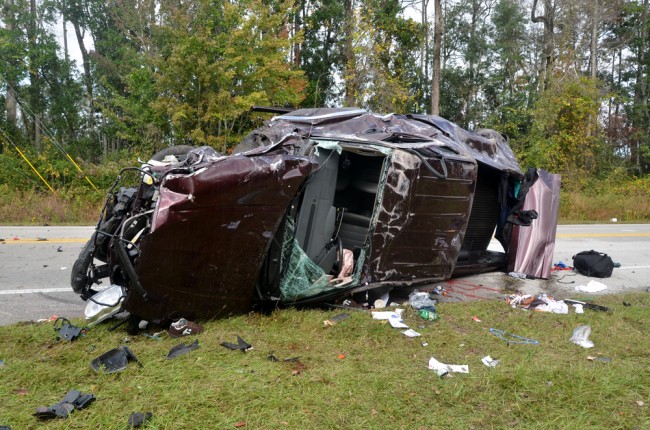 Flagler County's roads are cursed this week.
A woman was killed this morning (Nov. 17) shortly after 9:30 when she lost control of her pick-up and slammed it head-on into another pick-up truck on State Road 100, just past the overpass over U.S. 1 and approaching Bimini. Two people in the truck survived and were taken to Florida Hospital Flagler with injuries. They were walking and alert at the scene after the accident. It is the fourth serious wreck in 31 hours on Flagler's roads, and the third fatality in that span.
In this latest wreck, Kristen Westbrook, 29, was traveling west on SR100 in a burgundy 2005 Dodge pick-up truck. It was raining. She had just driven down the overpass, Florida Highway Patrol Lt. R.C. Brown said, when she lost control of the truck, over-corrected, drove into the eastbound lane of the two-lane highway, and struck a white pick-up truck trailing lawn-care equipment equipment and owned by Shaping Nature, the Bunnell-based business on Garden Street.
The burgundy pick-up overturned, rolled over, and came to a rest on its driver's side, facing into the eastbound lane of the highway. The white pick-up, also severely damaged, drove across a watery ditch and slightly up an embankment, which stopped it, upright. Two younger men were in the truck at the time of the crash: Timothy Gould, 38, and Alan C. Chase Jr., 28, both of Bunnell. The crash scattered debris, including the contents of the trailer with lawn equipment, over the road and the eastbound shoulder.
State Road 100 was closed shortly after the wreck between Deen Road and the bridge over U.S. 1.
Westbrook had twice been in the public eye in the last seven months. In Late April, she was the victim of an alleged domestic assault, which landed her alleged assailant–Bruno Barletta–in jail. Late last month, she was one of five people arrested in a high-profile bust, played up by the Flagler County Sheriff's Office, at 20 Rockne Lane in Palm Coast. The bust was the result of numerous nuisance complaints from neighbors about the house, and allegations of illegal activities inside the house. Wesbbrook had been booked at the jail on charges of possessing a controlled substance and possessing drug paraphernalia, and had been released on her own recognizance.