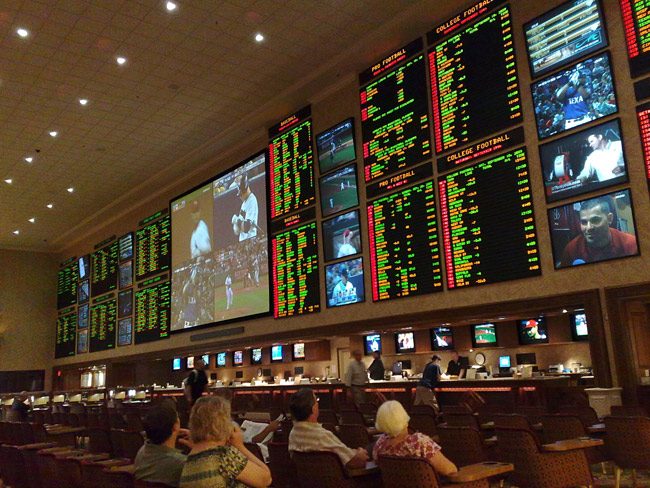 Lawmakers across the country are moving quickly to legalize sports betting, wagering that the U.S. Supreme Court will allow it by session's end and set off a race among states to cash in on contests ranging from regular-season college hoops to the Super Bowl.
The Supreme Court is expected to rule on Christie v. NCAA, which could invalidate the 1992 Professional and Amateur Sports Protection Act, or PASPA, banning states from authorizing or licensing sports betting. New Jersey argues the law violates the 10th Amendment, which says that any powers not granted to the federal government fall to the states. And court-watchers think a majority of justices seemed inclined to agree, based on their statements during oral arguments in December.
Sports betting bills have been filed in some 20 states, ranging from ones detailing exactly how the sports betting would work, to mere placeholders that would allow for specific language once the case is decided. Some bills, if passed and signed, would become law immediately upon a go-ahead ruling from the high court. Most would use existing wagering structures such as casinos or lottery commissions to oversee some form of betting on professional and college games. Some would allow on-site betting only, as at casinos or racetracks; others would allow betting remotely.
The main driver, of course, is revenue. In states where lotteries, casinos and horse racing are already legal, proponents see sports betting as an extension of their wagering reach and a way to cash in on a national mania. Opponents object on moral grounds or say that gambling in general is regressive, in that the poor suffer disproportionately from gambling losses, and leads to addictions that stress state resources, for example by increasing health care and criminal justice costs.
The NCAA, which runs the nation's massive college sports system, opposes both legal and illegal sports wagering, saying in a statement it "has the potential to undermine the integrity of sports contests and jeopardizes the welfare of student-athletes and the intercollegiate athletics community."
Legal gambling in 2015 brought in $27.7 billion to local and state governments, according to estimates by the Rockefeller Institute of Government, part of the State University of New York System.
A 2017 study by Oxford Economics, done for the industry group American Gaming Association, estimated that sports betting alone could become a $41.2 billion industry — including "downstream impacts" as well as spending by bettors — and contribute about $3.4 billion in taxes to state and local governments.
Wagering on sports is hugely popular — annual March Madness office pools are just one example — but is mostly illegal except in Nevada. The proposed legislation wouldn't legalize those office pools, but new laws might cut into that market with similar, but legal, betting. Many state lawmakers are concerned that if they don't get into the sports betting market quickly, gamblers will flow to nearby states and leave theirs behind.
"If we are prepared, it will boost our state's economy, and if we're not prepared, and the border states are, we'll take a hit," said state Sen. Mike Maroney, a West Virginia Republican who authored sports betting legislation that would put the state's Lottery Commission in charge of sports betting and set a 2 percent tax on the revenue. Many lawmakers are looking to Nevada, where last year a legal $138.5 million was wagered on the Super Bowl alone.
But the legal betting market is nothing compared with the potential money now changing hands through illegal wagering. The American Gaming Association, a trade research group, estimated that Americans bet $4.7 billion on last year's Super Bowl, an 11 percent jump over 2016. According to the association, 97 percent of the bets were illegal.
Maroney said his state's economy relies on legal gambling revenue from casinos, horse tracks and video lottery machines. "I don't want to draw the line in the sand and say we are allowed this kind of gambling and not the other kind of gambling," he said, adding that nearby states of Pennsylvania and Ohio are "ready to roll. If New Jersey wins [in court] it's going to happen."
Pennsylvania and Connecticut enacted sports betting laws late last year and are poised to get into that market if the Supreme Court allows it. Ohio, which legalized fantasy sports betting last year, is also likely to act.
Border-state poaching of gamblers already is at work throughout the country. New Jersey casinos took a hit when Maryland and Pennsylvania built more in-state gambling parlors. Recently Mississippi reported that casino revenue fell in 2017, due mostly to declines in riverboat gambling-sites along the Mississippi River, as many gamblers went to racetrack casinos in Arkansas, just across the water.
In most states gambling is a relatively small revenue source: It represents less than 2.5 percent of most states' revenue, according to data from the Rockefeller Institute. But in a few states — Nevada (10.2 percent), Rhode Island (7.9 percent), Louisiana and West Virginia (6.7 percent) — its role is more significant.

Lucy Dadayan, who studies gambling for the Rockefeller Institute, said states should view sports gambling revenue with caution. She predicts a boon in the early stages of a legal industry, but then a decline later. And looking at Nevada as an example, she noted that "tax revenues generated from sports betting won't be substantial and shouldn't be viewed as budget savers."
Sports betting makes up a small — but growing — portion of states' gambling revenue. According to David G. Schwartz, director of the Center for Gaming Research at the University of Nevada, Las Vegas, sports betting makes up just 2 percent of the revenue taken in by that state's casinos. But in 2017, Nevada sports betting at casinos and casino-sponsored "sports books" took in $215 million, an 11.3 percent increaseover the year before.
Other states are rushing to get into the game "because they need the money," Schwartz said. But gambling revenue in general declined during the Great Recession and hasn't come back to where it once was, he cautioned.
Through sports books, gamblers register with casinos and download a wagering app on their phones. This allows them to place bets according to the point spread before games and also to participate in "dynamic wagering" during games.
For some lawmakers it's an attractive industry. In Indiana, state legislators largely followed the Nevada model. Their legislation would allow the dozen or so state-run casinos to expand into sports betting on-site, along with mobile apps.
"I anticipate we're going to see a change, a shift, in sports wagering," said state Rep. Alan Morrison, a Republican from Terre Haute who sponsored the bill in the House (the Senate has an identical bill). "I would like Indiana to be proactive on it and be one of the first to be up and running rather than be lagging behind and see neighboring states get a jump on it."
The Indiana bill is among the more prescriptive ones, laying out fee structures, revenue predictions and a 1 percent "integrity tax" on wagers involving MLB or NBA games. That tax would go to the leagues, to pay for procedures to assure that the games are played fairly and are not "thrown" by players or anyone else.
While MLB and the NBA have signed on to the plan, the NCAA, which is headquartered in Indianapolis, has not, which might mean the state wouldn't offer wagering on college sports. Indiana has regulated fantasy sports betting, but NCAA games are excluded.
West Virginia, the home of a handful of casinos, had a similar bill stall last year, but backers see a renewed energy this year because of the Supreme Court's upcoming decision.
Many states also have Native American casinos, which could be allowed to handle sports betting if the Supreme Court approves it. Indian casinos operate independently of state regulations, but generally under compacts with states that would have to be amended to accommodate sports wagering.
In Rhode Island, Democratic Gov. Gina Raimondo is so confident that sports betting will be approved that her proposed budget includes $23.5 million in projected revenue from the activity. A bill in Kansas would authorize sports gambling at the state's racetracks.
And in Minnesota, state Rep. Pat Garofalo, who is sponsoring a sports betting bill, said in a statement it's time to move Minnesota's sports gambling laws "out of the caveman era and into the 21st century."
"Hundreds of thousands of Minnesotans already wager on sports," Garofalo, a Republican, said. "Modernizing these laws will move these activities away from" the underground economy "where citizens have few protections, and into a safe, regulated business environment."
In other states, meanwhile, elected leaders are getting ahead of the Supreme Court to block sports gambling within their borders.
A broad betting bill to allow casinos as well as sports gambling was introduced in the South Carolina Legislature last year, but it got nowhere, partially because to make gambling legal would require a constitutional amendment.
Republican Gov. Henry McMaster said he's opposed to legalization this year, even if the court rules in favor. State lawmakers' opposition is even stronger.
A bill in Mississippi would outlaw sports betting. The legislation would appear to be unnecessary, as sports betting is illegal in the state as it is. But a quirk in the state's fantasy sports gambling law seemed to open the door to other kinds of sports gambling. Some lawmakers want to slam it shut. Another proposal, to set up a panel to study sports wagering, might keep the door ajar.
–Elaine Povich, Stateline