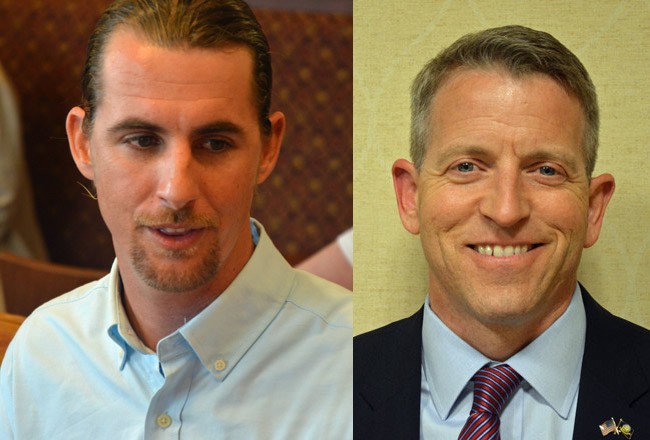 They're the final four candidates for two seats in the special election to the Legislature on April 7: Democrat David Cox is facing Republican Travis Hutson for the Senate District 6 seat, and Democrat Adam Morley is facing Republican Paul Renner for the House District 24 seat.
All four will be at a candidate forum on Tuesday, Feb. 24, at 6 p.m. at the Flagler County Association of Realtors' building, 4101 E Moody Blvd in Bunnell. The event is free and open to the public, and this time, "we're going to allow some audience questions," Rebecca deLorenzo, president of the Flagler County Chamber of Commerce, said. "They'll be moderated."
The chamber is among the three organizations sponsoring the forum. The Flagler County Home Builders Association and The Flagler Counjty Association of Realtors are the others.
Huston alone has served in the Legislature: he will resign from his second term in the House on April 6. Cox is an administrator at Bethune-Cookman University. Morley owned his own recycling husiness, which he recently sold, and is now focusing on the campaign full time. Renner is an attorney who moved to Palm Coast from Jacksonville to run for the seat, having lost a bid for a Jacksonville-based House seat in last summer's primary–by two votes. The Republicans were featured in the first forum, ahead of the primary.
There were not many differences between the Republican candidates at that forum. Tuesday's encounter promises to be different, though Morley and Cox face a formidable task in attempting to defeat their far-better funded Re[publican opponents, in districts the Republican-dominated Legislature drew to expressly favor Republican candidates.
The forum will be moderated by Howard Holley, the former candidate for Flagler County Commission, and the event will be broadcast on WNZF. (An earlier version of this story incorrectly stated that WNZF's David Ayers would moderate. "He wanted someone else to do it," the chamber's Gretchen Smith said.)
The special election is expected to cost taxpayers upwards of $1 million in the various districts. It was necessitated by ex-Sen. John Thrasher's decision to remain in office even after being chosen to be Florida State University's next president–long enough to force a special election, though the contest could have been decided concurrently with last fall's election campaign.
Flagler County's Chamber, Association of Realtors and Home Builders Association have a successful track record of hosting nonpartisan candidate forums before elections. Candidates answer tough business-related questions, address issues and talk about their qualifications for serving in government roles. The forums also give voters a chance to learn more about candidates and make informed decisions when they head to the polls.