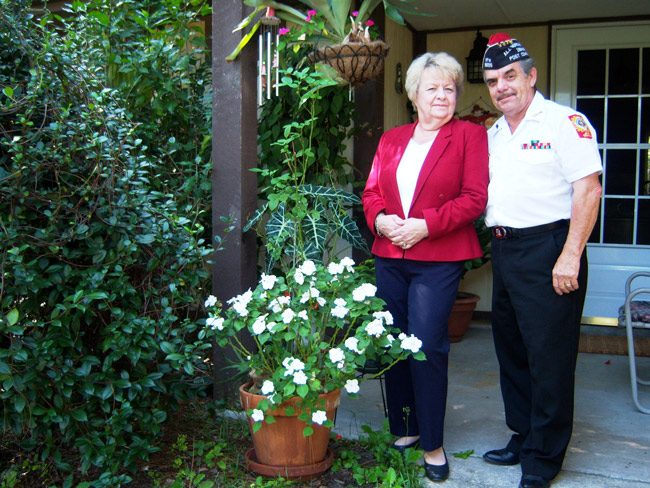 Note: Sophie Zabas's Family and friends will be received Friday, Aug. 19, 2016, from 4 to 5:30 p.m. at Craig-Flagler Palms Funeral Home, 511 Old Kings Road South, Flagler Beach, where a memorial service will be held at 5:30 p.m. In lieu of flowers, memorial contributions may be made in Sophie's name to the American Cancer Society or St. Jude Children's Research Hospital

Sophie Zabas, his companion and inspiration for the past 23 years–every year he's served on the Flagler County Commission–had died Friday after a devastatingly quick bout with cancer. Yet here was George Hanns, reporting to a pair of county commission meetings Monday afternoon, where he'd have to sit a few feet away from the empty chair of Frank Meeker, reminder of another difficult loss, also from cancer, less than a month ago.
"I want to, as we say, army up and take care of my responsibilities," Hanns said hours before the meeting. "My presence there will show respect for Sophie."
And so for the woman he called "my inspiration" every one of the years he's been in public life–he is by far the longest-serving elected official in Flagler County, and without question one of its most popular–for the woman he called the "love of my life," and the woman who did not mince words when she'd force him to attend to his public duties on occasion, Hanns went to work Monday afternoon. He wasn't grim–"I'm going to pretend I'm a rock, but I'm really like sandstone," he said–and he fully engaged in the workshop's discussion on the possibility of a veterans' court for Flagler County. A veteran himself, he's been the county's most ardent advocate for people who have served in the military.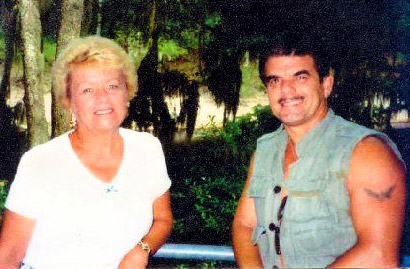 And he let it be known that despite his difficulties, his wit was still in uniform.
"You have three veterans sitting on this board, post-traumatic stress may be in two of them," he said during the discussion about veterans, many of whom suffer from PTSD. "But I'm OK so far." Sophie, mention of whom occurred sooner or later in most conversations with Hanns, inspired that wit, too: "I didn't get to talk much this weekend at home so I'm trying to make up for it," he once said at a commission meeting in May 2014.
Sophie Zabas was born Jan. 29, 1942, in Lazdijai, Lithuania, making her way to the United States in 1950 as an immigrant, through Ellis Island. She grew up in Chicago, where Hanns is from, but the two never met there. She raised her family on Long Island and moved to Palm Coast in 1989, where she worked at the public library and became a member of the Veterans of Foreign War Auxiliary. Her husband of 30 years, Joseph Zabas Sr., died in April 1992.
Her friendship with Hanns was a second lifetime. A few years ago she had quadruple bypass surgery. But she recovered. More recently came the sudden and inexplicable weight loss, and the subsequent diagnosis. She died of ovarian cancer.
Hanns and Zabas never married, but they might as well have been for 23 years, and were so in many people's eyes. "Whatever people liked about me, you can thank Sophie for that," he says.