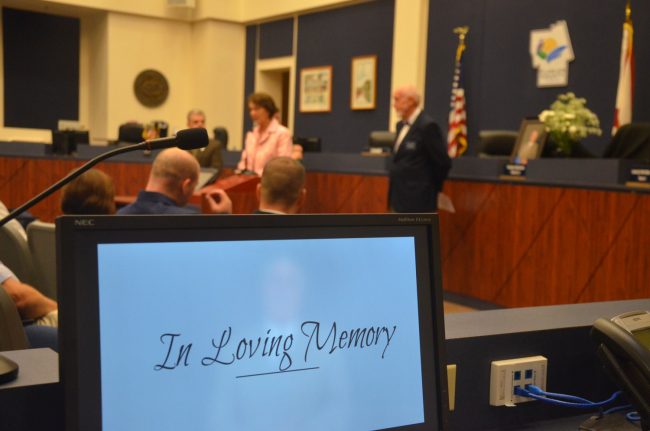 The seat he'd occupied the five years he served on the Flagler County Commission was shrouded in a black veil, his framed portrait stood just behind his nameplate (Frank Meeker, District 2), next to a vase of baby's breath and white carnations, facing a board chamber filled with hundreds of colleagues, friends, family members and more distantly related government associates.
And for an hour Monday morning, Meeker's closest colleagues remembered the man death surprised at 61 on July 22, themselves not yet over the shock of having lost him after seen him in that seat just 16 days before his death. He'd intended to be back after his latest brawl with the colon cancer that was interfering with his works. This time, his body did not cooperate.
Meeker had worn his emotions and ideas on his sleeves, so it was a fitting tribute that his friends and colleagues essentially wore his sleeves for him today, speaking with the sort of less guarded emotions he favored to re-draw the portrait of a man who combined the cerebral, the workmanlike, the whimsical, the addict (when it came to coffee), the unpredictable, the straight-shooter and the loyal friend.
Among those who cherished that loyalty most was Bill McGuire, the Palm Coast City Council member to whom Meeker's death compounds a year of grief.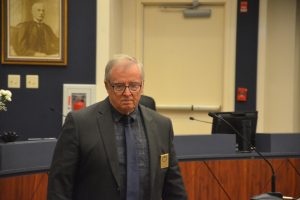 "The last three days have been endless countings of the things that Frank Meeker was accomplishing in his professional life. But I want to tell you, tell you about the man," McGuire said. He paused to collect himself. "Because he was my friend. When I had a tragedy in my own life," he said, referring to the recent loss of his wife in January, his voice breaking, "he welcomed me into his home. And whenever I wanted someone to talk to, he was always there. We both decided that we both had a sick sense of humor, and we often spent hours insulting each other. And I think I was just as good as he was at insulting people. But the measure of a man when you look at his life, when you walk into the man's home"—his voice again broke—"and you can feel the love that's there, not only the love that he has for his family, but the love that they had for him: It reaches you in a place where you need to be reached, and he will always be one of the most influential people that I've ever met. He helped me in my Christian faith, he helped me in my desire to learn, and I'll miss him. Bye Frank."
McGuire had done what a couple of videos would do later: reduce many of the men and women in the audience to tears, not just out of sympathy but for many of them out of familiarity with what McGuire had just described.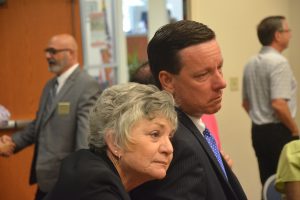 Craig Coffey, the county manager, brightened up the mood toward the end of the tribute with the sort of gently coarser farewell that Meeker would have appreciated, not being for too much stuffiness. Coffey liked Meeker because the two shared affinities: they both liked the grind of the deal, they worked on many together, and they both shared that offhand sense of humor, which Coffey illustrated with his memory of the two men's very first encounters.
Coffey recalled: "He kind of said, Craig, the one thing I ask of you is you don't treat me like a mushroom. I was like, mushroom? What do you mean mushroom? He said, Craig, you know, keep me in the dark and feed me crap. I was like, OK, I think we can handle that. Not that anyone could actually do that to him. But we definitely were able to put him on a lot of projects, and he was a tremendous help to us. That's not normally a role a commissioner fills in."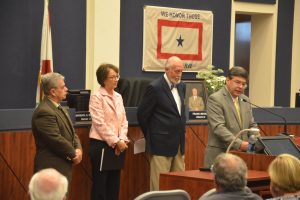 There was also Meeker's obsession with Coffee. "He quickly introduced me to the Dunkin Donuts coffee culture," Coffey said. "When we first met I think one of our first meetings was at Dunkin Donuts. He's the guy with the app on the phone so when you went to Tallahassee his phone was going beep-beep, signaling that Dunkin Donuts was nearby and we may need to get off at that exit." Naturally, the refreshments in back of the room included Dunkin Donuts. "I never did ask him about the burning of Dunkin Donuts on Palm Coast Parkway, but I'm pretty sure it was a sad day at the Meeker household."
Commissioner Charlie Ericksen shared what he called "one particular hypothetical fantasy phone call I got last Thursday." The call was from God, who goes on tell Ericksen about Meeker arriving in heaven and giving Ericksen's name as a reference. "Charlie," God tells the commissioner, "We don't have a lot of politicians here in heaven. What few we did have here have gone south. Meeker would be different, one creator assures the other, who hires him to take care of heaven's "environmental services, coastal resources and as manatee director." Later, Ericksen credited Meeker for saving his life the night he had to be rushed to the hospital a year and a half ago, when Ericksen himself suffered a brain bleed.
Nate McLaughlin, Meeker's closest ally on the commission—they often campaigned together, debated together, voted together—read two poems by Robert Frost, George Hanns noted that five  commissioners had died on his watch since he's been a commissioner, starting in 1992, but Meeker was the only one to have been a sitting commissioner, and Barbara Revels, who chairs the commission, remembered him for his singing and for being her techie.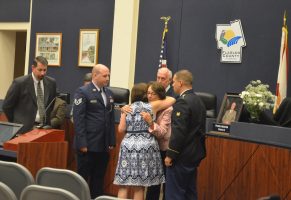 Palm Coast Mayor Jon Netts, with whom Meeker served five years on the Palm Coast City Council, recalled Meeker's spontaneity and his tendency to come up with ideas no left field was large enough to accommodate. "One that sticks in my mind when he was on Palm Coast City Council was his bounty for business idea," Netts said. "Nobody had ever even thought of something like that. Frank said here, I've got this idea. He was a man of ideas, he was a man of details, he was a member of our community, and we will miss him so very, very much."
Meeker's wife Debbie, flanked by her two sons, Josh and Jason, at the end of the tribute spoke the very first words any Meeker other than Frank had spoken there in the past five years. "I'd just like to thank everybody for being here," she said. "Craig alluded to the essence of Frank. He was not a politician. In our world that's what you consider it when you're holding public office. He was just a man doing a job that he loved. He hated the political games, and he wouldn't play them. If you didn't agree with him or like what he did, then don't vote for him, because he didn't care. He wasn't wrapped up into that. And it was about the citizens, no matter where he worked, or what he did.  He always liked fighting for the citizens. He loved everybody here that he worked with. He considered you all his team."
Coffey had called Meeker "our champion superhero, and most of all, friend." His tenure was evidence.