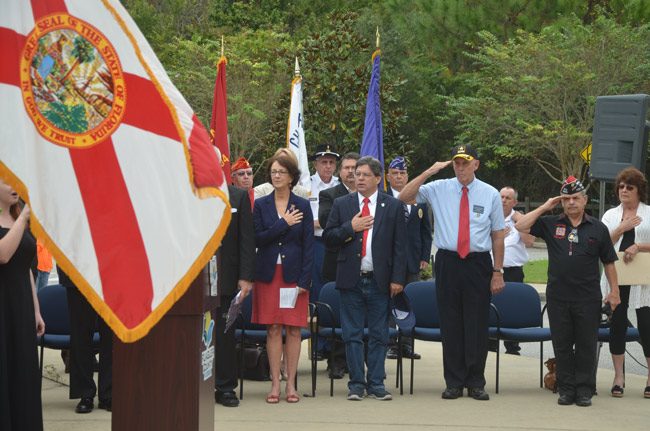 The Flagler County Commission on Monday gave its full support to the creation of a veterans court that, as with drug court, would divert participants from the traditional court system, enabling them to follow treatment programs and potentially avoid harsher punishment. Volusia County has two such courts, St. Johns County is preparing to launch one of its own. Flagler has between 11,000 and 12,000 veterans. The court system would have to approve the diversion program, and the county commission would have to fund it at least in part.
The workshop on Monday, however, took an oddly abrasive turn when one of the two officials presenting the proposal to the county commission, Randy Stapleford—a part-time employee in the office of U.S. Rep. Ron DeSantis, where he handles veterans' affairs—blamed the local court system for delays or silence in providing information, openly questioned the veracity of a Flagler judge, and singled out Chief Judge Terence Perkins as the alleged reason behind nine months of delays. Stapleford levied his criticism on two separate occasions during the 40-minute workshop, prompting George Hanns, one of the commissioners—who was not familiar with Perkins's role as chief judge—to question whether a reelection campaign was behind the judge's delays. (Perkins is not running.)
Stapleford also told commissioners that a judge had already agreed to "run the court," which, in fact, is not true. "We are examining the feasibility of a Veterans Court in Flagler County," a spokesperson for the 7th Judicial Circuit, which would run the court, said today.
It was a strange way for Stapleford to go about his presentation, considering that he had a meeting scheduled for Friday with Perkins to discuss Flagler's veterans' court. Stapleford's approach may have been crudely tactical: he was before the county commission to win its approval for the proposed court, and he wanted to take that approval to the judge, ostensibly as an added pressure to win approval. Stapleford's boss, DeSantis—who has a scant record of appearing in Flagler though he just moved to the county, let alone facilitating services to the county–is running for re-election.
Another surprise: though the meeting was only a workshop, and workshops are never televised on the county's community access channel, as regular meetings are, this one was.
Stapleford says the germ of a veterans court was planted last November in informal conversations at the county's Veterans Day commemoration in Bunnell. (Flagler County Sheriff Jim Manfre, who was at the workshop Monday, spoke of such a veteran court in detail before the Palm Coast City Council in 2014, as part of his broader focus on how mental health issues intersect with law enforcement.) Stapleford was looking for a point person locally, and found him in Ed Fuller, an ally of County Commissioner Nate McLaughlin—and an applicant, these days, to the seat left vacant by the death of Commissioner Frank Meeker, which may explain why the veteran court proposal suddenly reemerged: it would be a valuable feather in Fuller's cap on the way to an appointment.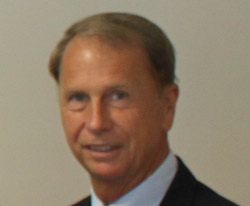 Instead of outlining the basic timeline of the proposal since November, Stapleford then went on the attack: after the meetings in November, "we had a large meeting here, in this building here, I believe in December, Ed, if I'm correct, sometime in that—where many of us met, many of the commissioners met. Frank Meeker was here for that time as well. All the layers who would be involved in a veterans' treatment court, with the exception of one, was at that meeting, to my best understanding."
If such a meeting took place with Meeker and any other commissioner present, as Stapleford implied, it would have been a violation of the Sunshine law: two or more elected officials may not meet outside of a publicly noticed and accessible meeting.
Later in Monday's workshop County Administrator Craig Coffey told commissioners that he "wanted to acquaint you with the topic"—a phrase quoted again today in a release issued by the county, as if to stress that Monday's meeting was, in fact, the first time commissioners were getting clued in to the issue. Clearly, it wasn't. Meeker aside, Hanns, the commission's most ardent supporter of veterans' issues, said he'd been kept abreast of all the meetings regarding the effort, though he didn't specify whether he'd attended any. Asked about such a meeting out of the sunshine, a county spokesperson said of Stapleford: "I am told that he misspoke. Frank Meeker was the only commissioner at that meeting."
Stapleford went on with what turned into a startling attack on the court: "Everyone at that point was in agreeance. We went back to the judge who had agreed to run the court, and we seemed to be caught up on an unknown reason of delay, so I pursued on emails, I kept getting back responses that I didn't understand—something is not right, something is holding this process up. We were later told to consult a person at the court to gain some statistics. We thought the statistics were going to be coming forward to us. The judge had told me and had told others that she had talked to Chief Justice Perkins." Flagler County has only one permanently assigned female judge, County Judge Melissa Moore-Stens. "Whether that is true or not, I don't know, but Judge Perkins called me, probably in the March timeline, and we discussed a little bit about the court and why we hadn't gotten any statistics. I really didn't have a response from the judge at that time, but in any case we decided to continue to push forward."
None of the commissioners—who are usually more alert to personal or public slights—mentioned Stapleford's claims.
---
A DeSantis staffer questions the veracity of a judge among repeated sallies against the 7th Judicial Circuit's chief judge.
---
Twenty minutes later, Commission Chairman Barbara Revels raised a basic question about how often a veteran court might be used in the county—how many of the county's veterans might end up cycling through the system. The answer to the question is unknown for now, or "it may not be that significant,"  Stapleford said.
But he wasn't satisfied with only that answer and renewed his attack:  "We have been trying for nine months to have support to get these numbers and to find out the process of which the judge would like to run a veterans treatment court," Stapleford said. "If we don't have his backing, we're not going to have one, so nine months trying to get information, I've been personally told, unless he directs somebody to give it to me, we're not going to have it."
"You're saying the judge controls the information?" Revels asked.
"I can't tell you yes or no, absolutely," Stapleford said, "but I can tell you that every judge that we've had deal on this had to refer to Judge Perkins, and dealing with Judge Perkins, I've tried to get that information. I have been unsuccessful. So we are bringing hopefully a consensus of a veterans' treatment court for Flagler to the judge on Friday, in a meeting about 2 o'clock. We're hoping to find out whether or not we would have his support."
That's when Hanns questioned Perkins's motives, after asking for a clarification about Perkins's role.
"Volusia County has two veterans' courts," he said, "one on the east side one on the west side, he's definitely in charge over those also in Volusia. I don't know why he's balking on this. The first question I have is, is he up for reelection? It's just a question. I just need a yes or no."
"He is not," Fuller told him.
"In fairness to Judge Perkins this has been a two-pronged approach, that being Randy and I," Fuller continued, clearly unsettled by the abrasive turn the discussion had taken, regarding the court. "And along the way as you all know in the process there is miscommunication sometimes, one time you think that that has been communicated properly, and you find out four months later that really wasn't necessarily communicated that way, or the understanding is not communicated that way, and I think in this particular instance, that was the case, in defense of anybody." He added: "Judge Perkins is amenable to meeting with us, as a matter of fact he's a big champion of this program, we have two in Volusia and one in St. Johns, so I really don't think that's going to be an issue. I don't think it is an issue."
Stapleford's approach was not unusual for a DeSantis staffer: DeSantis himself is known for a similarly abrasive, prosecutorial style, whether in committee hearings or in television appearances (usually on issues that have little or nothing directly to do with the 6th Congressional District), and regarding veterans affairs publicly taking to task Robert McDonald, the national secretary of veterans affairs, over the very same issue Stapleford was accusing Perkins of: lack of information. "I, along with many veterans in the community," DeSantis had written the secretary in 2014, regarding an issue in St. Augustine, "find it very disappointing that no response to date has been received from the VA on any of our correspondence. Unfortunately, this only leads to further deterioration of public confidence in the VA."
Asked about Stapleford's claims regarding the court system, a 7th Judicial Circuit spokesperson said: "We're not going to comment directly on Randall Stapleford's presentation. I don't think it would be helpful to delve into these initial discussions."
The 7th Circuit premiered a Veterans Court program in Daytona Beach in November 2013 and expanded to west Volusia in 2014, the spokesperson said in an email. "We have had more than 100 veterans "graduate," meaning they successfully completed the terms of Veterans Court. There are monthly Veterans Court hearings in both DeLand and Daytona Beach, with two Volusia County Court Judges presiding. This year, we have started work on a new Veterans Court in St. Johns County."
There are some 168 such courts in the nation.
"This is drug court instead of veterans," Fuller said. "The beauty about this court is that it can be tracked inside drug-treatment court. You have all the same resources, except in this instance you'll have a veterans administrator-officer provided by the VA and they will provide the services for the veterans." Sarasota and Manatee counties operate their veterans' court as part of their drug court.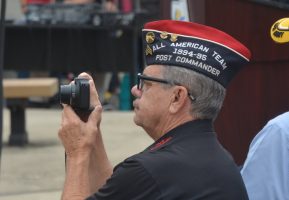 Manfre, the sheriff, described the situation currently: the arrest process itself does not include identifying anyone as a veteran. That happens in the booking process at the jail. "Once we know someone is a veteran, we contact the Veterans Administration," Manfre said, so any available services may be provided. But the veteran court would be key to tracking veterans, enabling the VA and other resources to better assist individuals. The probation system can also recommend conditions the judge could implement, such as PTSD or substance abuse counseling. "So by concentrating it, one time, with one court, with all the resources there," Manfre said, "the results of other communities that have done this are much better for the veterans."
There was little doubt that county commissioners would give their approval to the veterans court concept Monday, improving the chances that Flagler would become the 24th county to have such a diversion program.
"As a county we need to set the example for our veterans that they are welcome in Flagler County and we will take care of them," Hanns said.
Commissioner Charlie Ericksen said the best way forward was for Flagler to follow the model set by other counties, rather than replicating the process. "This is a new adventure for us but not for those who have been down the road already," he said.
"We often talk about veterans falling through the cracks," Commissioner Nate McLaughlin said, "and this is just one of those programs that help plug those holes up so we know where they are and what they need. Sometimes it is a criminal offense that you identify a veteran in need, in trouble. They're not necessarily criminals. We don't know what the PTSD has done to these folks, and this is just another crack that we can fill in with this."
Coffey, the county administrator, said he'd set aside $25,000 in the county's budget for the potential court. "I don't know that we have anybody necessarily opposed to it," he told commissioners. "I think it's just a matter of meeting and moving forward, but I didn't want to bring you an issue later that you were unaware of or read about it in the paper."