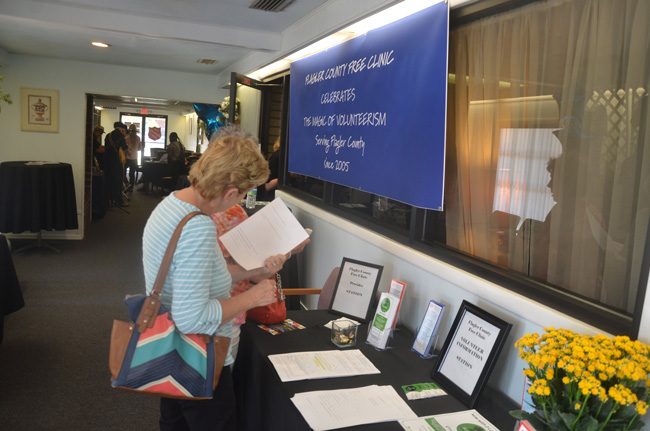 County government's commitment to safety-net services from the Flagler County Free Clinic to a domestic-violence shelter drew special interest from commissioners at a budget workshop this morning: some of them are interested in possibly increasing funding to those agencies, a further indication of fists loosening around the county's till. Funding has been frozen since the recession.
The workshop was one in a series scheduled to go over county and constitutional officers' spending for the coming fiscal year, which begins Oct. 1. Such workshops are generally humdrum affairs, heavy with numbers, balance sheets and the repetition of overviews of department-by-department breakdowns conducted every year. County Administrator Craig Coffey presents the numbers, explaining increases (and less often, decreases) in spending and number of employees.
In the budget he submitted for commissioner's review, the county's social services contributions to outside agencies would stay the same yet again, totaling $425,000, with nearly half of that going to Stewart Marchman Act behavioral Health Services, the addiction recovery center, and the rest going to agencies such as the Early learning Coalition ($58,200), the Family Life Center ($55,500), the Flagler County Free Clinic ($55,000), and the Flagler County School Board ($25,000). The Free Clinic in Bunnell provides primary medical care to poorer people who have neither insurance nor the means to afford physician care.
"If we can find a way I'd like to increase some of that fund," Commissioner Greg Hansen told fellow-commissioners this morning. Coffey said there'd once been a committee that reviewed funding requests and made recommendations to the commission. That was before the downturn in the middle of the last decade. He suggested inviting each agency to give five-minute presentations to commissioners, though most, if not all, are familiar with what each group does: many were recently at the Family Life Center's ribbon-cutting for its new location, as Commissioner Dave Sullivan noted.
"If we increase funding in social services, that is not figured in the figures I showed you today," Coffey said.
County funding represents only a part of each agency's budget. The Family Life Center, for example, has a $1.2 million budget, but its move also meant that it took on a $3,000-a-month rent. For the Free Clinic though, county support is a much larger proportion of total funding. Whatever increases commissioners may be willing to consider will be restrained by other pressures on the county budget.
In a budget overview on May 29 the administration laid out the immediate needs the county is required to fund, totaling $2.6 million–at least in the presentation the administrator submitted: the figure is closer to $3.5 million, when some of the spending is annualized. That includes 10 new sheriff's deputies for $1 million, eight additional civilian employees at the sheriff's office ($800,000), three additional firefighters ($225,000), increases in retirement funding ($310,000) and so on. The total does not reflect a n additional $6.5 million wish list that includes $1.2 million for a 3 percent across-the-board raises (including for top staff already in the six figures, so that top staff would account for a disproportionate bite at the dollars), $475,000 in additional raises anticipated from a "salary study," and $1.2 million in additional staffing.
The budget overview today included costs for the county commissioners ($663,000, of which salaries and benefits account for $501,000), close to $800,000 for the administration, $750,000 for the county attorney's office, though $122,400 of that is for a deputy county attorney position that's been vacant for two years and may remain vacant again this year: a $65,000 paralegal is fulfilling those duties. Money not spent in the county attorney's office "fills other holes" in the county budget or goes into reserves, Coffey said.
In in-house social services, the county is projecting $812,000 for senior services, $273,000 for adult day care and nearly $300,000 for congregate meals.
Talk of social services brought up the matter of increasing homelessness in Flagler, especially in a camp near the county library on Palm Coast Parkway. But there are no immediate plans for directly addressing the issue. "One of the biggest challenge we have is addiction," says Janet Nichols, program manager for county human services. "Probably 90 percent of these folks have drug and alcohol problems."
The library itself drew some attention, with commissioners periodically told that the facility needs more maintenance. Holly Albanese, the library director, said the library was recently pressure-washed, the front entry was painted and the parking lot expanded to add eight to 12 spots. The library's bathrooms are on a capital improvement plan. "That needs to get done soon, hopefully," Albanese said. The library's roof has also been repaired and windows replaced.
A new library branch near the Government Services Building is in design, with six architecture firms' proposals being reviewed.
Two residents addressed the commission at the end of the meeting. One of them told commissioners they were underpaid, based on a survey she'd conducted, but she was critical of the contract the county administration is paying to retain the services of Sally Sherman, who'd been deputy county administrator until her "retirement" in February–a retirement followed by her return the next day as a consultant, with a $10,000 raise and overall costs to the county of $190,000 for the year.
In the budget numbers Coffey discussed today, her costs are less than that because the intention is that come next March, she will be rehired as a deputy county attorney again: the county is sitting on the vacant position, saving it for her.
"I know everybody's got a lot of blowback about Ms. Sherman's situation," the resident said. "I have mixed feeling about that because obviously she has a lot of institutional experience and memory that she brings. However it is my hope that even though she is hired back as a consultant, and the methods used were legal, they still violate the spirit and intent of the state law from 2009, and it is my hope and I'm sure many other citizens that you'd look into, when the position is posted, into hiring somebody younger who can build on their own institutional memory and build their expertise as Mr. Coffey commented earlier: he could use 10 deputy assistants. But I think with the money the county is allocating for Ms. Sherman, you could definitely get two freshly minted people with Master's to bring a new perspective to county administration."
Jane Gentile-Youd, a commission candidate who often addresses the commission, claimed that until Coffey took over as administrator in 2007, "Flagler County never had a deputy administrator." She was wrong: the position was created for Jim Jarrell in the spring of 2005, two years before Coffey's arrival. Coffey corrected her. But Coffey was misleading when he further corrected her by claiming that commissioners approve employees' salaries "as part of a classification plan." In fact, commissioners never knew that Sherman was getting a $10,000 raise by getting rehired as a "consultant," because Coffey never told them, though he'd signed the contract specifying the raise.
Nor were commissioners aware, for example, that while approving a new pay range for the classification that includes the deputy county administrator's position, they were approving what will potentially be yet another $10,000 raise for Sherman, when she is rehired next March. At least two commissioners–Nate McLaughlin and Don O'Brien–said they were under the impression that that reclassification was to award the $155,000 salary to the county engineer only, in order to retain her.
Commissioners addressed neither residents' comment. Hansen, who'd been furious at the FlaglerLive stories revealing the details behind the Sherman re-hire, according to two officials had threatened to call for a boycott of the website–"I'm done with FlaglerLive," he'd reportedly said, according to the officials, saying he'd ask the commission to "boycott the sonofabitch" –merely asked for a move to adjourn.