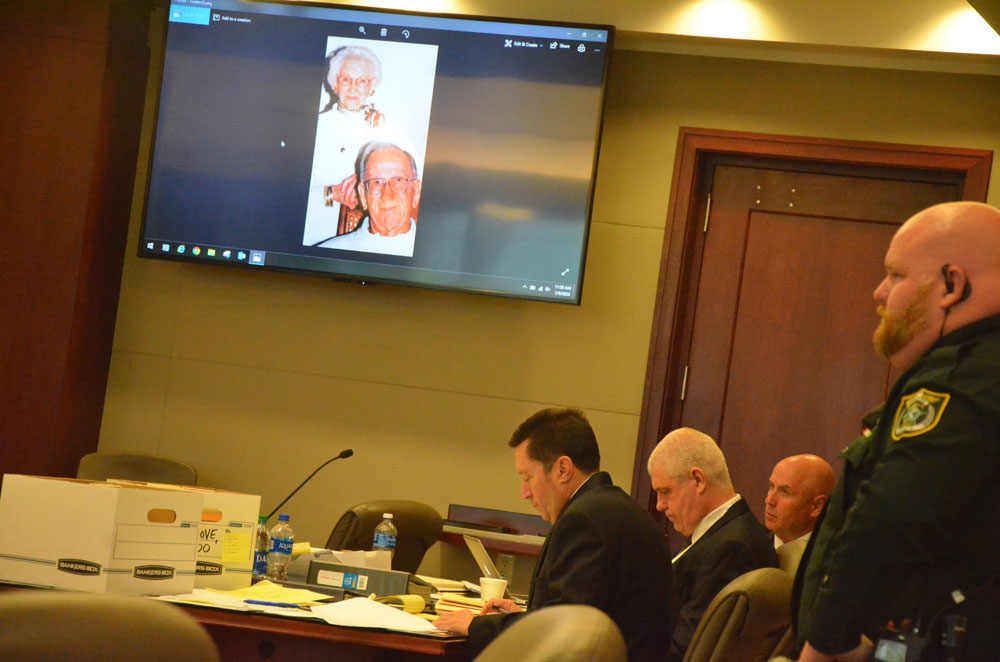 Morning and afternoon, it was a grim day for David Snelgrove's defense against the death penalty Thursday.
The jury that must decide whether to recommend death for Snelgrove or let him live out his days in prison without parole, as he's done for the past two decades, spent the morning looking at two sets of large pictures of Glyn and Vivian Fowler bludgeoned, bloodied and dead as a medical examiner described in unrelenting details their "constellation of injuries" and manner of death at Snelgrove's hands. 
The dozens of color pictures were pasted to whiteboards and set on an easel a few feet from the jury box as Predrag Bulic, the medical examiner, using a pointer and speaking in his usual monotone–he can describe an article of clothing or a strangulation in the same monotone–spoke of the beating, the stabbings and the asphyxiation Glyn, 84, and Vivian, 79, suffered as Snelgrove murdered them. 
He's 47 now. He was 28 at the time, high on crack, looking for cash to buy more. He chose to break into his neighbors' house on Palm Coast's Bannbury Lane, the same neighbors who'd extended a hand to him previously as they would anyone in need: Glyn had been a founding member of Trinity Presbyterian Church's daycare, he and Vivian volunteered their time, played golf, lived as active retirees in Palm Coast's earliest days as a city. 
The pictures of them dead compounded the effect of graphic pictures and video the jury had seen the previous day. As Bulic spoke, the Fowlers' only daughter, sitting in the gallery's first row–Bulic was close enough that he could have tapped her with his pointer–wept and struggled to suppress her sobs. The jury could hear. The defense attorneys could see, and could do nothing about it, though a day earlier Michael Nielsen, one of two defense attorneys, had told the judge that the family's demeanor could inappropriately influence the jury. 
Later in the morning, the Fowlers' daughter was again struggling through tears and sobs, this time from the witness box, as she read two letters, two "victims' impact statements," one from the Fowlers' grandchild, one from herself and her brother, who is in ill health and couldn't make it to the trial. Nielsen had attempted to keep the statements from being read to the jury: victim  impact statements at capital sentencing trials are controversial but a standard feature of capital and violent crime trials. Juries may not use them as evidence or as proof of "aggravators" as they judge whether to recommend death or not. Yet they're permitted since the U.S. Supreme Court opened the way in 1991. 
Circuit Judge Kathryn Weston overruled Nielsen's objection but allowed rigorous editing of the statements, so descriptions of Snelgrove "viciously attacking" and murdering the victims–descriptions the medical examiner had, in effect, just spent almost two hours presenting to the jury in language bleached of emotion–were stricken. 
As the daughter read, some members of the jury wept, too. And so did Snelgrove. "The loss has been more than traumatic. My brother has suffered from severe depression and anxiety all these years. I am petrified of sleeping at night, fearing someone would break in," she read, nearing an ending that had the Fowlers as if revived and fading away in their own idyllic sunset: "We still see them holding hands no matter where they went." 
It took a while for her to regain her composure. It took a while for Snelgrove to regain his composure, too, even after the jury was let out for lunch: he had not been faking. Nor, it appears, at least judging from the psychologist who evaluated him, that he'd been faking when, every time he would relate the account of that night fatal to his former benefactors, he'd "shut down" and prove unable to speak of it, just as every time an image of the Fowlers or the scene of the crime would appear in the courtroom's overhead and oversized television screens, Snelgrove would lower his head and seem overcome. 
The psychologist who's evaluated him over the years, Stephen Bloomfield, described Snelgrove as "remorseful" on more than one occasion.  
But Bloomfield's testimony, which dominated the afternoon after the prosecution rested, was little short of disastrous, at least in its early goings: Bloomfield fumbled and bumbled through reams of paper, unable to organize his thoughts or memories of the case as Jeff Stone, Snelgrove's other attorney, patiently elicited testimony. At one point Bloomfield was so lost in his search for a document that Stone suggested: "I imagine at some point we're going to have a break during your testimony, you could find it then."
The defense's hope is that its "mitigators" will convince the jury that they outweigh the prosecution's aggravators. The defense concedes that the murders were brutal, but it claims that Snelgrove suffers from a mental disability, that his IQ, in the 70s, is on the border of an intellectual disability, and it is unconstitutional to execute the mentally disabled. But that borderline grayness is what's kept him in the vise of capital punishment, twice getting sentenced to death previously, albeit by very split juries–7-5 and 8-4, as his history obviously made an impact even then, in 2002 and 2008. 
Those sentences were set aside after the U.S. Supreme Court ruled that Florida's sentencing scheme was unconstitutional: juries had to be unanimous. Snelgrove could never be tried for the same offense twice. Yet here he is, getting sentenced for the third time, though the jury was never told–and will not be told–of that history. Which leaves his fate in the hands of expert witnesses who must convince the jury that his history is as compromised as his brain, which his attorneys say is abnormally small. 
At the break later Bloomfield didn't spend any time organizing his papers. He bantered with the prosecution. 
He was less scattered after the break, and he painted the portrait of Snelgrove as a functional but slow individual who, as he'd said earlier, had failed most of his classes, including art and physical education, despite being taught through the special education track for emotionally disabled students. He described him as depressed, addicted and suffering from ADHD, and to have "likely" suffered from a neurological disorder induced by his mother's drinking when she was pregnant with him.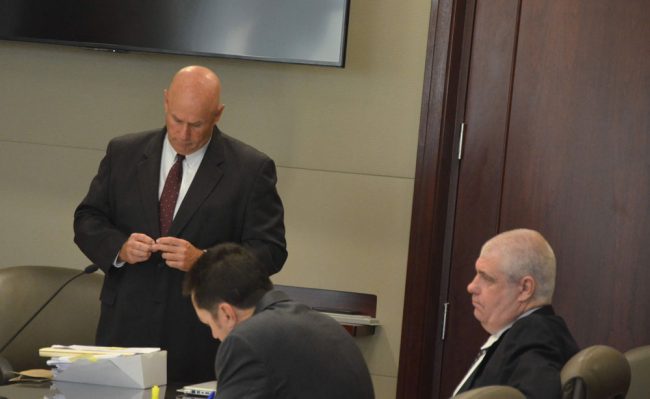 But that could not be documented, and soon Assistant State Prosecutor Jennifer Dunton, who is prosecuting the case with Assistant State Attorney Mark Johnson, seemed to have a field day with Bloomfield, puncturing his testimony with one question after another that he could not answer with the sort of deflective assurance that wouldn't leave the jury thinking he had nothing. He had described Snelgrove as capable only of menial work. Yet Snelgrove had held a job for eight years, Dunton asked him, had he not? The same job, which required significant ability to do various jobs. Yes, Bloomfield said, but under supervision. "He doesn't plan it out," Bloomfield said. He'd spoken of Snelgrove falling when he was a child, an incident that may have affected his brain development. But Dunton pointed out he was relying on Snelgrove's account, not on documentation. Bloomfield conceded. Bloomfield had spoken of Snelgrove's mother's drinking. But Dunton pointed out that there was no documentation of that, that he was again relying on Snelgrove telling him as much. Bloomfield conceded. As for his mother drinking when he was pregnant, "He couldn't have possibly have known that when he was in utero, is that correct?" Dunton asked, as close to a fatal blow as Bloomfield's testimony sustained. By the time Dunton theatrically discharged her "no further questions," flipping her legal pad's pages down, she was practically skipping back to her chair.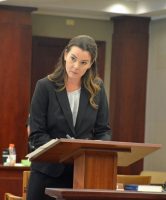 Dunton had made Snelgrove look like a guy who certainly had his issues at school but who may or may not have been a malingerer, failing classes because he didn't want to work, not because he couldn't. (School records have been destroyed: the facts will never be known.) She'd made him look like one of many people who have depression, but disconnected the depression from his parents' death two years before the murders. And she got Bloomfield to concede that it was "slightly possible" that Snelgrove appreciated his criminality. Snelgrove's remorse and visible emotions, in this case working against him, indicated he very much appreciated the severity and tragedy of the act, though obviously there's no telling what state he was in at the time he committed the murders. The simplicity of his mind is actually in clear evidence in the few letters he's written the court in the last few years: in one, he is begging the court to let him skip an important hearing (where doctors "will be talking about medical terms that I will not understand") so he doesn't have to travel from Death Row to the county jail, where he seemed to have been traumatized by the fact that he would not be allowed to shower without being shackled. In another, he again asks to skip a hearing because he'd been lined up for a dentist's appointment for months, to get new teeth, and didn't want to miss it. "Please inform mr Neilson about what you deside," he wrote the judge, spelling at an elementary school level, bespeaking concerns not much older. "I want to try and arange a visit for thanksgiving as well as Christmas, that is the other reason."
Bloomfield said he'd spent eight or nine hours recently with Snelgrove on top of the hours he'd spent with him in past years. At no point in Bloomfield's paper-ridden testimony or in his equivocating retorts to Dunton had he managed to convey the kind of palpable simple-mindedness, if not the infantile humanity, apparent in those letters. 
Astoundingly, when Dunton was done, and though she'd given him endless openings ripe for redirection, Stone had no further questions for Bloomfield. Nielsen appeared to have  asked Snelgrove if he had any questions he wanted asked, and Snelgrove seemed to indicate that he did not. But if he wasn't going to understand medical terms, he was not any more likely to understand the tactical consequence of what had just taken place.
And on that demolishing, unanswered note by the prosecution, the jury was dismissed for the day. 
The trial resumes, with additional witnesses for the defense, Friday morning at 9 a.m. in Courtroom 301 at the Flagler County courthouse.