Back in the days when I worked at CNN in Atlanta, and Ted Turner was still very much in charge, he had a ready response for anyone who questioned his company's no-smoking policy for employees: "Anyone who smokes is stupid," he would say, "and I don't want stupid people working for me." That was generally enough to silence further protest. Grandfathered to indulge their filthy habit were a couple of dozen CNN "originals," who could be seen huddled outside the doors of the CNN Center, shoulders hunched against the winter chill or a summer downpour as they puffed the loathsome weed.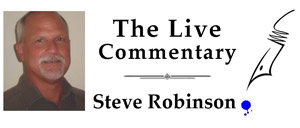 Turner's condemnation was harsh, but it made the point. Prospective employees are more than just lines on a resumé. Their choices and their habits define them. People are the sum of their deeds. If you wanted to work for Turner Broadcasting, you quit smoking if you'd already started, and of course you didn't dare start. I'm not sure whether the ban was ever enforced—indeed, whether it was enforceable—but I suspect that the place was better for it. People didn't reek of cigarette smoke, there weren't a lot of smokers hacking away, spreading germs across the wide-open newsroom, and employees were more likely to enjoy better overall health, which cut down on absenteeism and medical expenses.
If you haven't been paying attention since the Surgeon General issued his landmark report on smoking back in 1964, here's what you've missed over the last half-century: If you smoke cigarettes, they will probably kill you. According to the Centers for Disease Control, "Tobacco use is the single most preventable cause of disease, disability, and death in the United States." Some 1,200 people die from cigarette-related illnesses every single day. And lung cancer is not a pretty way to die.
The question of course is whether an employer has the right to forbid its employees from smoking on their own time, an issue close to home with Flagler County's recently-enacted ban. Opponents of ordinances like Flagler's—which often includes the ACLU—say that as long as smoking, like drinking, is legal, it cannot be arbitrarily singled out for opprobrium. Proponents say that a healthier workplace is in everyone's interest, especially as the Affordable Care Act nudges us closer to a true actuarial structure, in which the healthy help to subsidize the sick. Soaring medical costs are requiring all of us to take a more proactive role in staying healthy.
As a lifelong nonsmoker, I can't fathom why anyone of sound mind wouldn't do everything in his or her power to stop the habit. But I know that quitting is, for most people, difficult at best, and next to impossible for some. There are all sorts of products on the market designed to break the nicotine chokehold. But the truth is that a great many people will not stop if they do not have a compelling reason to do so.
For many smokers, it takes a pregnancy to make them stop. Suddenly there is an incentive far more powerful than any study or scary TV commercials. For mothers-to-be, the toll on a developing fetus is direct and obvious. Fathers also become aware that their habits, good and bad, are likely to be copied by their young children.
If a pregnancy is not in the cards, and we all agree that smoking is bad for you, and we all bear the costs of smoking-related illnesses, maybe what is required are some incentives that really mean something. You would think that the prospect of coughing up your lungs a few decades hence would be incentive enough for most people. But folks tend to live in the here and now, and most of us have a hard time contemplating our own demise. So, losing your job because you can't, or won't, kick the habit? No presents under the Christmas tree because that job you had, suddenly you don't have? Is that enough of an incentive to quit?
OK, I know this sounds heartless, as I reside smugly in my smoke-free home. But consider again Turner's edict. No one really feared being spied through the living-room window smoking a Camel, and no one was frisked by Turner Security for hidden butts. But each and every employee had made a promise, and the guardians of that promise were … each and every employee. Atlanta remains, in some ways, a small town, and if you were lighting up in a bar it would not be unusual to be seen by a co-worker. There was no honor system—you weren't going to get turned in—but there would be an unspoken acknowledgment that the smoker had violated a code we all labored under. Condemnation by your peers is indeed a strong incentive.
For legions of job-seekers, drug testing is an unquestioned part of the routine. Most people understand that the use of illegal drugs can have far-reaching consequences—stealing, for instance–none of which an employer can tolerate. My younger daughter is in the midst of job-hunting, and has to take a drug test for most of the positions for which she has applied, none of which involve driving or operating machinery. But when I asked her whether any of the prospective employers have rules against smoking, she looked at me as if I were nuts. Employers don't want the drug-impaired on the payroll, but maybe they'd be doing everyone a favor if they had the same attitude toward the nicotine addicted.

Steve Robinson moved to Flagler County after a 30-year career in New York and Atlanta in print, TV and the Web. Reach him by email here.