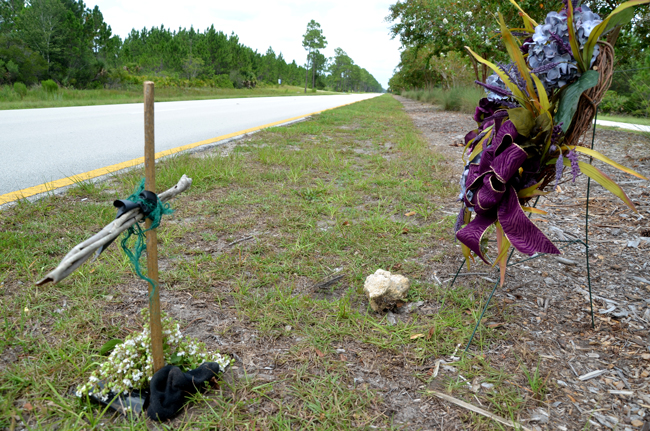 In 2009 Flagler County eliminated a pilot's position for its Fire Flight operations, the helicopter used to fly trauma patients to hospitals. That's the helicopter that couldn't be used last Friday night, when 15-year-old Kirt Smith was struck by a pick-up truck while bicycling down Seminole Woods Boulevard. The helicopter, which sat a short distance from the accident scene, couldn't be used because its shift had ended at 8 p.m. The accident took place less than an hour later. Smith was taken to Halifax Hospital by ambulance. He died Monday afternoon.
Year after year for the last three years, the county commission, like other local government agencies, has been thumping its chest to taxpayers over the number of positions it has cut and the money it has saved.
The county's savings from cutting out the pilot position: $58,350 in salary, $31,142 in benefits, $3,645 in clothing, $9,865 in pilot training and travel.
The Palm Coast City Council has been doing likewise, announcing at every opportunity how it's reduced positions and maintained a low property tax rate without cutting services. The last is a matter of definition. The city has decided not to provide certain services residents have been demanding for years (as they did again in neighborhood planning meetings held in 2009), including sidewalks, in order to keep its tax rate low. The city has been able to build some sidewalks since 2010, but only because it used federal dollars from the Obama administration's 2009 stimulus package.
The city administration boasts of diminishing its ranks in the last couple of years to around 380 positions. But that's the same number of employees it had in 2006, at the height of the city's building boom. It only looks like the city cut back because it kept adding positions, peaking at 436 in 2009 (when it added fire stations). But it did cut back in infrastructure improvements such as sidewalks. The matter came up again today at the end of the Palm Coast City Council meeting, and in light of Smith's death.
Mayor Jon Netts said he'd received emails asking why bike paths were going up elsewhere in the city, but not on Seminole Woods.
"The next one on our list is Seminole Woods," City Manager Jim Landon said. "It doesn't have funding right now. We've had the agreement with the state, the local agency agreement for funding, but they haven't actually put funding in that pot for Seminole Woods." For now, the city's sidewalk construction is focused on Belle Terre, which includes a planned extension to U.S. 1.
"You can only do so much," Netts said.
"We are doing a lot," Landon said. "We're getting it done as quickly as we can."
Frank Meeker, the city council member who received at least one email referring to the death (Meeker said the author was a bidder on a project that he didn't get) vehemently disputed any cause-and-effect connection between the boy's death and the absence of sidewalks. "What makes you think he'd even stay on the sidewalk?" Meeker said in an interview, describing numerous bikers who choose to ride on the shoulder along Colbert Lane, for example, instead of the sidewalks provided along that road.
The county, meanwhile, is budgeting for an additional part-time pilot for Fire Flight beginning Oct. 1.
"The part-time pilot will provide initially extended hours for the helicopter, and they'll also provide relief for pilots who are sick, can't come to work, or who are on vacation, so we can maintain the 8 to 8 hours," Flagler County Fire Chief Don Petito said. Fire Flight is on duty daily from 8 a.m. to 8 p.m. There will be attempts to extend the helicopter's duty time to midnight, "If we had a full-time position we'd be able to do it most of the time, but with sick, and personal and vacation, I don't think we'd be able to do it every day," Petito said.