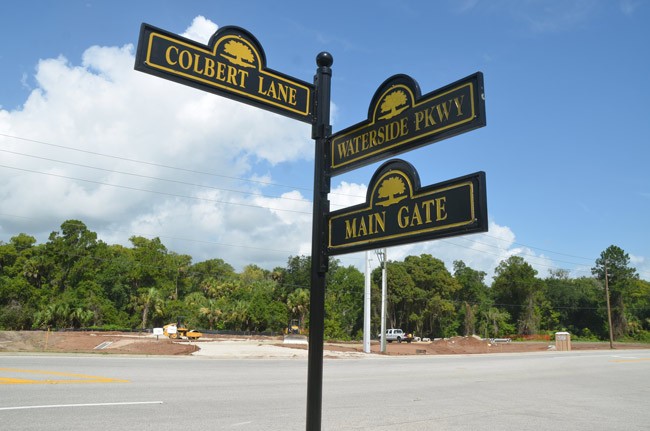 Almost a decade after it was first proposed as a 60,000-square-foot retail, restaurant, and office plaza across from the main entrance to the Grand Haven gated community on Colbert Lane, construction for the now slightly smaller Shoppes at Grand Haven has begun with site preparation, with actual construction set for later this summer.
First to go up is the 4,800-square-foot building that will replace the Grand Haven Information Center inside the main entry gate. That may be the only building to go up for now, as Grand Haven works toward luring tenants into the planned additional space.
The Shoppes at Grand Haven will be the first commercial property along Colbert Lane, the arterial road linking Palm Coast Parkway with State Road 100. Palm Coast has approved the site for up to 50,000 square feet of commercial space, as opposed to the 60,000 projected previously. The current site plan envisions two additional 16,000 square-foot retail buildings with a variety of retail stores and professional offices, and another freestanding building for a bank or other retail business.
According to Grand Haven Realty President Jim Cullis, the site was envisioned in the master plan for Grand Haven from the outset and represents a major milestone for his company, the community of Grand Haven and the surrounding city of Palm Coast.
But the commercial site has had its hopes dashed in the past. As far back as 2007 it was seen as a thriving, pinoneering commercial development on Colbert, when a different developer was planning it. "River City," Toby Tobin, the real estate journalist, wrote at the time, "stated that they have already had serious discussions with an upscale Italian deli, a dry cleaner, a real estate firm, an old fashioned ice cream parlor, a small boutique grocery, a chocolate shop, and a bicycle shop. They would also like to see a small bank and an upscale restaurant. Construction is likely to begin this summer."
But the housing bust intervened and the site didn't go ahead. Hope is now renewed.
"Grand Haven is approaching full build out, as are other communities along Colbert Lane," Cullis said in a release issued this week. "With more residential communities planned on Colbert Lane, Roberts Road and along Highway 100 the time is right to bring commercial online for this growing area." The new office, he said, will provide easier access and visibility for customers.
The office will feature a casual café setting with displays and information stations where visitors can learn about Palm Coast and Flagler County recreational amenities, lifestyle and real estate opportunities. The office will serve as the Grand Haven Information Center as well as a gateway to real estate information for surrounding communities. Cullis is also locating his Grand Haven Properties development company in the building.
Agent offices, conference rooms and closing rooms will flank the café. The Graham Conservation Area will set a heavily wooded backdrop for the office and The Shoppes at Grand Haven.
"This will be a fun place to visit and learn about the region and discover all the opportunities for living, working and playing here," Cullis said. "We also envision a one-stop real estate concept with affiliated businesses in the center including banking, a title company, insurance, property management, interior decorating and other allied services."
The Grand Haven Realty office building is projected to open in the first quarter of 2016. The project team includes Wakefield Beasley Architects of Jacksonville and site work contractor Cline Construction. Cullis said negotiations are beginning with commercial developers and businesses for other sites in the Shoppes at Grand Haven, though he said it is too early to say exactly when additional construction will start. He hopes anchoring the commercial center with the new office "will set the tone and be the catalyst for build out of The Shoppes at Grand Haven."