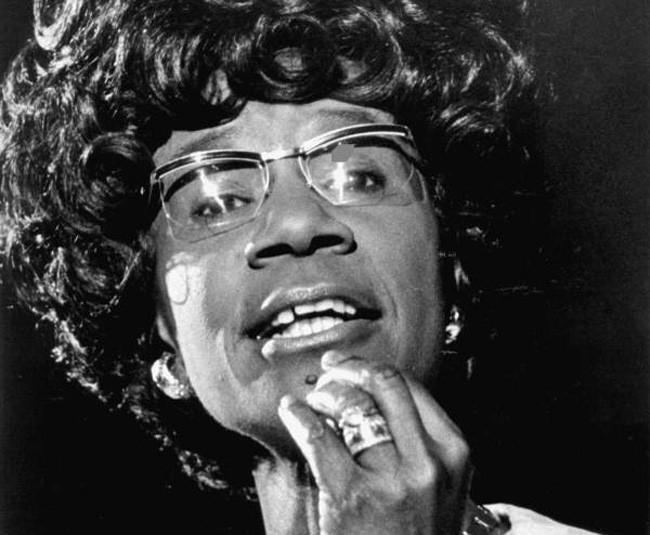 Long before Barack Obama, before Jesse Jackson, Hillary Clinton and Geraldine Ferraro, there was Shirley Chisholm, the first black woman elected to Congress (in 1968), the first to run for president (in 1972, by which time she'd made it onto Nixon's "Enemies List"), the first to break through the Federal Communications Commission's arbitrary definition of "major candidates" who could appear in TV debates, and for a time, one of Palm Coast's most illustrious, if neglected, residents: Palm Coast refused to name a street in her honor after she died on the first day of 2005.
But on Tuesday, President Obama awarded her a posthumous Presidential Medal of Freedom in a brief White House ceremony. "There are people in our country's history who don't look left or right, they just look straight ahead. Shirley Chisholm was one of those people," Obama said. (listen to the full remarks here or watch the full ceremony below.)
Chisholm was one of 17 recipients of the medal, a group that includes violinist Itzhak Perlman, composer Stephen Sondheim, director Steven Spielberg, singer James Taylor and Yogi Berra, the epigrammatist and baseball player.  "What a great blessing to be in a nation where individuals as diverse, from as wildly different backgrounds, can help to shape our dreams, how we live together, help define justice, and freedom and love," Obama said. "They represent what's best in us, and we are very, very proud to be able to celebrate them here today."
Chisholm had retired to Florida in 1991 and became a part-time resident in Palm Coast as she continued to teach at Mount Holyoke College in Massachusetts. She then became a full-time resident here before moving to Ormond Beach in her later retirement. She claimed to have "faded out" of view after her public life, but that was not quite the case. She remained involved in Flagler County Democratic politics, delivering speeches, exhorting Democrats to run for office, and monitoring civil rights.
On Nov. 17, the Palm Coast City Council proclaimed Nov. 30 Shirley Chisholm Day in Palm Coast (she was born Nov. 30, 1924), recognizing her "dynamic list of firsts" and her focus on equal rights, education and the family. The proclamation was itself a recognition of local efforts to reverse the neglect and bring attention to Chisholm's connection to Palm Coast. The effort was led by the likes of  Kedron Abbott, a Palm Coast high school student and intern at Office Divvy, Orjanette Bryant of Natural Nubian, and Maria Bosley, Chisholm's goddaughter.
---
"I'd like them to say that Shirley Chisholm had guts," Chisholm said. "That's how I'd like to be remembered."
---
"She was and is part of the heritage of Palm Coast because she retired right here in Palm Coast," Abbott said before the council, describing how the awareness campaign developed with a website and a hashtag campaign under #IKnowNow. "Within a week, the effort resulted in over 125 facebook shares, over 30 #IKnowNow comments on the website itself, and a twitter hashtag reach of over 34,000 accounts,"  Office Divvy's Ky Ekinci wrote. A celebration of Chisholm is planned for Nov. 30. (See below.)
An unfortunate incident stands out in Chisholm's retirement years in Palm Coast: she was ordered out of a movie theater.  It was June 2000. She'd gone to the movie theater at St. Joe's Plaza to see "Big Momma's House," the Raja Gosnell movie. She was there with Bosley. They were waiting to buy tickets. The booth attendant ignored them. And ignored them. And ignored them: she was talking to someone else. When Bosley tried to catch her attention for a second time, the woman "lunged over the counter and said, 'Don't you ever interrupt me while I'm talking ever again. Don't you have any manners?'" according to a News-Journal account of the incident. After a verbal exchange, the attendant called the sheriff's office and asked that Chisolm and Bosley be trespassed.
The deputy who answered the call was the late Joe Delarosby, who conducted a brief investigation then refused to trespass the women, but "they should understand that this business apparently did not wish any further patronage from them," he reported at the time. Chisholm was not sure if the woman's reaction had been racially motivated, but she called the woman "deranged." (And it was Delarosby who less than five years later coordinated Chisholm's funeral.)
In his summation of what Chisholm represented, Obama today said: "When Shirley was assigned to the House Agricultural Committee despite the fact that her district was from New York City, she said, apparently all they know here in Washington about Brooklyn is that a tree grew there. But she made the most of her new role, helping to create the supplemental nutrition program that feeds new mothers and their children. Shirley Chisholm's example transcends her life, and when asked how she'd like to be remembered, she had an answer. 'I'd like them to say that Shirley Chisholm had guts.' And I'm proud to say it: Shirley Chisholm had guts."

A birthday celebration event is planned to mark the life of Shirley Chisholm in Palm Coast on Nov. 30 from 6 to 7:30 p.m., at COWORK by Office Divvy, 20 Airport Rd. Ste B2, Palm Coast, Florida 32164 (next to the Flagler County Chamber of Commerce). Admission is $25 in advance, $35 at the door, which includes birthday cake celebration, meet and greet with other supporters, short introductions from organizers, a signed copy of numbered reproduction of an original Shirley Chisholm illustration by artist Ron Bryant, and the viewing of "Unbought & Unbossed '72," the critically acclaimed PBS documentary on Chisholm's Presidential Bid. For more information on the campaign and the event, visit www.ShirleyChisholm.life. Questions? Call 396-445-4153.
The Nov. 24 White House Speech by Barack Obama:
The Nov. 17 Proclamation Ceremony at the City Council: