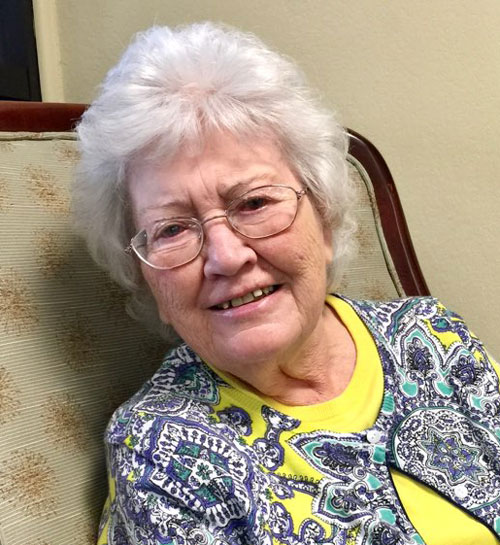 Shirley "Bird" Blanton, 89, of St. Augustine, Florida went to her heavenly home to be with her Lord and Savior Jesus Christ on May 20, 2018. Miss Shirley was born in Gillie, KY on October 19, 1928 to Ben and Sallie Holbrook. In 1945 she graduated from the Pine Mountain Settlement School, Harlan, KY, which is now a National Historic Landmark. Young and full of courage she set out on her own to make her life's mark on the world. She left the mountains of Kentucky for the beautiful shores of St. Augustine, Florida. Here she fell in love, married and had her children. Here she launched her nursing career. Miss Shirley nursed for over fifty years in St. Johns and Flagler counties. However most of her career was spent at the original Bunnell Hospital and the office of Dr. John Canakaris. Miss Shirley was known and loved by most of the Flagler County residents as Dr. John's right arm. She worked as his nurse in the office, the operating room, and the emergency room at Bunnell General Hospital. She also did lab work and helped with many deliveries. Many times in emergency situations she would deliver a baby or stitch someone up. Of course today this would not be allowed, but then she truly saved many lives. She retired from nursing in 1998.
Miss Shirley had a special place in her heart for the poor, mostly because of her own humble beginnings growing up in the Appalachian Mountains of Kentucky. She never turned anyone in need away. Taking in unwed mothers at times and helping the poor and sick that would come to her door. Miss Shirley was wealthy in love and she gave it away freely.
She was a divorced mother with three girls to raise. She worked outside of the home more than most women in her day. However she always made time to drive her girls and their teammates to their events. Miss Shirley was a huge sports fan. She played softball on the Bunnell city league along with her daughters. She loved the Boston Celtics and her beloved Larry Bird. She was an avid reader and loved difficult crossword puzzles. Miss Shirley enjoyed going to the beach with her friends.
She was the rock, the one everyone could call on when there was trouble. She was the great defender of those she loved and a fierce foe of those who came against her loves. She was intelligent, witty, loving, real, kind and tough. She never complained and was a pull yourself up kind of gal. There are few that will come after her with the degree of passion, tenacity, devotion and grit she had. She was the essence of a strong woman way before it was acceptable or celebrated.
She is predeceased by her grandsons Troy Maher and David Abbott. She is survived by her devoted daughters, Theresa Davis, Francisca Abbott, Maria Knight; stepdaughter, Roberta Odom; grandchildren that she adored, Charles Davis III (Deborah), Mac Davis (Leah), Mindy Abbott Diggan (Jeff), Robin Abbott Konopka (Brian), Steven Knight (Suzanne), Jackie Knight Austin (Bill), Kristen Knight White (Shane), fifteen great grandchildren and three great great grandchildren.
Please join us for a celebration of her life held in the sanctuary at Anastasia Baptist Church on Thursday, June 14th at 1 p.m. followed by a reception in the atrium.
In lieu of flowers donations are appreciated to the Pine Mountain Settlement School in memory of Shirley Holbrook Blanton at pinemountainsettleschool.com or 36 State Hwy 510, Bledsoe, KY 40810.
Arrangements by St Johns Family Funeral Home