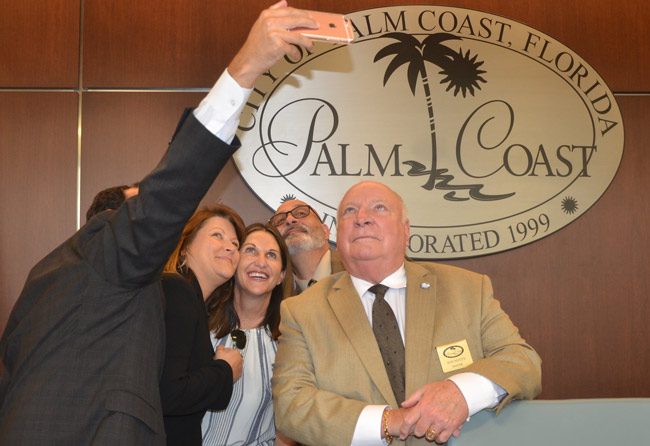 Last Updated: 4:45 p.m.
Frustrated by a split council and dissatisfied with what she sees at City Hall, Palm Coast City Council member Heidi Shipley said today she will not run for a second term next year.
And Jon Netts, the former mayor who served on the council for 15 years, said he was mulling a run for Shipley's seat—or for that of Greg Hansen, the Flagler County commissioner. Netts spoke of his interest in running again in an interview on Wednesday, before Shipley told a reporter today that she would not be running again.
There was also word that George Hanns, who served on the Flagler County Commission for 24 years, was interested in Shipley's seat. But Hanns is not in Shipley's district, and if he were to run for a council seat—a possibility Hanns is entertaining—it would likely be only for mayor, he said, and only if current Mayor Milissa Holland were to not run again.
Shipley's decision is not a surprise. She has been at the losing end of a growing number of 3-2 votes, alongside Steven Nobile. She has sought to fire City Manager Jim Landon, unsuccessfully, and has spoken critically of his managerial style, and more recently was unhappy with the council's raising taxes and approving a foot path through the F Section opposed by residents along the path. Shipley's District 2 includes the F Section.
"If Netts gets in we don't even have a city council at that point," Shipley said. "We might as well let them do whatever they want. But I am not going to run again. I've seen too much that—things right now aren't making me happy in the city. I just don't want to be a part of it anymore."
Asked to give examples, she said: "I don't want to say. Right now things that are happening in city hall are just wrong. It's not about the people anymore. I can't say without other people getting hurt, you know, so I don't want to say anything."
In the past, Shipley has attempted to advocate on behalf of certain employees by bringing certain matters to the manager's attention only to be shut down and told it was not her place. When asked if current dissatisfaction had to do with internal or external matters, Shipley said: "The people who work in the city pretty much have to do what they're told and there's no recourse for them at all, and the people in the city, I just don't see that it's about them anymore."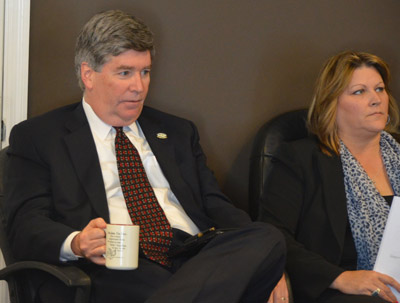 Shipley was opposed to the city's tax increase in the budget just passed, and specifically to the city going ahead with the addition of a costly "splash park" at the just-renovated Holland Park. (The city's capital improvement plan includes $3.4 million in additional spending at the park in 2019). She had joined Nobile in opposing a footpath under Florida Power and Light high-power electric lines in the F-Section, pushing instead for a temporary sidewalk along Old Kings Road, but Landon and the council pushed back, going ahead with the footpath. She was at the losing end of a 3-2 vote to fire Landon in mid-September, and last week was at the losing end of a 3-2 vote to hire Southern Strategy Group, the lobbying firm that had employed Holland several years ago.
More than anything, Shipley has felt defeated by Landon and the other council members circling wagons around him. "Landon he just needs to go," Shipley said. "At this point, it's more like he makes the rules. If you're not going to fire him and he knows that it gave him more power than before the vote, so at this point he's going to do whatever he wants."
Landon would not be altering his style so much as intensifying it, however: he's always run the council, as opposed to being run by it. The council's decision to accede to his wish to remain until 2019, even though all five council members agree that it's time to end his tenure, has further encrusted his hold on both his job and the council and clearly played a role in Shipley's decision not to run again.
Netts was part of the council that hired Landon and ratified his contract 10 years ago, with its near-quarter-million-dollar pay package and colossal golden parachute—the parachute that has given existing council members pause regarding firing Landon, as they are hesitant to incur what would amount to close to a $200,000 severance. Netts's return to the council would be like supplemental insurance for Landon, though Netts's interest in returning, he said, is to put his experience to use again and bring back a sense of "vision," which he says the current council lacks.
"Experience does count for something," Netts said. "You find that out as you listen to the inexperienced council members, past and present. They don't understand some of the issues."
Netts has been attending council meetings and workshops and addressing the council along the way as one of the front-row few who attend almost every meeting, and speak on most issues. He's clearly missing being involved. He was just re-appointed to the Palm Coast Code Enforcement Board, a seat he held just before being elected to the council in 2001. He's still a member of the Florida Inland Navigation District. His analytical grasp of issues is still difficult to rival. But Netts will turn 76 as the campaign heats up next spring, has served a decade and a half, and would represent a sort of counter-reformation to how Holland and fellow-council member Nick Klufas have been presenting themselves—as the next generation of council members ready to take the city beyond its founders' well-trimmed but static dynamics.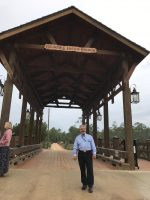 Netts was asked directly about whether it could be argued that he'd had his time, and that he should cede the way to the next generation. "That's a very cogent, very strong, very meaningful argument," he said. "The reality is, does he have anything new to bring? I think I do."
Holland had been Netts's protegée as a county commissioner and during her run for mayor. But she's been seeking to carve her own path. While it may appear that she'd be welcoming an old ally, her push during last year's campaign was for Klufas, the youngest member of the council ever to win a seat on a body until then more inclined to look like a bridge club than a government body (Klufas is not yet 30), and her push in next year's campaign is in favor of more like him.
Netts is also interested in Hansen's county commission seat—a seat he applied for in the wake of Commissioner Frank Meeker's death last year. Gov. Rick Scott made the appointment, eventually choosing Hansen, who had no elected office experience but counts Texas Sen. John Cronyn, a powerful Republican, as a family member with pull at the governor's office.
Shipley's decision not to run again ensures that turnover will continue at the council, which got three new members last November, and may get two more next year, depending on whether Steve Nobile runs, or is re-elected. His seat in District 4 is also up.
"I haven't decided yet," Nobile said of running again, when reached in late afternoon. "There's really only one hitch right now, and it's the possibility I may be moving to a different area in Palm Coast and I wouldn't be able to." He said he wouldn't want to run then resign because of residency issues.
He had not heard of Shipley's decision, but was not surprised. "I can see where she's disheartened," Nobile said. "She didn't seem like this was her forte, so I would have guessed that but I would have hoped she maybe held it out a little longer because she's good for the people, she really listens. I just wish she had a stronger voice because she really has that compassionate component when she deals with the public." As for how Shipley's decision might influence his own, he said: "That motivates me to stay in more than it does to get out, because I'd hate the vote to go to 4-1 or 5-0. There's got to be a voice in there for opposition." He added: "I just don't like a council that just sits around and says yeah to whatever is proposed to them."
Netts, Nobile said, is "a great politician, I think he's done some wonderful things for the city, but I think it's time to let go and let new people make those decisions for the city." He can still have a voice, Nobile said–on the code enforcement board.
Shipley's decision, creating an open seat, is almost certain to lead to a slew of candidates attempting to fill it, assuming they're not intimidated by a Netts candidacy.
As for Hanns, the former county commissioner, a return to the county commission seems improbable, and he had not given thought to Shipley's seat—he'd have to move a few blocks from his Belle Air Drive home in Palm Coast to qualify for it anyway—but he has been thinking about the mayor's seat.
"I must say that I miss being involved in what we're doing and people call on me quite often for opinions on things, many of them are elected officials, so I really appreciate that," Hanns said, enumerating the many boards he now serves on—Humane Society, the library, the Flagler Auditorium.
"Let's put it this way, if I do decide to do it, I'll give you a call, and not just for that, for any position. Who knows, Milissa may not run again," Hanns said, stressing that he was not interested in what he considers a lesser position as a council member, but would run for mayor. "I might consider that, yes, because how can I say it? I guess my traits throughout my lifetime I've been more in leadership positions than a follower and that might be something of interest." But, he said, "I would never run against my friend's daughter, and that's Milissa Holland."
Netts and Hanns both reacted to the possibility the other would run the same way: Netts criticized Hanns for being eternally critical of the city, and Hanns criticized Netts for being eternally critical of the county.