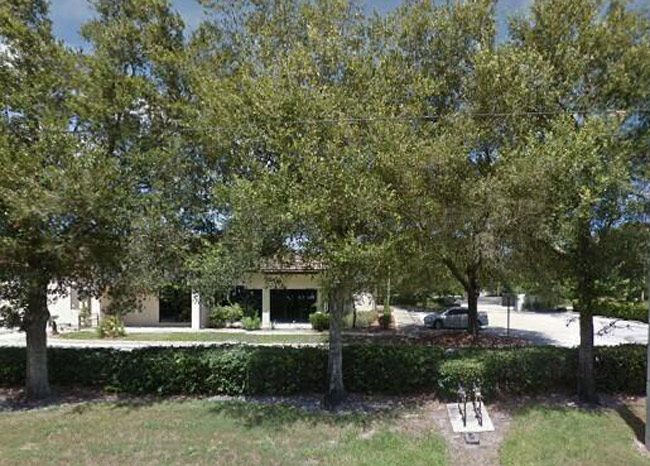 Five years after leasing space at City Markeplace, the Flagler County Sheriff's Palm Coast Precinct is moving, this time to what the agency says is a permanent location at 14 Palm Harbor Village Way off Old Kings Road—not far from where it was until 2013.
The county is buying the 4,500 square-foot former Wachovia Bank branch for $875,000, with closing costs pushing the price to $900,000, and renovation costs adding another $100,000. The property is listed for $1.195 million, and has a just market value of $659,000, according to the property appraiser. Selling prices are almost always higher than just market value estimates. The property last sold in 2008 for $550,000. Since it becomes county property, the county, Palm Coast and the school board will lose the property tax revenue, which was nearly $10,000 last year.
The county is using revenue from a half-cent sales tax supplement to buy the building, but will be paid back by the sheriff, in a manner of speaking: the sheriff has budgeted $72,000 a year for rent at City Marketplace. He intends to bump up the line item to $90,000, paying back the county annually. The County Commission ultimately funds the entirety of the sheriff's budget, so it's mostly a matter of transfers, but one that, under the arrangement presented Monday, doesn't entail a substantial increase in costs, and therefore no potential tax increase to pay for it. The county intends to finance the purchase over 12 years.
The sheriff's office has been renting space somewhere in palm Coast for the last 37 years, a nomadic status Sheriff Rick Staly wants to end.
"I inherited an office space that is not appropriate for the sheriff's needs," Staly told the county commission this morning. "It's not visible to the community, it leaks, it's just too small, I could go on and on, and besides that, it's outrageously priced, and I inherited this contract from my predecessor. Fortunately that contract is ending in December, and there's no way I'm going to renew that, so that started us on a search for a new location."
When former Sheriff Jim Manfre leased the City Marketplace space, he did so to give the precinct more visibility (it had been on Old Kings Road previously), to double the space to 2,600 square feet, and to cut rental costs in half, to $2,000 a month, fees included. But monthly rent and fee costs quickly rose by $1,000, then rose again, so that current costs are nearly $5,000 a month (rent and fees), and were set to rise again after December.
The acquisition of the building on Palm Harbor Village Way means that in the last four years, the sheriff has moved into a new jail, a new operations center (both in Bunnell) and its own Palm Coast precinct.
"It's a better vision, it gives us a real footprint in what's now known as District 2 for the City of Palm Coast, and instead of paying rent, the county will actually own a structure that should appreciate in value," Staly said.
The county plans to use in-house labor to renovate the building. The commission approved the purchase unanimously.
Staly was appearing before the commission moments before heading back to the new jail, which today he re-named after Sheriff Perry Hall, the county's second elected sheriff who served only between 1925 and 1927: he was killed during a raid of a liquor operation.
Hall's brief biographical sketch on the sheriff's website sums up the incident: "Sheriff Hall was just forty-one years old when he entered a shack alone attempting to raid an illegal liquor operation in a rural settlement known as Roy on August 21, 1927 in a swampy area in the northwest corner of Flagler County. During the raid Sheriff Hall ordered the suspect to raise his hands but instead the suspect struck Sheriff Hall on the head with a liquor bottle. A deputy was nearby and rushed to the shack when he heard about the attack. Sheriff Hall died of his injuries less than a day later, never regaining consciousness. The suspect, Jim Smith, then escaped back to his former residence in Brookfield, Georgia." Smith was killed three weeks later as a posse was chasing him.