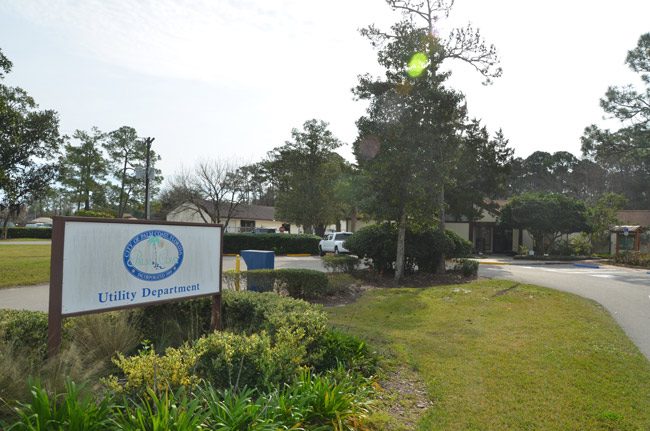 Thursday morning, Palm Coast City Manager Matt Morton, County Administrator Jerry Cameron, Sheriff Rick Staly and Chief Mark Strobridge went on a road trip. They were exploring potential locations for the sheriff's Palm Coast precinct. They visited two city locations on Utility Drive and one off U.S. 1, the location of the city's newer water treatment plant and offices.
On Utility Drive, the old East Mosquito Control District building the city acquired last year was almost immediately ruled out. It's old and simply not feasible. The space at the water treatment plant is attractive, but much too out of the way. That left the city's utility department building on Utility Drive, an 11,000 square foot facility (not counting three nearby structures), that became a focus of possibilities.
"I'm just delighted we have a relationship with the city of Palm Coast now where they will come forward and offer to help us resolve the problem," Cameron said. "That was really encouraging to me. It was a bright spot in an otherwise dismal situation. Whether we can make all that work is another question."
The county and the sheriff are in various binds. The county, as the sheriff's landlord, must find adequate space for the sheriff's operations. Since the evacuation of the Sheriff's Operations Center in Bunnell last June, the sheriff has led a nomadic existence, dividing operations between the courthouse and the jail administration building, which used to be the agency's headquarters, off Justice Lane.
The sheriff's precinct office at City Marketplace in Palm Coast had been unaffected by the changes until recently. The office was supposed to move last December or January into what used to be the Wachovia Bank building off Old Kings Road. The county bought that building last year with that in mind. But like every county building purchase since 2013, that one, too, became a font of unexpected problems, delays, cost overruns. Since he expected to vacate the City Marketplace space by January, the sheriff has been on a month-to-month lease there. That being the case, John C. Bills, the shopping enter's owner, raised the rent to $10,000 a month–an untenable compelling a move out of there one way or the other.
That's the immediately most critical need: finding a place for the Palm Coast precinct, at least for the next two to three years and until the permanent, $12 to $15 million Palm Coast sheriff's district office is built on the grounds of the public library off Palm Coast Parkway.
In late March the county closed on a $1.1 million purchase of the old Sears building off Palm Coast Parkway, and earlier this month the county commission voted to convert that building into the temporary Palm Coast precinct office for the sheriff, along with other sheriff's operations that could fit into the 8,000 square foot space. For a few days, anyway, it looked as if space issues might be alleviated. But then came this week's revelations that the Sears building, too, is a basket case of a building, with considerable water intrusion and mold, just like at the vacated Operations Center in Bunnell. "One thing is for sure is there's no way we can put the sheriff in the Sears building," Cameron said.
"It puts us back to the very beginning, to starting from scratch," Staly said.
This time, however, something quite different is happening. County and city governments are cooperating. Palm Coast City Manager Matt Morton did something that would have been unheard of during his predecessor Jim Landon's days: he offered exploring the use of city government space for the sheriff's needs–even if it meant moving some city employees around a bit. And Cameron did something that would have been unheard of during his predecessor Craig Coffey's days: he took Morton up on his offer.
"We are excited to look at anything," Strobridge said. But then, laughing with disbelief at recent developments, he said: "We have hope every time we look at a facility, until you start vetting it out."
In the case of Palm Coast's utility building, where residents are used to paying their bills and dealing with other customer service issues–a space Morton described as "a weird matrix cavern of endless hallways"–the challenge is not structural: there's not likely to be mold, water or any other health hazards there. The challenge is logistical. A sheriff's operation can't be plunked down anywhere. Not if the sheriff wants to maintain the agency's accreditation, and not if he wants to abide by rules and regulations controlling access to sensitive databases and documents, all of which must be housed in secure areas. How to make that possible at the utility building? That's what everyone is exploring now.
"This idea literally just got hatched at 10 o'clock last night," Morton said of the larger possibility of Palm Coast helping with space, with "high level discussions this morning," meaning Thursday morning.
"I think that speaks highly of a government organization that's willing to inconvenience themselves voluntarily," Cameron said. "I really appreciate it when somebody steps forward and says 'We feel for you, we know you're up against the wall, and we want to help.' Some of the motions they were talking about today was moving a large number of their employees, moving them to different spaces and make way for the sheriff. That's why I was encouraged. It paves the way for a lot of cooperative efforts between the city and the county." But Cameron recognized that Palm Coast cannot "dismantle" its operations to accommodate the county and the sheriff, while the sheriff, too, has to be comfortable making things work in the new space.
The county also looked at the Chiumento building in Town Center and is still looking at the 20,000 square foot Beutlich Development off U.S. 1, on Otis Hunter Road in Bunnell, though neither of those possibilities is high on the list, both because of cost considerations. Cameron said retrofitting the Beutlich building for use for two or three years and paying that lease would mean spending too much money for too little time, with no recouping the investment. But negotiations have restarted with John C. Bills, the City Marketplace developer, on the possibility of a new, medium-term lease that could lower the $10,000-a-month cost.
All of that is going on simultaneously, and at a bit of a fever pitch, ahead of Monday evening's county commission meeting. Cameron hopes to present options to the commission at that point. "The Palm Coast thing is a wonderful, generous offer," Cameron said, "but it would be premature to say we'll be able to work out all the logistical stuff. That won't be because of Palm Coast's willingness, it'll be just because of the pure logistics of it." Or, as Morton put it, it's a "maybe" with "a big triple underline."
Even if it doesn't work out, however, the experience signals a much different type of relationship between Palm Coast and the county that invariably is likely to pay dividends in other ways.