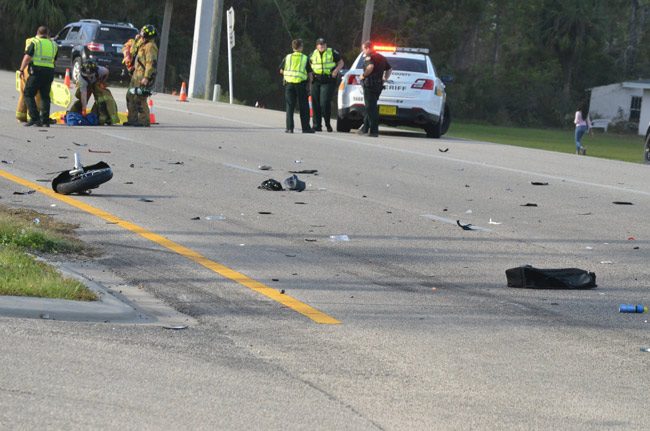 The intersection of Old Dixie Highway with U.S. 1 at the White Eagle Lounge in Korona is among the most dangerous stretches of road in Flagler. In a three-year stretch between 2014 and 2017, the Sheriff's Office has documented 207 crashes at or near the intersection, 147 of them resulting in injuries or deaths. That was before this year's February crash that took five lives, and the crash Monday that killed a 60-year-old motorcyclist.
"There have now been six people killed this year at this intersection along with many injuries, some of which were life-altering," Sheriff Rick Staly wrote Transportation Secretary Mike Dew on Tuesday (Nov. 21). "More recently since August 2017, there have been almost a dozen accidents at or near this intersection, most with injuries and one fatality."
The sheriff was again writing the transportation secretary, as he had in February, to urge safety improvements at the intersection. He'd done likewise last February, when he wrote the then-interim transportation secretary. The County Commission endorsed the letter with a resolution. But to little effect.
Other than painting stripes on asphalt, adding a few plastic reflectors and repairing medians and signage every time it's damaged by a crash, the state Department of Transportation has done little to improve safety at the intersection, though it has long-term plans that could significantly do so: the transportation department is planning a roundabout at the intersection. But that will require land acquisition, design and construction that could take years. The roundabout is not listed on the department's five-year program for Flagler.
"How many more lives we have to lose while FDOT prepares or engineers a solution that's two or three years down the road?" Staly said in an interview Tuesday.
The department knows it has a problem intersection. It completed a "composite study" of the intersection weeks before the February crash. The document was based on the observations of an engineer, combined with traffic and traffic-crash data. It concluded that traffic on U.S. 1 was not very heavy, which may be why no traffic light was recommended.
It made a few recommendations, among them new striping. It recommended closing a median break at Trojan Road, just north of the White Eagle. That was only partly done: traffic from Trojan Road or the White Eagle may no longer make a left onto U.S. 1 south, but southbound traffic from U.S. 1 may still turn onto Trojan Road. The recommendation that the asphalt shoulder along the White Eagle's parking lot be replaced with a grassy shoulder was not followed.
In his letter Tuesday Staly reiterated some of his previous recommendations and made new ones. He acknowledged that crashes are the result of human error. But he said in the letter the addition of reflecting markers along the median "have just added to driver confusion and clutter," and in an interview stressed that a combination of factors at the intersection amplifies dangers, making human error more likely.
The speed limit on that stretch is 65, with no traffic lights between Seminole Woods Boulevard to the north and Plantation Bay to the south. Staly says drivers usually exceed the speed limit there.
He is proposing additional signage that warns of a dangerous intersection ahead. He suggests dropping the speed limit to 45 in the area of the curve around the White Eagle intersection. "While I do not believe lowering the speed limit is a viable long-term solution because neither [the Florida Highway Patrol] or my agency have sufficient resources to enforce and change driver behavior," Staly wrote the transportation secretary, "if FDOT is intent on installing a round-about this would begin to educate drivers on the lower speeds that are needed for a round-about to be successful."
He also recommended eliminating one of the two stop signs that appear in rapid succession at Old Dixie Highway and County Road 325, and installing a traffic light at the intersection. Absent the light, signage on Old Dixie westbound, indicating that cross traffic does not stop on U.S. 1, as well as for U.S. 1 southbound that turns east on Old Dixie, is necessary, he said.
"I again request that FDOT work on an interim solution while you design a long-term solution," the sheriff concluded.
The full letter is below.