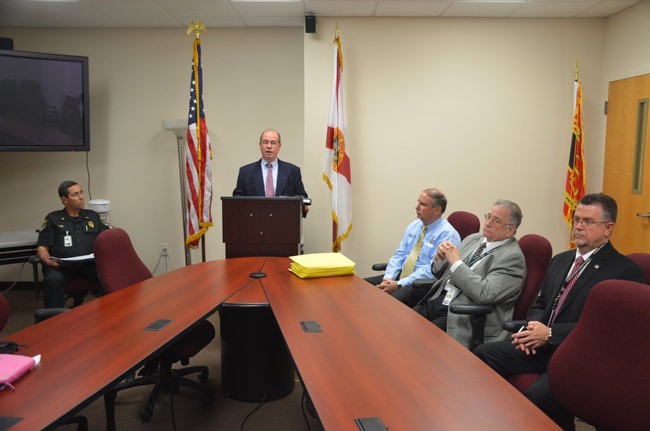 In the latest in a series of changes at the Flagler County Sheriff's Office, Flagler County Sheriff's Commander Robert "Bob" Weber announced that he will retire effective April 30, 2015. The announcement was made in a press release issued Wednesday, comes two weeks after the announcement of Undersheriff Rick Staly's retirement later this month, and a week after the appointment of Jeff Hoffman as chief deputy.
Weber, who joined the sheriff's office in March 2001, in the early days of the first administration of Sheriff Jim Manfre, headed the two-person public information office, and was not eager to be part of the political swirls of the coming election season. Manfre says he will run again, but he will face a tough reelection campaign as several candidates are lining up to run against him. Those considering a run include former Sheriff Don Fleming and Greg Feldman, who ran for state Senate last year and is a retired law enforcement officer.
Over the past 14 years, Weber served the agency as a patrol supervisor and investigations supervisor. The Sheriff's office is not saying who, if anyone, will be replacing Weber in his role in the community outreach division. Weber was brought on to supervise the public information office immediately after Manfre was elected, at a time when Debbie Johnson had been running that office since the first Manfre administration. Johnson was among the numerous sheriff's employees pushed out. She left in early 2013 and was replaced by Paula Priester.
By month's end, none of Manfre's top staff who started his current administration with him–Staly, Weber, investigative division chief Jack Bisland, Human Resources' Robert Crouse, senior Cmdr. David O'Brien–will still be at the office. Several left or were fired a while ago. The names don't include numerous other long-time sheriff's employees who've also left, been fired or pushed out in what has been, personnel-wise, a tumultuous three years at the agency.
According to the news release, Weber began his law enforcement career in 1973 and served for 23 years with the Briarcliff Manor Police Department in Westchester County New York. He retired as a Lieutenant in 1996 and earned his Master of Arts degree the same year from the John Jay College of Criminal Justice in New York. He is a 1992 graduate of the FBI National Academy in Quantico, Va. He was a member of the 168th session of the National Academy. In 2012, Weber successfully completed the Florida Executive Development Seminar held in conjunction with the FBI National Academy.
"I have truly enjoyed serving as a law enforcement officer for the past 37 years<" Weber is quoted as saying in the release. "I am looking forward to doing what matters most; spending more time with family." Manfre says he is "grateful for the opportunity to have served alongside Commander Weber. He has been an asset to our agency and our community for many years. I wish him the best in his retirement."