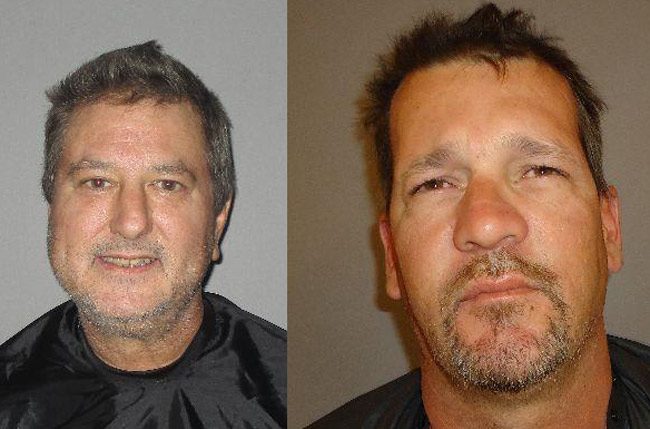 Two men are at the Flagler County jail following what began as a criminal mischief incident in the Hammock before degrading into a series of death and bomb threats by one of the men against a deputy and Sheriff Rick Staly, including threats to blow up the Sheriff's Operations Center the same way that the Oklahoma federal building was blown up by an anti-government domestic terrorist in 1995.
Harold Bourgeois, 49, is a resident of 6024 North Oceanshore Boulevard. Wednesday morning (April 25), he woke up to see Robert Brandon, 48, allegedly slashing his tires and cracking his truck's windshield with his fist. A window had also been broken on Bourgeois' trailer.
He then saw Raymond Crown, 52, allegedly grab two chainsaws from the back of his pick-up truck and throw a bicycle at the front door while yelling obscenities and racial slurs at Bourgeois. The two alleged assailants then got into a Jeep with a third man and drove off. A witness got the vehicle's description and tag number.
The total damage was estimated at $1,400, the theft value at $1,200.
Flagler County Sheriff's deputies were soon able to conduct a traffic stop on Palm Coast Parkway and locate the chainsaw and the knife. Crown was "resistive" to being handcuffed during the traffic stop, his arrest report states. Crown said the incident developed at Bourgeois' property because previously, Bourgeois had allegedly kicked the side of Crown's vehicle and "a dog was allegedly shot with a BB gun after being sent after someone," the arrest report states.
Crown and Brandon are both residents of 90 Flamingo Drive in Palm Coast.
It was once Crown was placed in a patrol car that the incident took a different turn.
"Maybe I wanna kill a cop right now," Crown said in comments recorded by Sheriff's deputy Kyle Gaddie's body camera. "I'm gonna get a garbage can of ammonium nitrate and blow up the fuckin' Sheriff's station with some grenades and go in there with my AR-15 and kill as many pigs as I can before I commit suicide by cop. What do you think of that fuckin' Gaddie?"
The reference to ammonium nitrate appears pointedly intentional: Bomber Timothy McVeigh, a "sovereign-citizen"-type terrorist who did not recognize the authority of police or government, used a truckload of nearly 5,000 pounds of ammonium nitrate, a fertilizer, to blow up the Murrah federal building in Oklahoma City in in April 1995, killing 168 people and injuring 680.
Crown has a documented history of confrontations with law enforcement. In 2002, he was found guilty of fleeing or attempting to elude police in a chase, a third-degree felony that resulted in a probation term after a plea deal, with the state dropping charges of aggravated assault and firing a deadly missile. In 2010 he was found guilty of domestic battery.
His comments in the patrol car escalated, threatening to kill Sheriff Rick Staly and again threatening to blow up the Sheriff's Operations Center and have himself killed by a cop before taking on the deputy: "I'll fuckin kill you myself if I see you, you fucking pig." You better watch your back, Gaddie!"
"You got a fuckin' bullet coming in the head," he continued. "Who's to say if I have a fuckin' gun or not. I might have a Desert Eagle and an AR-15 at the house and I might just fuckin' use it on your ass. A half inch hollow-point in your fuckin' head. How would you like that, Gaddie?" He went on to level racial slurs at Gaddie and additional threats on his life.
Crown faces a list of charges: grand theft, criminal mischief and threatening to throw a destructive device, all felonies, and two misdemeanor counts of threatening a cop.
Brandon has a long history of arrests, including for charges of aggravated assault, domestic violence, violating a protective injunction, aggravated battery, aggravated stalking and burglary, among others. He was charged with felony criminal mischief and resisting arrest.
Both men were booked at the Flagler County jail "where they refused to cooperate to ensure they were not under the influence of alcohol or narcotics," their arrest report states. "They were then transported to Florida Hospital Flagler and after being medically cleared were transported back to the inmate facility without incident."
"We will not take threats of any kind lightly," Sheriff Rick Staly said. "Threatening to blow up buildings or kill law enforcement officers for doing their job will not be tolerated. Just this Tuesday, we had funeral services for two Florida deputies that were murdered while eating lunch."
Asked if, due to the specificity of the threats and Crown's status as a felon–who is barred from possessing weapons–a search warrant was being served on the property at 90 Flamingo Drive, a sheriff's spokesperson replied: "The investigation is ongoing and I'm not at liberty to give any additional details on this case at this time."
Brandon was being held on $4,500 bond, Crown on no bond.