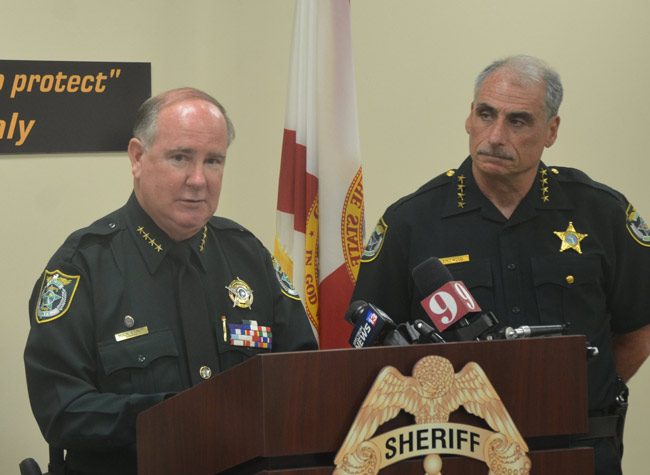 In the most striking development yet in the high-profile domestic-violence case against Flagler Beach Commissioner Eric Cooley, Cooley's defense attorney has subpoenaed Sheriff Rick Staly to address language by the sheriff that the attorney considers prejudicial to Cooley, and a county judge today ruled that Staly must appear.
County Court Melissa Moore-Stens denied a Sept. 21 motion by Staly to quash the Sept. 18 subpoena for his appearance and testimony in the Cooley case. That hearing is scheduled for Thursday.
The judge's order sets an unusual confluence of two elected officials in one case, with the city commissioner defending against an accusation of domestic violence and the sheriff now made to answer for language his office says is protected by the First Amendment. It is also the first time in memory that a sheriff has been called to testify in a case in which he is not directly involved aside from having spoken an opinion about it in a press release.
All this in a case that may have been heading for dismissal anyway: the woman at the center of the allegation of domestic violence against Cooley–who is also the owner of Flagler Beach's 7-Eleven on Ocean Shore Boulevard–has asked the State Attorney's Office to drop the charge and let her move on with her life. That leaves the prosecution with only a matter of days before the speedy-trial, 90-day clock runs out on whether it may still press forward with the case. Cooley was arrested in late June. The clock runs out early next week, absent a motion by the prosecution.
In a surprising move Cooley's attorney, Josh Davis–who's made his animus for Staly known through social media and comment postings–a week ago filed a motion for a gag order on Staly, arguing that the sheriff's habit of commenting pejoratively on the arrest of suspects, before they have been tried, prejudices the defendants' right to a fair trial. "Staly is constantly calling those accused of crimes 'dirtbags,'" Davis wrote in his motion.
That's accurate in the main, but not regarding Cooley, about whom Staly has refrained from using any kind of colorful language, though in a release issued by his agency the morning after Cooley's arrest, Staly was quoted as saying: "This is an unfortunate situation but it goes to show that domestic violence has no boundaries." The "unfortunate situation" may be applied to any arrest: the words are not a judgment on the defendant but an assessment of the situation. The latter clause is more potentially problematic as it assumes that an act of domestic violence has been committed, with the words has no boundaries clearly denoting Cooley's status as an elected official.
The requested gag order, however, does not apply to what Staly has said, but to what he might say in the future in the Cooley case. Staly's office filed a motion to deny the gag order, arguing that the sheriff's First Amendment rights prevail, and his statements about Cooley were general and brief, while the case itself had–until then–drawn a total of five news articles in two and a half months: not enough to legitimize Davis's claim that it had drawn disproportionate attention.
Days later, Davis, in something of stunt characteristic of Davis's bare-knuckles tactics, issued his subpoena ("You are commanded to appear to give testimony…") for the 3 p.m. hearing. Failure to appear would incur a contempt of court charge.
The Sheriff's Office immediately argued in a quashing motion that the subpoena "is completely needless and requiring [Staly's] personal appearance at a hearing would only serve to harass him and cause an undue burden on his time." The motion also called Davis's subpoena "unreasonable and oppressive" since Staly has no firsthand knowledge of matters "that cannot be obtained from another source."
Kayla Hathaway, the sheriff's office attorney, also requested that any additional subpoenas be quashed, a motion Moore-Stens also denied.
Hathaway immediately filed a renewed motion to quash the subpoena this afternoon, arguing that "enforcing the subpoena infringes on the victim's rights" by exacerbating the very sort of attention she is seeking to end. The renewed motion also argues that the subpoena should be quashed "to prevent a chilling effect on elected officials making public comments about important matters affecting their community."
The motion does not cite legal precedent, however.
Staly routinely makes statements in press releases after the arrest of suspects in all sorts of cases, even the mildest ones. The statement in the Cooley case was much milder than others. Here are a few samples:
On Sept. 12, addressing the arrest of Sam Andolina on a charge of raping a 13-year-old girl: "This dirtbag can stay at the Green Roof Inn. There is no excuse for what he is accused of doing, and we will continue to work on this investigation to support the victims and put him in jail for a long time."
On Aug. 16, addressing the recovery of a gun allegedly used by Christopher Quijano in a shooting incident at Town Center: "This dirtbag is still at the Green Roof Inn and our deputies worked hard to find additional evidence to keep him there and convict him of the charges."
On May 30, following the arrest of Julius Calloway: "This has been a problem house in this neighborhood caused by the homeowner having no respect for his neighbors. If he wants to continue to allow his home to be a revolving door of criminals, drug users and poison peddlers then I hope he enjoys staying at the Green Roof Inn. Take your poison and your dirtbag friends and leave Flagler County because we are coming for you."
The sheriff's comments can be calibrated to the situation, as when juveniles were arrested after a fight at Matanzas High School late last month: "It is unfortunate that these youths make decisions that caused their arrests," said Sheriff Rick Staly. "These three young men were each given an opportunity by the Deputy to enter a deferral justice program; two agreed and went home with a parent, and one went to DJJ . We will not tolerate this behavior in our schools."
But none of those statements are relevant to the Cooley case: defense attorneys could make them relevant to their own cases, but none have ever done so going back several sheriff's administrations: every sheriff in recent memory has used language in press releases that could be considered prejudicial to suspects, including Jim Manfre and Don Fleming before Staly (if less brashly), a habit common among elected sheriffs in most regions.
Asked about the subpoena bringing further attention to the case, Davis replied in a text: "Not my goal to 'diminish attention on the case' as you stated. Goal is to ensure my client's Constitutional rights are protected."