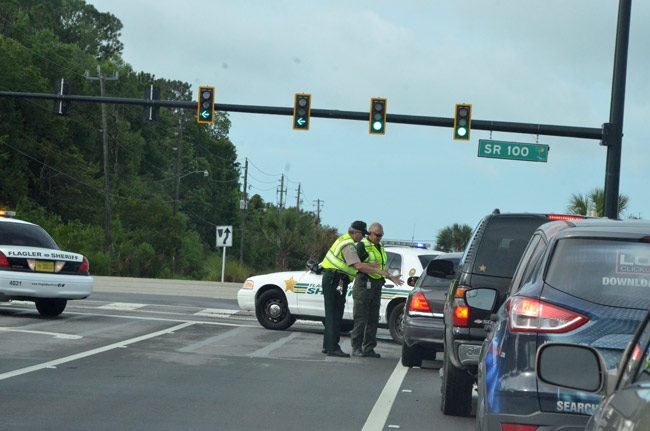 The Flagler County Sheriff's Office is teaming up with Palm Coast government to use live cameras installed at 44 traffic signals as real-time surveillance, tying into the sheriff's crime-mapping center. The cameras will be recording video footage from the intersections, even though when the system was presented to the council in 2016, city staff assured council members there would be no recording.
The sheriff is ramping up road surveillance with newly installed, real-time license-plate readers and with the city's traffic-optimization camera system.
The city, for its part, will create what city Construction Manager Carl Cote calls a "small-scale traffic center," one of them at its public works plant, where city staff can monitor footage from the cameras.
"We're coordinating pretty closely with the sheriff's office on this project and others with their fixed license-plate readers," Interim Manager Beau Falgout said. "My understanding is the sheriff's office wants this real time, mostly, when they have an incident, to know where that car left from and where it's going to, so real time is the most important part. Storing it obviously is definitely nice too, to go back, so we're going to work pretty closely with the sheriff's office, because our view is typically traffic movement, a wide-angled view."
Sheriff's Chief Mark Strobridge initially said the sheriff's office itself will not be storing the data. "All we're doing is capturing the data, funneling it through our license plate system, that's what's being captured, that's it, it's not prolonged analysis," Strobridge said. In other words, the data is sent to a database in Miami where it is analyzed, with hits on suspect license plates sent back to Flagler. The data is then kept there. "The sheriff's office is not storing the data," Strobridge said.
That's accurate so far as the license plate readers go. But that's not the case regarding the sheriff's use of video from traffic signals. Soon after this story published, Strobridge amended his earlier description of the system to say that data from the traffic cameras will be stored locally for 90 days, and will be used independently of the license plate readers. "This data will not travel initially because we don't have it interfaced," he said. "We hope to one day have it interfaced." He said the data from the traffic cameras would be analyzed manually and deleted after 90- days. "That's why there's a 90-day limitation on storage, to completely reduce the possibility of abuse."
So far 31 intersections are connected. A new phase the city council is approving next week will connect 13 more at a cost of $250,000.
There are about 50 signals in the city overall.
"It would be almost all of them. There's a few we can't get online because there's no fiber anywhere near them," Cote said of the city's intersections. "We're also upgrading the software to give the sheriff's office a feed to the cameras."
In 2020 the city will connect two more intersections, with some additional phases scheduled in coming years, when wireless technology may be incorporated.
The city administration proposed the traffic-signal system to the council in 2015 as a way to improve traffic efficiency at many intersections. Optimization is not synchronization: though drivers often complain that traffic signals in the city are not synchronized, as they are in many cities, the administration said this approach would not change that. The system is designed to allow traffic monitors to quickly detect issues and where possible address them from desktops instead of having to go to the signal's location.
When the project was again discussed at the council in 2016, the city's traffic engineer at the time assured council members that the live cameras "would only be used for monitoring, not for recording whatsoever."
That's no longer the case. But the shift is drawing no objections–or questions–from council members, only applause.
The sheriff already has access to installed cameras. "The sheriff's office needs to position the cameras as they see fit, they're the experts," council member Jack Howell said. "They know what they're looking for, and that's being accomplished."
None of the other council members raised questions.
Palm Coast and the Flagler sheriff's office are far from the exception in using license-plate readers: they're part of a national trend, and have been used routinely at toll plazas and by private companies that run red-light camera systems. They were in use in Palm Coast for 10 years as part of one such system, at dozens of intersections, and footage from those cameras was often accessed by the sheriff's office in criminal investigations. Five years ago, when the American Civil Liberties Union was analyzing their use, it sent records requests to 600 state and local police agencies using them. Numbers have multiplied since.
Readers use high-speed cameras to capture photos of every vehicle's license plate that passes at a given location. Software reads the results and sends a "hit" when the plate is connected to a list of vehicles suspected of having been stolen or otherwise used in a crime. It was a license plate reader that led Flagler deputies to fugitive Michael Moore last Saturday, a man wanted for armed robbery and auto theft in Virginia. He was driving the car he'd stolen days earlier, and was flagged by a reader on Palm Coast Parkway, leading to a long stand-off and his arrest.
"License plate readers would pose few civil liberties risks if they only checked plates against hot lists and these hot lists were implemented soundly," an ACLU report on the readers concluded. "But these systems are configured to store the photograph, the license plate number, and the date, time, and location where all vehicles are seen — not just the data of vehicles that generate hits. All of this information is being placed into databases, and is sometimes pooled into regional sharing systems. As a result, enormous databases of motorists' location information are being created. All too frequently, these data are retained permanently and shared widely with few or no restrictions on how they can be used."
"Taken in the aggregate," the Electronic Frontier Foundation writes, "ALPR data can paint an intimate portrait of a driver's life and even chill First Amendment protected activity. ALPR technology can be used to target drivers who visit sensitive places such as health centers, immigration clinics, gun shops, union halls, protests, or centers of religious worship."
Strobridge, the sheriff's chief, said those privacy issues should not be a concern anymore than would be law enforcement's access to an individual's driving record, since the databases regarding them or license plate readers are regulated and controlled the same way: to access the data, investigators must place requests that include a valid reason and that identify who's requesting the information. Any mis-use would be a violation and could lead to discipline. The use of the data is monitored by the Florida Department of Law Enforcement, which oversees and audits the databases.
"This program falls in the same category," Strobridge said of data recorded from cameras or license plate readers.
The city spent $55,000 to study the system in 2015, and $500,000 to install its first phases, including the cost of extending its own broadband network, called Fibernet, to the signals where necessary. Two years ago the projected annual software maintenance cost was $7,000 to $8,000 a year, not including the sheriff's cost of storing videos.
Several states are passing legislation to restrict and regulate the use of license plate readers, especially to create limits on how long the data may be retained, or to criminalize the mis-use of readers.
Florida regulates the use of law enforcement databases in general. In 2014 a new law created a public-record exemption for certain images and data collected through license plate readers: personal information is considered confidential, except for law enforcement agencies and, in some cases, the person associated with the data.