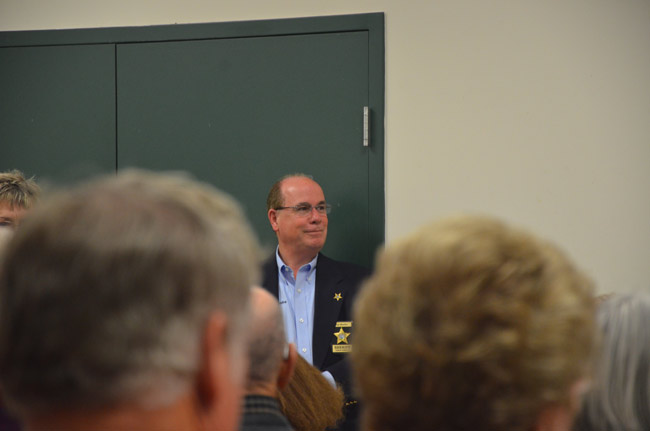 Flagler County Sheriff Jim Manfre hasn't closed out his first 100 days on the job. He might be excused if he feels like he's already hit the century mark in more ways than days.
"There's an old Chinese proverb that says, may you live in the most interesting of times, and I have to say these 90 days have certainly been an interesting period in my life and also in Flagler County," Manfre said on the 78th day of his tenure, in an appearance before the Flagler County Democratic Club on Wednesday.
It's not been a quiet transition. Some of the difficulties have been of his own making: firing agency veterans who together had about a hundred years' experience between, and demoting and shifting dozens of others was bound to draw attention and criticism, and grievances. Having two deputies involved in two car crashes in six weeks, one of them causing the death of a civilian driver, the other deemed entirely the deputy's fault, hasn't helped.
Nor have the two homicides that have taken place on his watch, both unsolved, both shrouded in disturbing circumstances—one of them was an execution, the other remains unexplained by the sheriff himself. Not to mention that plane landing on Palm Coast Parkway, or the man jumping off the Flagler Beach bridge.
Manfre, never shy from publicity, hasn't shied from facing audiences, either, friendly or not.  Last week he appeared before the Flagler County tea party group, which doesn't rank among his fan base. Maybe that's why he also took Undersheriff Rick Staly with him. But he did so because the tea party wanted him there: the group's rules are such that the membership's wishes drives the guest bookings at monthly meetings, and the membership wanted to hear from Manfre. He fielded several questions on guns and gun control, but he also took the opportunity to update the group, much diminished though it's been, on his first weeks.
He did so again on Wednesday before the Democratic club's much friendlier crowd. (Manfre is a Democrat.) Some 70 people jammed the Flagler County Public Library's community room, forcing about 10 people to remain standing for the sheriff's 70-minute presentation. Manfre, in a suit rather than in his sheriff's uniform, and with his wife Cornelia in the audience, was relaxed and candid, offering up a few tidbits of news and fielding questions that focused far more on community concerns than on recent controversies.
There were questions on the speed limit on Florida Park Drive, on red-light cameras, on bike lanes on Colbert Lane, on the dangerous intersection at Old Kings Road and State Road 100, and on red-light cameras—all of which were out of Manfre's power to change: road matters are under the jurisdiction of the state Department of Transportation, the county commission or the Palm Coast City Council. When asked about red-light spy cameras, a sore point with innumerable residents across the state (the Legislature is addressing it) and in Palm Coast, Manfre quipped that it would be the topic of City Council member Bill Lewis's next town hall meeting. Lewis was in the audience.
But residents had also noticed that there's been stepped up patrolling. Manfre said that was the result of shedding the department's top-heavy ranks and sending officers back on the road.
Manfre only vaguely alluded to the shake-ups at the agency, saying he wanted to explain where he wanted "to take the agency" by way of "accountability, integrity and respect," a set of principles he described by their acronym ("AIR").
Then he said something somewhat surprising, in light of the recent firings: "When our deputies or employees don't do something well, our obligation is to teach them how to do it better," he said. "Our obligation is to make poor employees better employees, good employees great employees, and great employees the model for all we do. So, that's what we mean by accountability." Manfre has defended the firing of three of his top staffers—David O'Brien, who was forced to retire, and John Plummer and Steve Clair, who were fired—by saying that they either did not fit in the agency anymore, or that they could no longer be demoted after having been in leadership roles. He was also critical of a hydra-headed leadership structure that, under former Sheriff Don Fleming, had created what amounted to internal fiefdoms, with certain individuals drawing allegiance from certain groups, without a defined, central authority with clear chains of command.
Before the Democratic club, Manfre explained what he meant by "respect" as "treating people fairly, regardless of who they are and in what situation you get them. I treat the mayor as well as my trustees from the jail. Give everyone respect. And what I expect is my organization to treat each other respectfully, because there's nothing more insidious in an organization than people undermining each other, crawling over each other to get to the top. We don't countenance that. We want everyone to be respectful."
In sum, Manfre said, he would be rewarding the good, punishing the bad, saving money, giving his employees incentives to come up with money-saving measures that would net them extra pay. He spoke of rolling out a no-smoking policy on the job, and he made a little news when he announced that the county, under his advice, would no longer be renovating the old jail but building a new one, at a savings of $8 million, though that hasn't yet been discussed at the county commission. (Two commissioners were in the audience Wednesday: Commission Chairman Nate McLaughlin and Commissioner Charlie Ericksen.)
Manfre argued that "it's always been cheaper to build new than to renovate," and that renovating would cost around $23 million, whereas a new structure with 264 beds (doubling current capacity) would cost $15 million. "And then we still have the existing facility which we can potentially use with things like transitional housing for our inmates," Manfre said. "I have to tell you, there is nothing more pathetic—and I don't mean this derogatorily—it's humbling to see inmates males and females walking down Justice Lane with $5 in their pocket, back to their community, with an expectation that they're not going to come back to our facility. I think that's short-sighted."
The appearance was dubbed as a talk on guns and the February 21 murder of Zuheily Roman Rosado, the clerk at the Mobil gas station who was gunned down in an apparent execution. That was a very small part of Manfre's talk, as was the reference to the discovery, on Jan. 14, of a murdered man in the marshes of Covington Lane.
"Our search for a motive is our first goal," Manfre said of the Rosado killing. "We're searching for that, and we think we're getting closer to that, we think we're getting closer to some suspects, I obviously can't share that with you." He had little else to add to either homicides, but spoke candidly about his stance on guns.
"I feel extraordinarily strongly that we need to have universal background checks. It makes absolutely no sense to me that anyone of you law-abiding citizens wants to buy a gun, has a background check. If you go to Walmart you have a background check. You could buy five of those." But going to an unlicensed place in Jacksonville to "double your money," Manfre said, "that doesn't require a background check. That makes absolutely no sense. Either everyone should have a background check, or no one should." But the nation is moving toward universal checks, he said.
Manfre is also in favor of limits on ammunition clips. "Those are sensible approaches on gun control," he said.