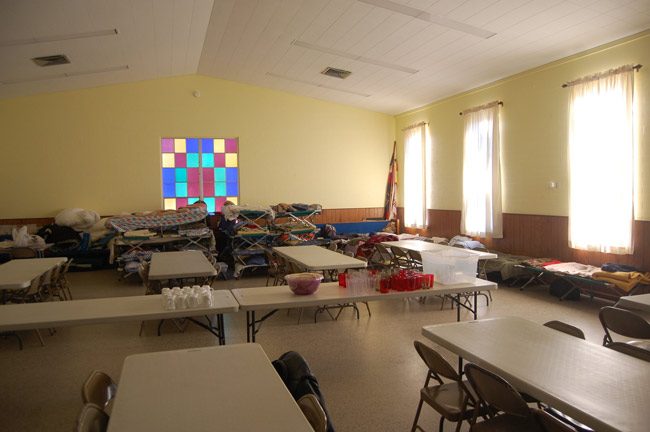 More than a dozen restaurants are donating food to the upcoming fundraiser for The Sheltering Tree, Flagler County's only cold weather shelter for the homeless. The shelter, at Bunnell's First Methodist Church's fellowship hall, is run by the Flagler County Family Assistance Center with the help of numerous volunteers.
The Fundraiser will be held from 5 to 8 p.m., Sunday, February 26, at the Santa Maria Del Mar Catholic Church, 915 N. Central Avenue, Flagler Beach. Tickets to the event are $15 each and may be purchased at the door. For reservations call the Shelter at 386/437-3258, extension 105.
Houligan's and The Olive Garden in Palm Coast, Larry's Deli in Bunnell, Pasta Pasta and Giovanni's in Flagler, and Mezzaluna Pizzeria in Palm Coast are donating food for the event, as well as Terranova Italian Restaurant in Bunnell, and Anthony's Brick Oven Pizza in Palm Coast. Music and entertainment will be provided by Palm Coast headliner entertainers "Debbie Owen and Tony T." Door prizes and raffles are also being planned. Space for the event has been donated by the Santa Maria Del Mar Catholic Church.
The Fundraiser will also feature success stories about the work of the shelter and provide critical information about the homeless in Flagler County and the challenges they face every day.
Organizers are asking the community to open their hearts for the fundraiser and help support The Sheltering Tree's vital services to people in Flagler County who lack the resources to acquire even basic human needs.
The Sheltering Tree has provided the homeless with food and extreme weather shelter since 2008. The shelter is also dedicated to providing basic needs to the homeless while helping them make the transition to permanent affordable housing and preventing at-risk individuals from becoming homeless.
Staffed solely by volunteers, the Shelter provides food, tents, sleeping bags, and clothing, as well as overnight facilities at the Methodist Church. The Shelter also offers transportation services and support to reunite individuals with their families.
Financial donations are needed to offset the expenses to operate the shelter which include rent, insurance, food, cots, linens and towels, laundry service, and necessary toiletries for individuals and families. The Sheltering Tree is a 501c3 charity.