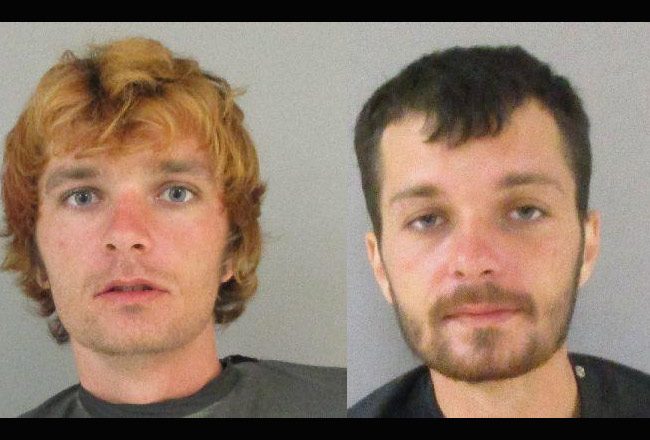 Last Updated: 4:25 p.m.
Justin Taylor, a three-time convicted felon who's been homeless in Palm Coast for several years, was arrested Sunday morning after an altercation with a store clerk at a convenience store on Palm Coast Parkway, where he stole one pack of cigarettes and a can of tobacco. Months before, his father had written a local judge about Taylor's severe mental health issues, begging the judge to commit Taylor to a mental health facility or else "he will for sure become a statistic."
The incident took place at 4 a.m. at the Shell gas station at 890 Palm Coast Parkway. Flagler County Sheriff's deputies who responded soon after saw a white man in the parking lot of nearby Kohl's. The man was "extremely hostile" to the cop, his arrests report states, yelling profanities as they tried to speak with him. As they did so, he openly admitted to taking the cigarettes and tobacco at the gas station. By then deputies had recognized Taylor from previous encounters with him.
Taylor "then took a combative stance and balled his fist in a threatening matter at Law Enforcement," the deputy's report continues. "He then fled on foot towards the Verizon parking lot. I then sprinted after Justin before eventually tackling him in the Verizon parking lot." Taylor ended up with lacerations to the head, which were checked out and cleared by paramedics.
Video surveillance at the gas station released by the sheriff's office shows Taylor entering the store, assertively walking past the counter then behind it, toward the 20-year-old store clerk, who even as Taylor was walking in had his finger on the alarm button beneath the counter. Taylor then briskly walks toward the clerk, and within a foot or two of him turns right to the cigarette rack immediately behind the clerk, who, never panicked and after pointing outside, rushes Taylor as Taylor reaches for the cigarettes. The two scuffle briefly. Taylor walks backward away from the clerk, only to appear to grab for something else from a rack. The clerk rushes him again. That part of the scuffle is not within the camera's view. When the two men reappear, the men are on either side of the counter and the clerk is again pointing at Taylor as if in warning. Taylor pauses in front of the counter then walks out.
The goods he allegedly stole are valued at less than $15. It was recovered after Taylor was arrested.
Two years ago, when his address was listed as being at a house on Winterberry Place in Palm Coast–Taylor's father's house–he was arrested after a fight there and charged with domestic battery by strangulation and aggravated battery, both felony charges. He had been in a physical fight with his father, who told deputies that his son "has a severe anger issue," according to Taylor's arrest report at the time. Taylor had been angered by the fact that his father wouldn't give him money. After his arrest, Taylor laughed and said he couldn't help but laugh at what he did, and that he didn't feel bad for what he'd done, blaming his father for not being there for him. He was found guilty of both third-degree felony and spent nearly a year in jail–and was rearrested last January on a probation violation. But the judge sentenced him to time served.
It was the second time Taylor had been convicted of felonies after a fight with his father. The first was in 2016.
This time he faces a second-degree felony charge of robbery, along with a felony charge of resisting arrest with violence and a trespassing charge. He was booked at the Flagler County jail on $10,000 bond.
Letters his father wrote the court last April and August shed light on Taylor's mental health difficulties. His father explained that Taylor suffers from depression and anxiety, and hears voices. His father asked a judge to lift a no-contact order as he (his father) was the only one who could help him. "I really miss my son your honor and would love to visit him while he's in rehab," his father wrote.
By August Taylor had been in jail a year and at a drug-rehab facility in DeLand before returning to his father's house. There, he refused to take his medication, according to his father, and "started to have hallucinations and talking to himself and stating he wants to die." His father attempted to Baker Act him but deputies would not take Taylor. Taylor left the house to stay with friends, but those friends called his father later and told him he had to leave. "He is hearing voices and he is trying not to listen to the voices but I told him if he doesn't check into a hospital he will keep suffering," his father wrote the court. "I took him to a motel in Bunnell and all I can do is put him there for a few days." He asked the judge to have him committed to a hospital, otherwise he would be homeless "and he will for sure become a statistic."