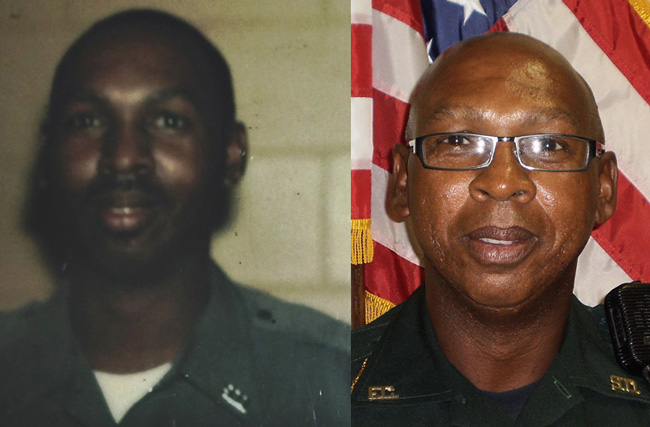 The Flagler County Sheriff's Office along with family and friends said Thank You to Sergeant Larry D. Jones Saturday (November 29) at a retirement party at the Palm Coast Yacht Club in Palm Coast.
Jones's career has straddled the best and worst of the county's history. When he was hired in October 1984, Jones was only the fifth African-American deputy hired in Flagler County, which only a few years earlier had been the last county to desegregate its schools in Florida.
Jones's last official public act, the evening before his retirement, was attending the Call to Action organized by the Flagler County Branch of the NAACP in the wake of a grand jury's decision not to indict the Ferguson, Mo., police officer who shot and killed an unarmed 18-year-old black man. Jones was the supervisor the last time deputies in Flagler shot and killed a man–on Dec. 15, 2012, when two deputies confronted  Troy Evan Gordon, 32, in his garage, as Gordon (who was black) was allegedly wielding a machete, and one of the deputies shot him 10 times. A Florida Department of Law Enforcement investigation cleared the deputies. Gordon's family is contesting the shooting.
In 2002, during Sheriff Jim Manfre's first tenure as sheriff, Jones filed a complaint with the Florida Commission on Human Relations and against Bunnell city government, charging that Bunnell discriminated against him when it refused to have the Sheriff's Office supervise its often troubled police department while the city sought a new chief. Bunnell had made the decision to rebuff Jones after learning that he would be the one in charge. The city commission, too, officially voted to reject Jones, a Bunnell resident, in a remarkable display of public bigotry.
---
A career that witnessed some of Flagler's best and worst characteristics.
---
That was a time when Bunnell was more comfortable arresting blacks rather than seeing them in positions of responsibility, an attitude that began changing only recently. The News-Journal reported at the time that then-Bunnell City Commissioner Flynn Edmunson had told Manfre that the all-white police department didn't want to be supervised by a black man, comments Edmunson denied making.
"What I got was a reaction maybe I naively did not expect, and through that maybe I learned something," Manfre, who had backed Jones's decision to file the complaint, told the local NAACP at the time. "We have a long way to go."
Bunnell has since had a Hispanic and a black police chief.
Jones began his career as a Corrections Officer five years after graduating from Flagler-Palm Coast High School, at a starting salary of $10,500. (In inflation-adjusted dollars, that's the equivalent of $24,000 today.)
Jones transferred from the jail to the agency's road patrol about six months later. He remained in the patrol division, rising to sergeant. Jones was later transferred to the Palm Coast Precinct by Sheriff Jim Manfre, serving as a supervisor and assisting the public with concerns and complaints. (David Williams was promoted to sergeant in January to prepare replacing Jones.)
Jones' personnel file, a news release from the sheriff's office states, is filled with a number of commendations for his professionalism, dedication, courteousness and respectful demeanor. During his tenure, he was awarded a Meritorious Service award, Certificate of Appreciation, and Safe Driver award, among others. Jones received recognition for providing invaluable assistance and working undercover with the Volusia County Sheriff's Office Narcotics Task Force for nine years. Jones also assisted with Black College Reunion events on several occasions and received many thanks from Daytona Beach's director of public safety.
Jones partnered with Target in 2008 and launched the annual Christmas with a Deputy program, when children from poorer families get to shop with a deputy, with money provided through grants or donations.
Jones single-handedly organized the event, which involves some 100 county law enforcement officers from across agencies and now nearly 100 children (up from 40 in earlier years).
"I started this program with my ownmoney. It was something I wanted to do because I grew up poor," Jones said. "I wanted every child to have a present at Christmas and I hope to continue volunteering with this program."
Jones, whose family members are buried at the Masonic Cemetery on Old Kings Road, has also been among the cemetery's most vocal advocates, his voice helping to keep attention on the poorly kept grounds and helping to spur Palm Coast's renovations of the grounds surrounding the cemetery when Old Kings was four-laned.
"None of us is irreplaceable, but Sergeant Jones comes close," Manfre said. "His most significant achievement and I'm sure the one he would like to be known for is his commitment to his wife and family."