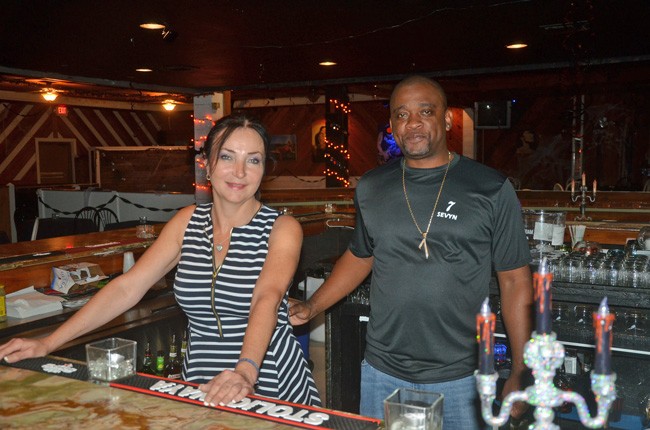 Walk into Sevyn when the barbecue smoked ribs are sizzling on the grill, and the down-home Southern scent will have you looking for a smiling cartoon pig or a caricature of a hillbilly on the restaurant's walls.
But, instead of that cliché BBQ joint iconography, patrons will be greeted by paintings of a Medusa, Jimi Hendrix and seductive women sporting Dirty Harry-sized revolvers.
Welcome to Sevyn, a new restaurant, bar, barbecue joint, nightclub, art space and music venue — yes, it's all of those. Sevyn opened Sept. 1 in Bunnell on Moody Boulevard just west of Belle Terre Boulevard and the Target shopping center. It's marking its grander opening with a ribbon-cutting on Friday afternoon.
"This place is about more than being a bar-restaurant," says Theresa Walloga, a formally trained artist who owns and operates Sevyn with partner Derrick Coleman.
The aforementioned paintings — as well as ones of B.B. King, a young Louis Armstrong, an aloof female angel, a woman with a guitar and gun, a subtly intense Michelle Obama and others — were all painted by Walloga, who earned an MFA from the School of the Art Institute of Chicago.
"It's kind of a culture shock coming from New York to Palm Coast," says Walloga, who moved to Bunnell from the Bushwick area of Brooklyn–one of Brooklyn's tougher neighborhoods–two months ago. Sevyn "is about a cultural exchange, bringing some culture to an area that needs it."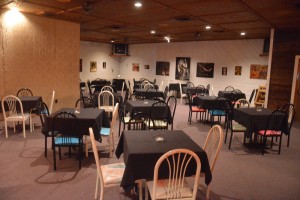 The venue's 9,000-square-foot space includes seating for 200 at dining room tables and a large horseshoe-shaped bar. Sevyn also includes a large dance floor, band stage and deejay booth, a few pool tables and a pinball machine.
The menu, prepared by Chef Dan Testa, features much more than barbeque and includes rib eye steak, chicken marsala and more.
Themed nights currently include swing dancing on Sundays with an instructor (and typically a $7 admission), live jazz on Tuesdays (singer Linda Cole and sax player Pat D'Aguanno played throughout October), live blues on Wednesdays (including the house band the Sevyn Blues Band, with St. Augustine keyboardist Doug Carn showing up on occasion), open mic on Thursdays (look for Walloga to do performance art and spoken word), Latin music and dancing with a deejay on Fridays (typically a $7 admission) and R&B and dance music on Saturdays.
As for the art, "Sevyn is an alternative art space which is a concept from New York," Walloga says. "It's almost like a gallery in the club."
After moving from Chicago to Brooklyn, Walloga landed an exhibition of her paintings in a Manhattan bar called Tom and Jerry's. Such a space can lead to more exposure for an artist than a typical gallery, she says.
"You can sit here and have your dinner and be looking at paintings," she says. "People are really involved in it. They come in and they're like 'What were you thinking when you were doing this?' "
The venue's website, sevyninc.com, succinctly sums up Walloga's vision : "You can't really understand a work of art until you've eaten next to it, danced next to it, and lived next to it."
"That's what I mean by cultural exposure," she says. "How many of us can sit next to a oil painting that's worth $10,000 and almost reach out and touch it?"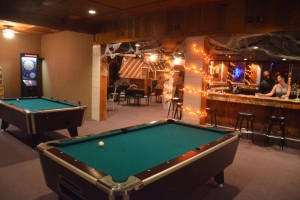 Walloga began visiting Palm Coast a year and a half ago when her mother, a local resident who suffers from dementia, moved to an assisted living facility here.
Coleman grew up in St. Louis and ran a restaurant and bar there before moving to Houston. He moved to Palm Coast two and a half years ago after "they sold me on the beach and all of that," he says. "But Palm Coast was just a little slower than what I'm used to," he adds, laughing.
Walloga and Coleman met eight months ago as Walloga was visiting the area monthly to look after her mother. Walloga moved to the area permanently in August, just before Sevyn opened.
"Everybody who comes in here loves it," Coleman says. "It's not that people are going somewhere else. It's that they got so used to staying home. So we're trying to get them out of the house and let them know they do have a place to have dinner and hear some good live music."
"And see world-class art," Walloga adds.
Part of Sevyn's mission will be to showcase the works of other artists, including locals, she says.
A section of the venue currently features the photographs of Gwendolyn Freeman, a grad student at the University of Manitoba in Canada, and the sculptures and photos of Lamar Gayles, a student at the School of the Art Institute of Chicago.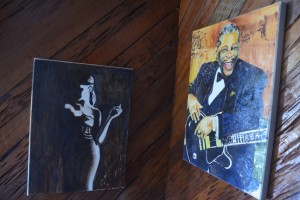 Walloga has been working with local artist J.J. Graham of Salvo Art, a short walk from Sevyn, and the next Sevyn show will feature his work and that of other area artists.
"He wants to have painting sessions going on at Sevyn," Walloga says. "I've been experimenting with that — painting while people are here in the club. That's kind of a cool experience, to see a real artist working."
As for the open mic night on Thursdays, "I'm encouraging local artists to get out here," Walloga says. "Here's a venue for you whatever you do: whether you write poetry or sing or play a musical instrument or do comedy. This is an art venue."
As for that enigmatic name? "Derrick and I have seven children between us, and also seven is a complete number, a magical number, a lucky number. The altered spelling is just to be different."

Sevyn, a new restaurant, night club and art space, 4701 E. Moody Blvd., Bunnell. 386-437-6879, sevyninc.com