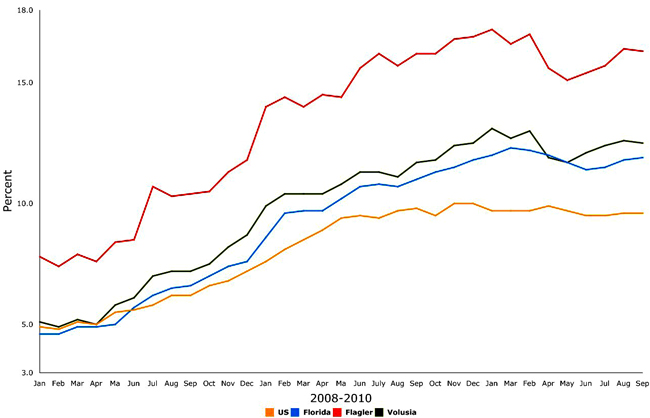 Flagler County's unemployment rate dropped one decimal point to 16.3 percent, Florida's went up one decimal point, to 11.9 percent (from an upwardly revised 11.8 percent in August) as the state lost another 11,100 jobs overall and the employment picture continued to disappoint, according to the state's September labor report.
Flagler County continues to have the second-highest unemployment rate in the state, behind Hendry County's 20.2 percent. But when calculated by "metropolitan statistical areas," the Palm Coast MSA leads the way, at 16.3 percent, followed by Sebastian-Vero Beach at 15.4 percent and Port St. Lucie at 14.5 percent.
Going by counties' unemployment rates, St. Lucie County is third, at 15.5 percent, followed by Indian River at 15.4 percent and Hernando at 14.8 percent. Liberty County has the lowest rate, at 7 percent, followed by Walton, at 7.9 percent.
The number of unemployed Floridians is at 1.1 million. In Flagler County, 5,388 people are unemployed in a workforce of 33,057. That workforce is virtually unchanged from what it was a year ago, when unemployment was 15.5 percent in the county. The unemployment rate in St. Johns County was 10 percent in September, up from 9.9 percent the previous month.
With exceptions in education and health services, almost all job sectors in Florida either lost employment or stayed flat in September.
The largest drop was in government employment, with 7,000 net jobs lost. This time it wasn't federal job losses that led the way, as they had in previous month (with the shedding of Census jobs) but local-government job losses. Local governments shed 7,400 jobs in September. State government actually added 2,900 jobs. Federal jobs decreased by 3,400.
There were big job drops in manufacturing and leisure and hospitality services. Manufacturing lost 3,500 jobs, especially in food manufacturing and printing and related services. Building equipment contractors saw another drop of 3,000 jobs. Retail trades lost 7,000 jobs, 2,000 of which in clothing and accessories stores and 1,400 in auto parts stores and dealerships.
Leisure and hospitality lost 16,900 jobs, with losses spread across amusement parks and arcades, food services and drinking places.
Education and health services added 20,400 jobs, with elementary and secondary schools picking up 3,300 jobs and colleges and universities picking up 4,400 jobs. In health care, social assistance jobs grew the most, by 6,000 jobs, followed by 2,500 jobs added in hospitals, and 1,500 jobs added to the ranks of nurses in nursing homes and assisted living facilities. Real estate, rental and leasing jobs saw a gain of 1,500 jobs. Professional and business services added 6,700.
All of the numbers above are not seasonally adjusted.
One encouraging sign, according to the state's labor department: online help-wanted ads are up 2.3 percent, the fourth consecutive month of gains in online ads and an over-the-year increase of 63,688 job postings compared to September 2009.