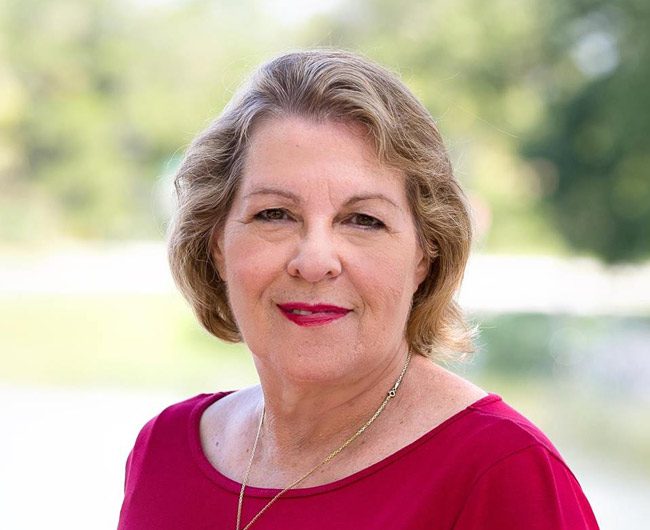 Update: Sen. Dorothy Hukill of Port Orange died on Oct. 2.

Sen. Dorothy Hukill has ended her re-election bid, saying in a social media post that she faces an "aggressive recurrence" of cervical cancer and is entering hospice care.
"Along with my family, I have made the difficult decision to enter hospice care and no longer seek treatment for this disease," the Port Orange Republican said in a Facebook post Friday.
Hukill's struggle with cervical cancer caused her to miss the entire 2017 legislative session, and her announcement Friday quickly drew hundreds of messages of support mixed with expressions of sorrow, from those on both sides of the aisle.
In her social media post, Hukill thanked those who supported her, both as she received treatment for cancer and throughout her tenure in public office.
"I have so enjoyed serving you and the people of Florida. I have been honored by your friendship and the trust you have placed in me, from my very first term serving on the Ponce Inlet Town Council to the past six years in the Florida Senate," she wrote. "To all of my friends, supporters, constituents, colleagues, and my dedicated staff who have all done so much on behalf of the people we've served: thank you from the bottom of my heart."
In her re-election campaign, Hukill had a sizeable financial advantage over Democratic challenger, Melissa "Mel" Martin, a former judge advocate in the U.S. Marine Corps. The Republican-leaning Senate District 14 includes covers southern Volusia and northern Brevard counties.
"I'm taking a knee today. No politics. I just ask that everyone who supports me to please turn their hearts and minds to a hurting community," Martin said on Twitter.
Hukill's recent absence from campaign events prompted questions from the Daytona Beach News-Journal, which noted Thursday that her social-media posts also had been "sporadic" over the past month.
Hukill turned 72 on Sept. 20 and the News-Journal noted that, despite hundreds of birthday messages, "she didn't respond with a characteristic 'like' or thank you comment."
With the Nov. 6 election approaching, a replacement candidate will be chosen by the counties' Republican leaders. State law gives the chairs five days to call a meeting once formally notified by the state party. Elections supervisors have already mailed ballots to many overseas and military voters, so Hukill's name will remain on the ballot.
As with the Congressional District 17 contest in which Democrat April Freeman died Sunday, notices will be provided to voters in the Senate district indicating that a vote for Hukill would be counted for the person designated by the party.
Around the time Hukill posted her Facebook update Friday, Senate President Joe Negron, R-Stuart, advised senators that their colleague was again confronting "serious health issues."
Negron called Hukill "a tireless, passionate and selfless advocate for her constituents," a sentiment echoed by Sen. Lizbeth Benacquisto, R-Fort Myers.
"My heart breaks at the news of her declining health," she said on Twitter.
Gov. Rick Scott was among the hundreds of well-wishers who expressed concern for Hukill on Twitter.
Scott and his wife, Ann, were "saddened" to hear the news about Hukill, the governor tweeted.
"I am grateful for her steadfast commitment to Florida & have been glad to work with her in Tallahassee. We are praying for comfort and peace for Dorothy & her family," he went on.
Sen. Rob Bradley, a Republican from Fleming Island, called Hukill "a dear friend and cherished colleague."
And Susanne Raines, president of the Democratic Club of Northeast Volusia County, issued a statement praising Hukill for setting "a good example by her community service" and calling her "a well-loved public servant."
Hukill served as Education Committee chair and was one of four Republicans who earlier this year voted against a controversial measure (HB 7055) that included the use of sales-tax credits to help students attend private schools.
She has served as the Senate's point-person on tax cuts, advocating for reductions of taxes on commercial rental property and manufacturing equipment, as well as measures to assist the Daytona International Speedway.
"Even in her times of greatest medical challenge, she has remained steadfast in representing her community," Negron wrote to members of the Senate.
Hukill started treatment for cervical cancer shortly after her November 2016 re-election. The treatment caused her to miss the 2017 legislative session and special session that followed. But in an interview with The News Service of Florida last year, she said she was glued to her computer — and her iPad — throughout both sessions.
She maintained weekly conference calls with her education committee staff, set the agenda, reviewed bills and watched meetings on The Florida Channel, "which I thought was just fantatic," she said.
"So I actually probably watched more committees from afar than I would have there, because there I would have been in a committee," she added.
In the 2017 interview, Hukill also imparted some advice to others undergoing serious medical treatment.
"I think one of the most important things is to have a network, whether it's family or friends, and to be honest with them about what you're going through, and be honest with them about what you need. If you need some help, because people offer help. I've been offered so much help, but they don't know what kind of help you need. You may need, depending at what point you are in your treatment, you may need someone to go pick up medication for you, someone to go shopping for you, someone just to talk to. I find that's the most important thing," she said.
Hukill, who served as vice-chairwoman of both the Regulated Industries Committee and the Appropriations Subcommittee on the Environment and Natural Resources during this year's legislative session, was elected to the Senate in 2012.
Senate President-designate Bill Galvano, a Republican from Bradenton, called Hukill a "fighter."
"I am deeply saddened by the news today from Senator Hukill's family on her declining health. Dorothy is a longtime, dear friend and my heart breaks at this news," Galvano said in a release. "I know my friend to be a fighter and she has battled this terrible disease with everything she has."
An attorney who attended St. John's University School of Law, Hukill served as Mayor of Port Orange for four years before joining the state House of Representatives in 2004. She served in the House until her election to the Senate six years ago.
In last year's interview with the News Service, Hukill offered some guidance for new legislators that could be broadly applied.
"It's also important to remember, don't promise to do something you don't know that you can do or support, because your word is your bond. I really believe that your word is your bond. If I say I'm going to support something I'm going to support something, unless something falls out of the clear blue sky," she said.
–Jim Turner, News Service of Florida