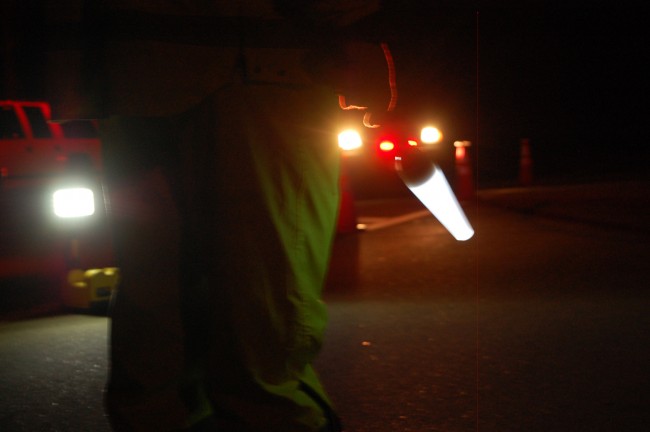 One man is under arrest and three were briefly held by Flagler County Sheriff's Office deputies after traveling here from Daytona Beach with seven home-made bombs and setting one off in water, Sheriff Don Fleming said Sunday evening.
The men were in the Dry Lake area of Seminole Woods. The area is secure, Fleming said: no one has been injured.
"They came with seven home-made bombs," Fleming said, "they set one off into the water… they were obviously screwing around."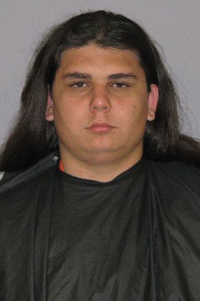 Patrick Taylor Cossette, 20, originally from Montreal but now living in an apartment at 900 peninsula Drive in Daytona Beach, was booked into the Flagler County jail early Monday morning on felony and misdemeanor charges, including making or throwing a destructive device, trespassing, the unlawful possession of a handcuff key, possession of burglary tools, making a false report to law enforcement, and tampering or destroying evidence. He was held on $12,000 bond. He bonded out by Monday afternoon. (See Cossette's story here.)
The sheriff added: "We got there, we arrested one, we are holding three right now; I don't yet know if we're going to charge the other three right now." (By 8:30 p.m., the Sheriff's Office confirmed that the three were charged with misdemeanors and given notices to appear. The actual charges were not yet specified.)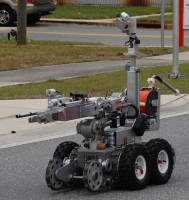 Fleming said officials from the FBI, the ATF and the St. Johns County Sheriff's Office's bomb squad were on their way at around 7 p.m. The bomb squad, which last saw action in Flagler County last December in Bunnell, when a bomb was believed to have been left at the Bank of America (the device was a fake) arrived around 8 p.m.
The dispatch of the various agencies was more of a precaution than a necessity.
"Nobody got hurt," Fleming said. "We're just letting the neighborhood know we've got the scene under control."
Also at the scene:
Station 92 from the Flagler County Fire Department, Flagler County's Engine 92 and Rescue 92 and a brush-fire fighting vehicle from the Flagler Beach Fire Department, and an ambulance. Station 31 (Korona) was also at the scene from late afternoon to 1:30 am.
The scene round 7:30 to 8:30 p.m. was quiet: fire police was diverting southbound traffic on Seminole Woods onto Citation Parkway and Sesame Blvd. About 150 yards south of the roadblock, another cluster of law enforcement vehicles could be seen spotting the darkness. That stretch of Seminole Woods Blvd., off limits to anyone not with law enforcement, is not inhabited. Authorities at the scene were tight-lipped, as was a deputy with a K-9 dog who stopped briefly at the roadblock. No one displayed urgency or anxiety, however. A few Flagler County Sheriff's cruisers went through the roadblock to the scene further south, a few drove back. The sheriff's office never needed its Fireflight helicopter, and all signs pointed to a scene under control.
Update: