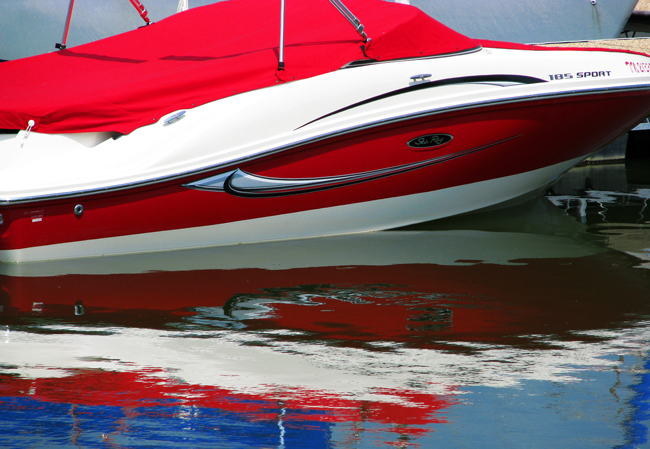 Sea Ray, the boat manufacturer and one of Flagler County's largest and best-paying private employers, laid off 170 workers at its Palm Coast plant on Thursday. That's at least a third of the plant's workforce. The lay-offs will have considerable repercussions on a local economy already battered by high unemployment. After falling in summer, local joblessness was on the rise again even before the Sea Ray lay-offs. Figures released Friday put Flagler County's unemployment rate for August at 16.4 percent, second-worst in the state.
Several local parts manufacturers and lumber yards depend on Sea Ray for big chunks of business. And while Sea Ray is not as large an employer as Palm Coast Data, which has about 1,000 employees, Sea Ray's median salaries are more than double those at Palm Coast Data, which fall closer to the minimum wage.
One year ago, the Palm Coast plant employed 270. That number rose last spring, when the boat manufacturer geared up for the summer season and was expecting to sell six boats per week from the plant. The boats didn't sell at that pace, however, and backed up the company's inventory. At its height in the middle of the last decade, the plant was producing a dozen boats per week.
---
Attention Sea Ray Employees:
Past or present, share your stories, or email FlaglerLive at

[email protected]

. Your confidence will be respected. Sea Ray or Brunswick: We'd love to hear from you as well. You owe this community a little more than caginess.
---
---
Sea Ray workers were told of the lay-offs Thursday afternoon in several groups by their building managers from the plant's fabrication, assembly and lamination buildings. The meetings were only a few minutes long. Those who were laid off were told that the plant will be building four boats per week until at least the end of the year, necessitating the layoffs, and that "when we need you, your supervisor has the option to call you back."
Supervisors then escorted them back to their work areas where they handed in their identification and company keys (if they had any) and picked up their personal items, then walked out to the parking lot, where they were required to hand in their yellow vehicle window stickers that identify them as employees, so they would opt be able to return. The news was somber but not unexpected: many workers had been in and out of employment at the plant, and many more had been revolving through several jobs over the past few years, trying to hold on to work.
Many of the laid-off workers were not directly employed by Sea Ray, but by Aerotek, the national staffing agency through which Sea Ray has been employing many of its workers. (The arrangement enables companies with seasonal or uncertain employment terms to avoid the bureaucracy that comes along with hiring full-time employees. Aerotek assumes that bureaucracy and actually signs employees' checks.)
The lay-offs are distinct from the company's usual furloughs, which take place in July (July 16 to 24 last summer) and December (Dec. 16 to Jan. 3), and from the rotation some workers were on last year—working one week and being off three. The difference this time is that the lay-offs are open-ended. The same day, Sea Ray, which is based in Knoxville but owned by Lake Forest, Ill.-based Brunswick Corp., announced that it was furloughing 600 employees at two plants in Tennessee on Oct. 4, months before the usual winter furloughs.
Locally, Sea Ray has been the beneficiary of generous county and state subsidies. In 2007, the company threatened to leave the county if planned developments were to proceed in its neighborhood. To entice it to stay, the county agreed, among other things, to build a  3,000-foot road extension from Roberts Road to Colbert Lane for the company,  at taxpayers' expense. The $2 million in state and local dollars included $300,000 from Flagler County taxpayers. At the time, the Sea Ray plant employed some 700 people.
At an internal Chairman's Award ceremony about a month ago, employees were told that Brunswick had considered shuttering the Palm Coast plant and moving the operation to Sykes Creek on Merritt Island, just south of Titusville. Employees were told that because of the very low number of warranty claims against boats manufactured at the Palm Coast plant–a sign of quality manufacturing that saves the company large sums of money–the plan to move the operation was dropped. But it wasn't the first time, nor is it likely to be the last, that Brunswick has considered shuttering the plant.
Repeated calls to the Brunswick about Thursday's layoffs office were not returned.
At the end of July, Brunswick's 16 boat brands reported net sales of $296.6 million for the second quarter of 2010, an increase of 114 percent compared with $138.8 million in the second quarter of 2009, but an operating loss of $23.6 million. That compares with an operating loss of $107.9 million in the second quarter of 2009.