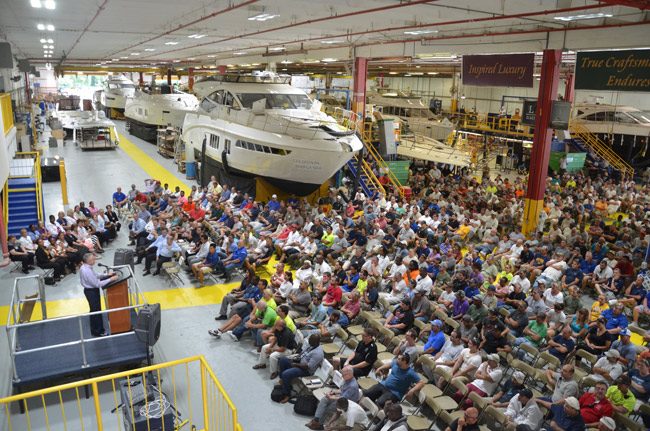 Palm Coast's Sea Ray Boats plant, one of the top five employers in the county, is shutting down. Sea Ray employees this morning were told they would be laid off between now and the end of August.
As of February, Sea Ray was employing some 440 workers at its plant off Roberts Road.
Mettawa, Ill.-based Brunswick Corporation, which owns Sea Ray and numerous other brands, had been planning to sell Sea Ray since last December. Those efforts were unsuccessful. Today, the company announced it will discontinue Sea Ray's sport yacht and yacht models while retaining the brand.
"Over the last several months, we have engaged in a thorough sale process for the Sea Ray business, which we believed would generate the highest value for our shareholders," Brunswick Chairman and Chief Executive Officer Mark Schwabero said in a statement issued this morning. "Although there was interest in the business, the offers we received did not reflect an appropriate value for this premium brand, and did not meet our expectations. The lower value was largely due to the persistently weak financial performance of the yacht product category, which complicated and obscured the value of the remainder of Sea Ray."
The statement noted that "Sea Ray will begin to wind down sport yacht and yacht production in the third quarter at its Sykes Creek and Palm Coast, Fla., facilities, involving the elimination of as many as 825 positions. Palm Coast is targeted for closure as soon as practical in 2018." But FlaglerLive learned that an announcement was made to all Palm Coast employees at the plant shortly after 9 a.m. about the closure later this week.
"This is a devastating blow to our community," Palm Coast Mayor Milissa Holland said. "Sea Ray has been an economic driver for us for years and this decision will negatively impact us in so many ways. My thoughts go directly to the employees and their families. We must come together as a community to help find employment for them as quickly as possible. I will be reaching out to our Workforce Development Agency to determine a path forward."
Dan Kubera, Brunswick's spokesman, did not return a phone call this morning. In an email from Brunswick's Illinois headquarters, he said employees would not be laid off at the end of the week. Rather, he said, without specifying timeline or number of employees, "We have developed a detailed plan to wind down operations. We have customer obligations to fulfill, such as completing in-process boats, warranty work and general shutdown procedures. Our timeline considers meeting these commitments, and extends beyond the end of this week. Without going into specifics, it will take some time to complete these tasks."
A portion of Sykes Creek will continue to operate for the foreseeable future to support customer service and warranty obligations, along with other operational requirements.
"As the sale process neared conclusion, we started to evaluate other strategic options beyond our original plan to sell the Sea Ray business in its entirety," Schwabero said. "Based on that re-assessment, we have concluded that our best opportunity to maximize value is to retain the Sea Ray brand and refocus the business on the sport boat and cruiser product portfolio. As part of the transformation of Sea Ray, we will discontinue sport yacht and yacht models and begin an orderly wind down of yacht production.
"We're working to get in front of it as best we can," Helga van Eckert, Flagler County's economic development director, said moments after finding out about the closure.
Van Eckert said Sea Ray was "working on a transition plan" with its employees. "We're going to sit down with them as soon as the dust settles a little bit and find ways to assist them also," she said. "I think this is going to be a developing plan as it moves forward. The most important thing is to take care of the employees." That means reaching out to existing companies for potential local hires or recruiting new companies, including boating companies that could potentially fill Sea Ray's spot.
Van Eckert said the economic impact will be considerable. "It's 400 jobs, I think it's a big economic impact, we haven't run numbers to see what the actual dollars are," she said. But there's been a workforce shortage locally, and Sea Ray's employees have advanced skills, so she expects many would be able to find jobs.
Flagler Beach Commission Chairman Rick Belhumeur just last week had a conversation with one of his tenants, who works at Sea Ray. "He was pretty excited about the fact that a sale was finalized, he told me that it was finalized, and that he was looking forward to the future, and hoping that things would stay the same," Belhumeur said. "That was his impression at the time. I guess he was misinformed. He was pretty excited about the fact they'd be continuing on."
"Obviously it affects quite a few hundred people and their families and the economy in general," Belhumeur said. "Gee, that's going to displace a lot of people. Somebody building boats that's not something anybody can go out and knock on some doors and build their boats, so it's not going to be easy for a lot of them to find work. I feel bad for the employees and their families and certainly hope they can find an alternative source of employment very quickly. I guess if they've made that decision there isn't much anybody can do about it."
Flagler Beach Commissioner Jane Mealy was, like other officials, surprised by the news. "Economically it's a bad thing, 440 people losing jobs," Mealy said. "But environmentally I would hope something cleaner would take over that property. It's been an ongoing issue over the fumes that come out of there, the people that live at the north end of Lambert Avenue, you can ride down the street, depending on how the wind is blowing or not blowing, you can smell it, so that part of it I'm glad about. But I'm not glad about 440 people losing their jobs."
Mealy added: "It's interesting that we went from we need more parking lot to we're closing down." She was referring to the 2015 controversy triggered by Sea Ray's decision to turn 24 acres south of its property into a parking lot, a move Lambert Avenue residents and others in Flagler Beach, including the city commission, interpreted as a prelude to more industrial activity on that side of the plant. Flagler Beach briefly challenged the plan then gave in.
The Sea Ray plant spread on 64 acres between Colbert Lane and the Intracoastal. The property's market value this year is $5.5 million, generating $88,000 in property taxes, half of it going to county government, almost half of the rest going to the school board, with less than $3,000 going to other agencies.
Brunswick's brands include manufacturers of marine-engine, boating, fitness and billiards equipment. It reported net sales of $1.16 billion in the first quarter of 2018 and operating profits of $115 million. Its boating brands reported net sales of $304 million, up from $285 million in the same period the previous year, with operating profits of $25 million.
[This is a developing story.]