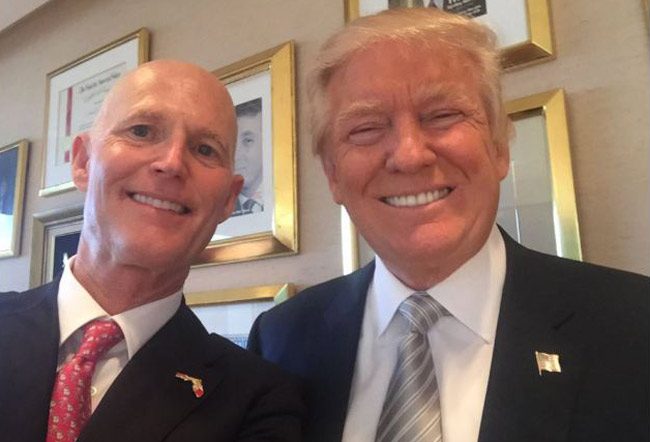 I never took Gov. Rick Scott for an Arab-baiter. But his lustful bromance with Donald Trump should have put us on our guard. Scott has been studying Trump closely, Trump's streak for bigoted flame-throwing particularly.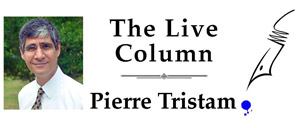 Scott thinks it's his place to declare that the United States should move its embassy from Tel Aviv to Jerusalem. The hell with 70 years of American policy, the hell with Palestinian identity and the eclipsing of Arab Jerusalem. Lacking more substantive ways of appealing to voters, he's exploiting the shortcuts of contemporary Republican electoral roadmaps: the primitive appeal to identity. In this case, demeaning Palestinians in the occupied lands to appeal to Jews in South Florida. He learned it at Trump's knee.
Politicians have always known that some voters–not most, not many, but enough to make a difference, particularly in swing states like Florida–don't vote their reason or their conscience but their prejudices. Appealing to those voters can be the difference between a winning and a losing campaign. Richard Nixon made that work with his southern strategy in 1968, when he turned white Democrats his way by appealing to their racism against blacks. The two Bushes were more subtle, but they sent enough coded messages, from Willie Horton in the first Bush's campaign to allegations about John McCain fathering a black child in the lesser Bush's South Carolina primary, to make the strategy work just enough to tip scales their way. The shock of the 2016 election was how easy such a strategy proved to be for Trump, who, placing identity politics above all else, adopted a nearly rote system of ticking off boxes of non-white, non-male constituencies and went to work degrading each in turn, to the delirium of his base.
The strategy can be put to work in state races too. Scott just showed how. He is angling for a Senate run in a race against Bill Nelson next year. He can't win without swaying enough Democrats his way. So he's taking a page out of Trump's book.
His target this week was Jewish voters, not traditionally the easiest voters to dupe: as whole they tend to be more educated, more politically aware and engaged, and they tend to go overwhelmingly liberal. Until it comes to Israel. Then they turn more reactionary than the most virulent nationalists in the Israeli Knesset. Trump used that knee-jerk instinct to his advantage in 2006 when he portrayed Clinton, who's often acted more as an Israeli minister than a U.S. Senator or Secretary of State, as weak on Israel. She got fewer Jewish votes than Obama in 2008, Kerry or Gore.
That's what's behind Rick Scott's call this week, as out of left field as any for a governor, that the U.S. embassy in Tel Aviv be moved to Jerusalem. He's flame-throwing, hoping to reap a few votes from solidly Democratic and Jewish South Florida.
Just so you understand, moving the embassy to Jerusalem is like announcing that America's support for a two-state solution is history. It's like telling every Palestinian that their hopes for statehood is as good as dead, and that Arab claims to Jerusalem don't matter. It wouldn't be that significant coming from Israelis. They've been treating Palestinians like sub-vermin parasites for decades, there to be ignored, trampled, expelled or exterminated. Israelis moved the seat of their government to Jerusalem in 1949. But the move was never recognized by any other country: they all have their embassies in Tel Aviv. All of them. International law does not recognize Jerusalem as Israel's capital, nor do the United Nations. Nor have any American presidents since Harry Truman.
If the United States breaks that streak–that law–Palestinians will consider their hopes lost. Trump's claim that he's interested in a workable peace will have written its own epitaph. Palestinians will have nothing left to lose and possibly more to gain from reverting to violence–the method Israel's founders used to carve their state out of self-made myths and plenty of Arab culpability. (Not to downplay the rich fount of Arab bigotry: for 20 years between 1948 and 1967, Jordan held the Old City and denied Jews access to the Western Wall, a denial Israelis did not reciprocate regarding Muslim shrines after their 1967 occupation.)
In 1995 the American Israel Public Affairs Committee, an NRA-like lobby-bully that's been intimidating members of Congress for decades, teamed up with Newt Gingrich and got Congress to pass the Jerusalem Embassy Act, "a transparent attempt," as John Mearsheimer and Stephen Walt wrote in "The Israel Lobby", "to disrupt the peace process by requiring the United States to move its embassy from Tel Aviv to Jerusalem" no later than 1999. It was Arab-baiting, pure and simple, a provocation designed to derail the peace process and signal to Palestinians that their hopes of ever locating their capital in their part of Jerusalem are as good as fantasy.
The law included an exit clause, allowing presidents every six months to sign a waiver if delay "is necessary to protect the national security interests of the United States." Bill Clinton, George W. Bush, Barack Obama and even Donald Trump have been signing it since. Trump is tiring of signing. He's expected next week to break with seven decades of American policy next week and declare Jerusalem the Israeli capital, even though he won't move the embassy just yet. Riding the flaming coattails, Scott on Wednesday decided to throw a few bombs of his own, declaring ahead of a trade junket he's taking in Israel that "the U.S. Embassy belongs in Jerusalem."
What does Scott care? He wouldn't have to clean up the mess. His West Bank is Miami, his Gaza is Fort Lauderdale, liberal bastions he'd just as well surrender to rising seas—until his need for a few more votes from there to make 2018 Nelson's Armageddon.
We've become used in the past year or so to Scott turning his governorship into a campaign platform for his Senate run. He turned even minor tropical storms into TV commercials, he jumped on the Puerto Rico aid wagon as if he were the island's second coming, throwing paper towels from Tallahassee instead of from across the room, and he's not missing a chance to leech off of Trump whenever he can, whether it's weighing in on Venezuela policy or cheering any assault on Obamacare. Until now it was garden-variety pandering.
But pretending to be secretary of state for a day is playing with a fire Scott shouldn't start, particularly with a pyromaniac in the White House. Jerusalem has burned enough times in its history. It doesn't need Arab-baiting demagogues to light the next fuse.

Pierre Tristam is FlaglerLive's editor. Reach him by email here or follow him @PierreTristam. A version of this piece aired on WNZF.