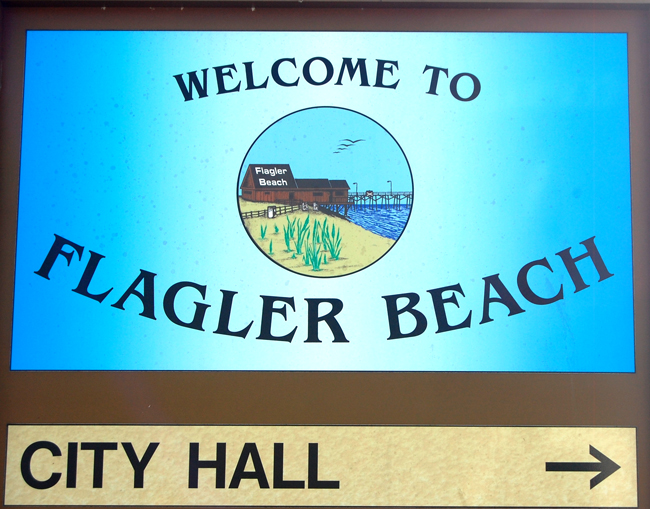 Scott Janke, just last week the front-runner for the Flagler Beach city manager's job, has not withdrawn his name from consideration, even though an email from the city administration went to city commissioners saying that he had.
In an email to Assistant City Manager Libby Kania, Janke initially withdrew on Wednesday evening, after learning that discussion of an X-rated DVD featuring his wife and, allegedly, himself, had surfaced in Flagler Beach. But this morning, in another email to Kania, and in two separate interview with FlaglerLive, Janke said he still wanted to be considered for the job. He was, however, leaving it up to the commission to decide. The commission meets this evening at 5:30 for its regular bi-weekly meeting. Discussion of the manager's job is on the agenda.
Janke was the commission's top candidate for the manager's job after a search through 140 applicants and eight in-person interviews. Janke stood out thanks to a combination of experience, personality and preparedness. On paper and in person, he looked like an ideal candidate. Issues relating to his wife, however, have been tripping up his career since last year. They are doing so again now.
Janke was the city manager in Fort Myers Beach from March 2008 to July 2009. He was fired that month when his wife's involvement in the X-rated business surfaced. Janke insisted that his firing had nothing to do with his performance as a city manager, or with his personal character. He hasn't worked since, though he's applied to many city managers' jobs. He's used his spare time, he said, to reconnect with friends and family, especially in Massachusetts, he said, where he's been involved in "tea party" activism.
Contacted today, Fort Myers Beach Mayor Larry Kiker concurred. "That thing got blown out of proportion," Kiker said. "He was in good standing. There was nothing out of the ordinary." Kiker would not go into details, however. "It's not Scott. It's anyone. I don't give–we've had two or three past town managers and I don't comment on their performance when they're looking for jobs. It's not appropriate."
Flagler Beach commissioners were familiar with Janke's issues with his wife before his interview last week. Those issues appeared not to detract from his qualifications. Two commissioners listed him as their top choice, two commissioners listed him as their runner-up.
The new allegations surfaced of an X-rated DVD, "The Councilman's Wife," starring Jazella Moore–Janke's wife–and supposedly featuring scenes with Janke himself. The DVD was released on May 15 and lists Janke in the cast, under "Non-sex roles." "This DVD has actual stolen home footage of the Councilman himself! As well as home video of him and Jazella as they make 'law' in Ft. Myers!," the DVD's synopsis claims. Adult Video News' review was more detailed: "Now there's a refreshing change of pace: A politician (well, a former one) who doesn't mind his face (and cock) appearing in a sex tape featuring his wife. The pol is Scott Janke, former city manager for Ft. Myers Beach, Fla., while his wife is Jazella Moore, who's been doing porn for a little more than two years. And although Janke knew of his wife's profession before he married her, he didn't figure that would impact his job. Sadly, Ft. Myers Beach thought differently, as the couple explain between her sex scenes."
Word of the DVD, as well as links to the DVD's web page, have been emailed to residents of Flagler Beach by factions in town pushing a local candidate–Bruce Campbell, who's employed by the city–for the manager's job. Campbell appeared on just one of the four commissioners' final lists.
Contacted by phone earlier today, Janke said he had not been aware of the DVD until Kania told him of claims about it on Wednesday. If scenes featuring him are in the DVD, he said, they would have been used "without my permission." He added, "I only heard about this yesterday, and I can't comment because I'm talking to a lawyer about this." He said he may not be able to discuss the matter with his lawyer before Monday.
But Janke said he was not withdrawing from contention in Flagler Beach. "My preferred route would be to be hired as a city manager there," he said. "I did communicate to the city because of this," he noted, "I'm willing to withdraw if it's causing too much embarrassment to the city council."
Three commissioners contacted this morning–Jane Mealy, Steve Settle and Joy McGrew–were all under the impression that Janke had, in fact, withdrawn. Mealy said that if he hasn't, she was likely to consider him still as her top candidate. Settle said he would have to be sure that Janke hadn't been misleading during his interview in order to still consider him. Settle noted that the only information he had about Janke's latest issues were those rumored around town–not anything that Settle had been able to verify. McGrew said she'd leave the matter for discussion to this evening's meeting, although the latest issue Janke is facing "is something to consider" as part of the discussion.
The confusion over whether Janke is or is not in contention stems from the exchanges he had with Kania. The assistant to the manager spoke with Janke Wednesday evening to inform him of the discussion running about town over the "Councilman's Wife" DVD.
At 4:01 p.m. Wednesday, Janke sent Kania the following email:
I am sick to my stomack (sic.) after looking at the web site you gave to me. My name is actually on the DVD cover that says "home videos stolen from the councilman" or something to that effect. I can hardly sit still I am so upset.

Please apologize to the City for me and withdraw my name from consideration. You may tell them that I am withdrawing for personal reasons only.

Thank you so much for all of your help. I was looking forward to working with you and becoming a member of the beach community. My heart is broken but I don't want to put Flaggler Beach (sic.) through any further embarrassment.

Thank you

Scott Janke
At 8:15 Wednesday evening, Janke sent Kania another email, though Kania did not read that email until this morning, by which time she had already informed commissioners of Janke's decision the previous evening. Here's what Janke wrote at 8:15 p.m. Wednesday. Anabela is his wife:
I have been in a bit of a panic since we talked. I finally called Anabela and asked her about this movie and she appeared to be as shocked as me. She thinks that someone in that business that she worked for may have taken something personal from her video camera and used it without her knowledge. Anyway she is contacting and attorney and so am I.

My lack of participation may not mean anything but I would like you to share this information with commissioners. If they feel that it would be better for the city to have me drop out I will. I would love the job and I know I would be a great fit for Flagler Beach, both for the city and for the community. However, I understand how this might appear to commissioners and the public.

Thank you for your understanding.

Scott
"My character can't be questioned as a city manager. With that said, I can understand how an elected body in a small town, would take many factors into consideration when they hire an executive," Janke said by phone this morning. "I'd like to have the job. My head is held up high. It's 2010. I think what you're doing is hiring a city manager, and those things should not matter. That's it."