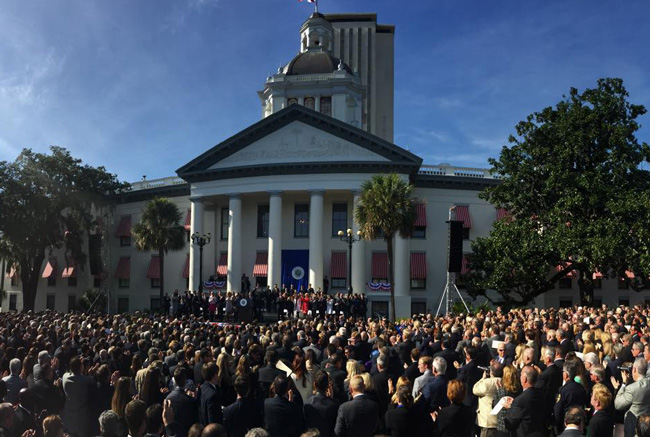 Last Updated: 6:26 p.m.
Gov. Rick Scott was sworn in for a second term Tuesday, promising to make Florida the top state for job creation over the next four years but offering few new proposals about how the state should get there.
Scott took the oath of office on the steps of the Old Capitol during a sunny, cool day in Tallahassee. Agriculture Commissioner Adam Putnam, state Chief Financial Officer Jeff Atwater and Attorney General Pam Bondi also were sworn in to start their second terms, as was Lt. Gov. Carlos Lopez-Cantera, who took office early last year. Speaking to about 500 people gathered outside Florida's historic Old Capitol, Scott gave constituents a simple-sounding — though perhaps difficult to measure — way to evaluate his second term.
"If we can make Florida the worldwide leader for families that struggled like mine did to get a job, then I've fulfilled my job as your governor," said Scott, who spoke for about 20 minutes.
Scott, a former health-care executive who shocked the political establishment by getting elected in 2010 and came from behind to beat former Gov. Charlie Crist in 2014, now moves from the challenges of governing as a newcomer to the challenges of holding off lame-duck status as attention shifts to the 2016 presidential campaign and, two years later, to the race to succeed him. Key to whether Scott can achieve his goals will be a Legislature where Republicans hold commanding majorities in both chambers, including a veto-proof margin in the House. The GOP strongly backed Scott's policy proposals in recent sessions, when he was building the groundwork for his re-election campaign, but could face different pressures with a presidential primary looming in 2016 and the race to succeed Scott after that.
There was little new in Scott's speech in terms of policy. The few specifics he mentioned — boosting per-pupil school spending to its highest level in state history, permanently eliminating a tax on manufacturing equipment, and investing in infrastructure — were staples of his re-election campaign.
"The goals are extremely lofty," said Rep. Dwayne Taylor, D-Daytona Beach. "But we need to see the plan for how he's going to obtain that. And that will help determine whether or not this is something that we can actually accomplish."
The governor did hawk the state to residents of New York, Illinois, California and Pennsylvania, all of which have Democratic governors. And despite overseeing a roughly 10 percent increase in the state budget over his four years in office, and promising additional spending to come, Scott warned against the expansion of government.
"While we are focused on growing jobs in Florida, we must realize that positions our state as a fighter in a great movement against the silent growth of government," he said.
"In Florida we are proving that government can do better without getting bigger," Scott, who has seen state spending grow from a shade under $70 billion in his first budget to around $77 billion in the current year, said.
Scott was joined for the inauguration by Texas Gov. Rick Perry and New Jersey Gov. Chris Christie — both potential 2016 presidential candidates — along with other dignitaries including former Florida Govs. Bob Martinez and Wayne Mixson. Former Florida Gov. Jeb Bush, actively considering his own bid for the presidency, was not there.
Perry brushed off Scott's good-natured but pointed declaration that Florida would take the top job-creation spot from the Lone Star State.
"We're all about competition," he said. "I'm thinking Florida State wants to beat the University of Texas as well. Competition is good. It makes us all better."
Senate President Andy Gardiner, R-Orlando, said Scott's lack of specifics during his speech showed "an understanding that as an executive, you lay out themes, and then you allow the legislative branch to work within their respective worlds to try to get there."
But asked whether Scott would get his main election promises, including the education spending boost and $1 billion in tax cuts over two years, Gardiner was circumspect.
"A lot of it depends on how it comes in and how it works out. We're just kind of working through all that," he said.
At the same time, Senate Majority Leader Bill Galvano, R-Bradenton, downplayed concerns that Scott's influence over lawmakers could quickly begin to wane.
"There's an excitement after the last election throughout both chambers," Galvano said. "I think we're eager to work with him."
For their part, Democrats complained that Scott's education policies were still too miserly and his focus on simply growing the number of jobs didn't account for the need for high-wage jobs.
"Right now, working people are catching hell in Florida," said Senate Minority Leader Arthenia Joyner, D-Tampa. "These low-paying jobs are not doing it."
She also scoffed at Scott's warnings against the growth of government.
"Well, heck, he signed the biggest budget that Florida's ever had," Joyner said. "Government is growing, even under his leadership."
The day began with a prayer breakfast at Florida A&M University that was attended by Scott and First Lady Ann Scott, their daughters, Lopez-Cantera, Atwater, Putnam, FAMU President Elmira Mangum and a number of legislators and state agency heads.
The speakers, who represented a wide array of faiths, called on Floridians to pray for Scott's term in office.
"Our dear governor can't do it on his own," said keynote speaker Jim Towey, president of Ave Maria University in Southwest Florida. "He needs the help of God and the prayers and effort of each one of us. … Democracy is not a spectator sport."
Acting as host was Kirt Anderson, the pastor of Naples Community Church, which the Scotts attend. Upon taking the podium, Anderson quipped, "I thought I was going to have a fan" — a reference to Crist, whose use of a fan to keep cool during one of their debates sparked a controversy.
Scott has ditched some of the traditional inauguration festivities in Tallahassee, instead opting for a post-election tour of the state to tout the economic recovery. He held a reception Monday night at the governor's mansion, watching a video reviewing his second campaign and delivering brief remarks in line with the themes his inaugural.
"We will be No 1 as the global hub for business," Scott said."And that's our whole agenda for the next four years."
Susan MacManus, a political science professor at the University of South Florida, pointed to the presence of Democrats as she talked about the early planning for the next election in just two years.
"And that's the beauty of the American system," she said. "When you lose, you put it aside, you move on and you try again. And there isn't a person in this audience today who isn't thinking about 2016."
–Brandon Larrabee and Margie Menzel, News Service of Florida