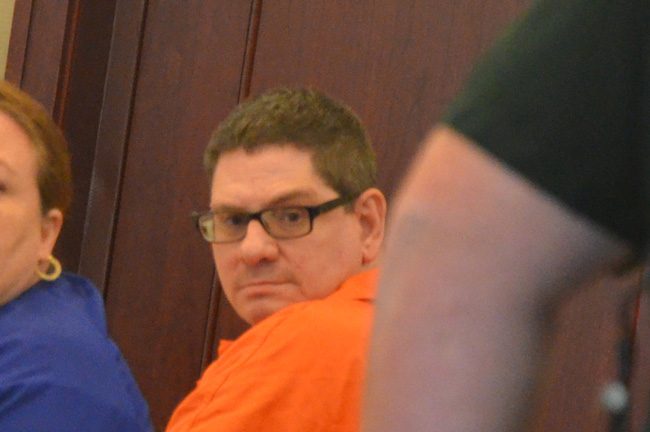 Defendants walking into the courtroom before a trial or a pre-trial, let alone a sentencing in which they face the possibility of life in prison, never smile. Their look is invariably grim, or numb.
Not so William Schwarz, though he faced life in prison. As he stepped into the courtroom in his orange-jail garb, leaning on a walker, he smiled. He smiled at a few family members in the courtroom, whom he'd not seen so close and in person since his incarceration at the Flagler jail in November 2016. He then smiled for his attorney and his attorney's intern as he sat down, ready for the continuation of a sentencing hearing that had begun six weeks ago. A few hours later he would be weeping on the witness stand, apologizing to the family of the man and woman he'd killed and saying, "I'm sorry for being such a pain to other people."
His weeping would be replaced by something more akin to shellshock by the time Assistant State Attorney Jason Lewis was done rattling off a damning rap sheet of two cocaine convictions, a burglary, multiple drunk driving convictions, hit and run, driving on a suspended license.
The evening of March 11, 2016, Schwarz, who was out on bond for possession of cocaine, was drunk again, and he was driving. He'd been driving south on A1A, recklessly in the words of several witnesses he'd frightened along the way. A very long way: 17 miles, from State Road 206 in St. Johns County to Painters Hill in Flagler.
One of the witnesses said he looked "super, super aggressive, and he was very intense, he had this expression on his face" as if "he wanted to kill someone."
He'd drive up to vehicles at top speed, brusquely applying the brakes to avoid collisions, weave in and out, run off the road. By the time he reached Painters Hill, he began to maneuver around another car to pass. What followed was a series of collisions that included one car getting flipped in the air and landing back on another, shearing off big sections of the vehicle, and four cars in all smashed beyond recognition.
The crash scene was sheer devastation. It stretched across a block of State Road A1A. It resulted in critical injuries to Brittinia Dimattia, 21 at the time, of Albuquerque, N.M. It resulted in the death–or more accurately, the killing of Kathleen J. Boos, the well-known Flagler Beach business owner, and her brother-in-law Carl Boos. She was 66. He was 67.
They were killed by Schwarz, 52 at the time. His blood-alcohol level would register between 0.2 and 0.24. (The legal limit is 0.08.) There was Xanax in his system. He'd been going somewhere between 80 and 90 miles an hour on Flagler Beach's two-lane A1A.
It was nothing new for Schwarz. He'd been charged with drunk driving in 1984. He'd been charged with drunk driving in 2001. He'd been charged with drunk driving that caused property damage in 2005. He'd been charged with leaving the scene of a crash in 2014. Since he left, there was no way to know if he'd been drunk at the time.
"By the grace of God there's not more than two victims here," Lewis said, describing the day the Boos died as the worst day in the lives of the Boos' extended family. After enumerating the list of DUIs Schwarz collected over the years, he said: "If there's ever a case where a person deserves to go to prison for the rest of their lives, it's this case."
Doug Williams, Schwarz's attorney, asked for a sentence of 15 to 18 years.
This afternoon, Circuit Judge Dennis Craig sentenced Schwarz to life in prison, an extraordinarily harsh and rare punishment for DUI manslaughter, but one driven by Schwarz's long drunk driving and criminal record, and by the astounding persistence and severity of Schwarz's recklessness that March evening.
This is the exceptional case, and I'm going to sentence you to life in prison," Craig said.
But he had to justify it, having never imposed such a sentence in such a case before, or even seen it imposed elsewhere.
"It was very evident that the loss was devastating not only to the family and friends, but also to the family," Craig said, cautioning that his sentence was informed by what everyone said, but "that was not the main consideration that the court is determining sentence here." He said "it's the system that has to take over and not necessarily emotion."
"What the state is seeking here is an extraordinary remedy," Craig said, referring to the life sentence Lewis was asking for. He said he was not aware of a life sentence for a DUI manslaughter in his career. "But where I want to look here is, I want to look at the egregiousness of the offense, and maybe the egregiousness of the prior history leading up to this" to determine if there are exceptional circumstances for a life sentence.
"It is a conscious decision and a knowing decision to take alcohol," the judge said, "to take it even with prescribed drugs that you're not supposed to take, and then knowingly drive when you're under the influence."
Always methodical and deliberate, Craig then detailed the reasoning behind his sentence before actually imposing it, an exercise in deductive sentencing.
"I agree with the state that this is one of the most egregious reckless driving pattern that at least this court has seen and was quite frankly exceptionally egregious," Craig said. And that was before looking at Schwarz's history, which left the judge perplexed over why Schwarz had been driving at all.
The judge also accepted as genuine what Schwarz had said: that he valued life. But for that reason, he said, "there has to be a consequence for that, and I think you understand that." He added: "The man I heard today sitting in court would probably be unrecognizable with the man driving down A1A that day."
He has 561 days' credit, time already served at the county jail: but it's meaningless credit.
Craig imposed the sentence at 4:30 this afternoon, at the end of a day-long hearing attended by a few members of Schwarz's family, including his mother, and some two dozen Boos family members and friends, many of whom addressed the court, all of whom pleaded for life in prison.
Much of the hearing was devoted to testimonies by Boos family members who spoke of the loss of Kathy, as she was known, and Carl as a shattering event with unmending dislocations.
"My trust in God, I'm sorry, it's not there," Carl's son, who bears his father's first name, said. "I've lost my faith in God because of individuals like him." He was referring to Schwarz, who sat at the defense table and for much of the hearing glared at witnesses as they spoke, his arms crossed. The witnesses one after the other pleaded with the judge not to let Schwarz go free at any point: he faced a range of eight years in prison to life.
"You have made a lot of poor choices in your life and now our entire family, and even our community, is paying for your most recent one," Kate Boos, Kathleen's daughter-in-law, had written in a statement she delivered without addressing Schwarz directly, in compliance with court rules. "I want to see you spend the rest of your life behind bars. It would be a small price to pay for the massive loss that you have caused our family." (See the full statement as Boos wrote it below.)
Schwarz's elderly, adoptive mother testified, but with little emotion. "I'm sorry that it happened, I truly believe that it was an accident, that he didn't do it deliberately," she said. "There's something we can't control and I couldn't control any of that." She described her son's youth as "uneventful, I would say. He did well in school, made good grades, got into mischief of course, but nothing special that I can remember."
She mentioned that her husband was a Baptist minister. She did not mention that her son was gay, or the difficulties that may have entailed with a Baptist minister. Her son spoke of it when he took the stand, describing the difficulties of growing up gay in the 1960s and 70s, before society became relatively more tolerant of gays.
That wasn't the worst of it.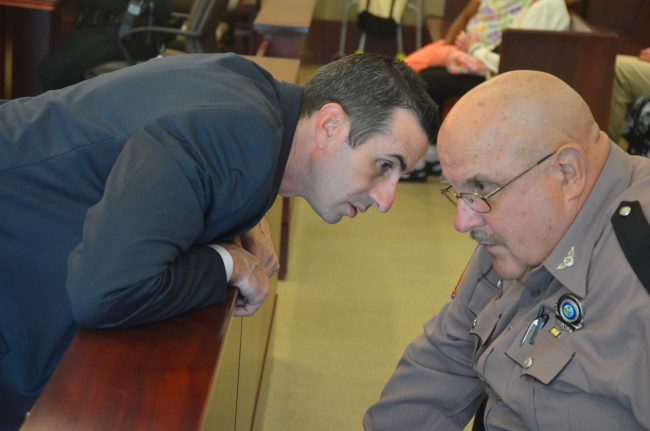 "I was a gay child and my father was a baptist minister. That didn't help," Schwarz said. "By the time I was in grade school, I went through several years where–how to put it, basically I was a victim of sexual abuse." He was in middle school. A male, "a family friend," was his molester. "Years after the fact he ended up getting arrested for the same thing, apparently it'd been going on for a number of years with a number of people."
"Did that have any effect on you at all?" his attorney asked.
"It's a dumb question to ask. It's the kind of thing that one doesn't realize immediately," Schwarz said. He started drinking, experimenting with drugs. He attributed what he termed his "sexual proclivities" to the abuse.
But of the crash, "I have the vaguest idea." He lives with extensive injuries, fractured bones from his pelvis down, his jaw, his collarbone and so on, though as he enumerated the many injuries, Boos family members could see him in flesh and blood enumerating his ills as they could not see Kathleen and Carl: "Somehow by the grace of God, I came through," he said, as someone in the audience let out an audible snort–a snort Lewis, the prosecutor, verbalized more formally.
"You're still alive though, aren't you?" Lewis asked him.
"Yes, sir," Schwarz said.
"OK. Thank you."
Before Lewis took hold of him, Schwarz had described himself as "mortified" and attempted to make amends with the Boos family.
"I want them to know I'm sorry and it just doesn't seem adequate, but I don't know how else to say I'm sorry." He then spoke from a statement. "I have always respected the life, the dignity, of every human," he said. He spoke of his caring side, whether caring for his mother or working for NASCAR, where he saw "a lot of crashes." He knew the impact, he claimed, and would not want to do the same to others.
But his words clashed with his action the night of the Boos' killings–or his rap sheet.
"I don't know why God spared you in this crash," the judge had told Schwarz. "I don't know how you survived this crash." He said maybe the reason was for him to be valuable in prison.

Kate Boos is Kathleen Boos's daughter-in-law. The following is the full statement she prepared and delivered from the witness stand. She altered it only to the extent that the court asked her to not address the defendant directly. But it is reproduced here as she intended it.
On Wednesday, March 9, 2016, I had dinner with Kathy and the family at the house to celebrate her birthday. After dinner, when everyone had left and Mark had gone to the airport to pick up Carl, I stayed talking to Kathy like I often did. I was 6 months pregnant with my first child, her 7th grandchild, and had spent the last week looking at daycares for my little one. We were talking about the pros and cons and costs of each place when she said, "Why don't I retire early and help you with him a few days a week? I'll bring the embroidery machine home, teach you how to use it and between the two of us we can do the embroidery for the shop and raise Baby Boy" (we hadn't picked a name yet). I was shocked that she would make such a sacrifice in order to help our family, but this is the kind of person Kathy was; she was willing to spend her retirement helping me raise my infant son.
Two days later I was to fly to Connecticut to see my sisters and their families, and show off my growing baby bump. I never made that trip because you decided to have too much to drink, do drugs and get behind the wheel of a car, killing my baby's grandmother, my husband's mother, the love of my father-in-law's life. Not only that, but you killed one of our favorite uncles, my father-in-law's best friend.
When July 18, 2016 came, I realized I was in labor and called Mark to come take me to the hospital. The whole ride up there I was thinking "Dammit! She's never going to meet him. This is so unfair!" After almost 24 hours of very difficult labor and against my wishes, they were getting ready to take me for a c-section since I wasn't progressing. I begged not to, so the doctor took a long look at me and said, "whoever you need to call on to get through this, you need to call on them now or we are not going to have a choice."
With that, I closed my eyes and called on Kathy to help me bring our baby boy safely into the world. Although she will never get to meet him, I am positive she was with me in that delivery room and is the reason he arrived safe and sound just a few minutes later.
Mark and I didn't know what to name our a little boy and it wasn't until he was a few days old that Mark said, "What about Collen?" We had talked about the name but hadn't settled on anything. I asked Mark why "Collen?" not understanding the change of heart and not seeing it in writing. He said "Mom's middle name is Colleen. If we drop an 'e' it makes 'Collen.'" I was sold and heartbroken.
This was not how I wanted to settle on a name and I was furious that you were the reason we were making this tribute. After a little research I found out that the spelling C-O-L-L-E-N is Welsh (which I am) and translates to 'hazel,' the color of Kathy's eyes. Now that he's almost 2 I can't imagine any other name for him. His own hazel eyes will never meet hers, and I have you to blame for that.
My son will never get to meet his Grandma. He will never get to go to Disney with his Grandma. He will never know her loving nature, her sense of fun, her playfulness, or most importantly, her strong, caring character. Kelly and David's children got to have her but our son, Mark's son, will never get to have his Grandma. He will miss out on everything amazing that she was and that her other grandchildren got to experience. No sleepovers with Grandma, no trips with Grandma, no cooking with Grandma, nothing. My husband will never get to see his mother with his child. I never even got to ask her what Mark was like as a baby. I have so many questions that I will never know the answer to because of your selfish choices.
My son will never get to meet his Uncle Carl. He will never get to go fishing with his Uncle Carl, never be able to learn fishing secrets from Uncle Carl, no Boos Fest up north with Uncle Carl, nothing.
You robbed Collen of all of this, but you also robbed Mark and I of the chance to watch our son grow up with his Grandma and uncle Carl. You robbed Bob of the chance to see the love of his life with their grandchild. Those are memories that we will never get to create.
You have made a lot of poor choices in your life and now our entire family, and even our community, is paying for your most recent one. I want to see you spend the rest of your life behind bars. It would be a small price to pay for the massive loss that you have caused our family.