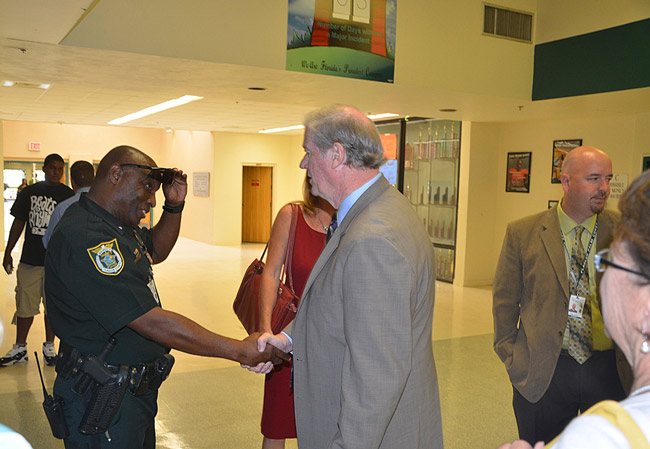 A trio of school and sheriff's officials paid tribute today to the Palm Coast City Council, which helps pay for one of the six deputies in Flagler County's middle and high schools. The $287,000 program is popular among administrators, who have come to rely on school cops for a variety of duties that extend beyond discipline. But it's become more expensive even as the number of deputies in schools has been cut.
"We could not do without these SROs in the schools," Janet Valentine, the school superintendent, told the council. "They are there with us every day in our middle and high schools and at Everest Alternative school. We would love to have one in each of our elementary schools because they are just such a help and a role model for students. But we just don't have that luxury. But without them, and them knowing what's going on in the communities and what happens in the communities, and then kids bringing that to school, it just makes it for such a much safer environment."
In 2006, the district had nine deputies in schools, paying $222,400 for the bunch. The sheriff's office picked up the balance of the cost. Over time, Flagler County Sheriff Don Fleming, under pressure to cut costs, shifted further costs to the district, which could not pay to keep all nine deputies. It reduced them to five, and last year upped the number to six, for almost $300,000. Flagler Palm Coast High School has two deputies. The figures don't include overtime costs, or the $32-an-hour cost of posting school cops at local sports events.
Last year, the deputies conducted a combined 141 classes on drug awareness, dating violence and alcohol awareness in the schools. They also use a civil citation program that gives first-time misdemeanor offenders an opportunity to stay out of the criminal justice system. Some 45 such civil citations were issued last year. The deputies also respond to issues that bubble up in the community, becoming community police officers in the balance of the time they don't spend at school. Last year the school cops—officially called School Resource Deputies, or SRDs, which many people refer to as School Resource Officers, or SROs—dealt  with matters at the public library on Belle Terre, which was a favored hang-out for small-time marijuana enthusiasts. They were instrumental in diffusing a violent situation that developed out of a fight between Palm Coast and Bunnell groups at Ralph Carter Park. They resolved chronic fights taking place on the walkers' bridge along Belle Terre, near Buddy Taylor Middle School.
The program is also helping Palm Coast by conducting stings to crack down on under-age drinking and the use of synthetic marijuana. "But I'll happily report to you, we had more citizens turn them away than made the purchases," Cpl. Don Apperson, who leads the small corps of school cops for the sheriff's office, said of students trying to get adults to buy them alcohol, while liquor store owners are also shoving off the under-age from hanging around on their properties.
Apperson, who was involved in a much-publicized incident at Matanzas High School last year—the incident that led to the return of Tasers on school cops' belts—gave the most vivid details of SROs' duties and influence on school grounds.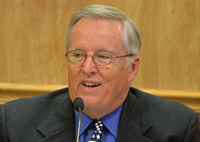 "The SRO program is based on a triad: mentor, counselor, law enforcement officer. We're expected to be those three things at all times within the school," Apperson said. "Now, if we weren't in the schools, when there are issues at the schools you're taking the guy on the zone, who's out there defending and protecting the citizens, and he's responding to the school to handle the situation there. When they respond to the school, it's a totally different attitude because they're not really6 in that mentor counselor law enforcement officer mode, they're in that law enforcement mode. So that's where we take the moment to hear them out and try to work with them, as opposed to cuff 'em, stuff 'em, onto the next call. And I'm not saying all our patrol officers are like that. That's not what I'm saying. We have more time to spend more time with the individual students, with the parents that are brought in, with the administrators, and we come together and we try to fix the problem as opposed to just  putting them in handcuffs, getting their fingerprints and putting them in the DJJ system."
Apperson added: "We have more students that come to us and report issues within their own homes or issues that they're having within the community than they're talking to their own parents, to their guidance counselors, to their teachers. There's just that trust that has been built within us that they feel they can communicate with us. Do we turn them away? Absolutely not. I don't care if you were beat up in the community. If you come to me, we're going to handle it."
Apperson went out of his way to modulate one particular council member's indictment of parents, whom he blamed for heightening the sort of problems now seeming to require the presence of cops on campus.
"What's your reaction when you deal with the parents?" council member Bill McGuire asked. "I get the impression that just as long as they take the kids to school, it's the school's problem, they don't give a flip anymore about it."
"I will tell you as a parent of children who've come through Flagler County," Apperson said, "unfortunately we're in a very bad economic time in our county, and these parents, I don't want to say they're bad par4ents, but they're working their butts off to try to make a living for their family. And you know, I'm not saying their priorities are right, but when you look at it, they may not have bosses that understand, hey, I have to go to the school because my daughter or my son's academics are suffering. I don't want to put it on the parents. There's a lot of issues that go on within our community on a daily basis." When parents do come to the school, they're very supportive of the district and the sheriff's office, but are caught up in trying to make a living, Apperson said. "Times have changed," he said.
McGuire persisted, describing an impression that "by and large, when people with problem kids bring them to school, they expect the school to be mommy and daddy, teacher, policeman, counselor, psychiatrist." He cited near-empty school board meetings, where parents are seldom in attendance as an indication of a lack of care.
Both Valentine and Winnie Oden, the principal at Everest alternative school and the district's liaison to the sheriff's office, countered McGuire's bleaker view. "We're teaching the whole child," Oden said. "There are counselors there, there are programs and support systems in place, there are mentors that come in and out." And most of the time the concerns are satisfied at the school, Oden said, which may explain the absence of parents at school board meetings. McGuire's point was also refuted indirectly later when Jim Landon, the city manager, spoke of the 2-to-1 margin of victory that ensured the renewal of the school district's sales tax referendum for 10 more years, clearly an indication of parental support.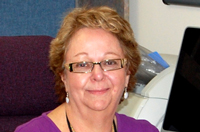 McGuire was complimentary of the district's work, but problems, he said, "make you sit back and wonder when you're my age, where did our society take a turn, because when I went to school and when my kids went to school, there weren't any cops in the schools. I'm not saying it's a bad thing, if the results are there then so be it, but somewhere along the line, we as a society in this country have dropped the ball somewhere, because things that happen in schools now are just horrifying to me."
"I have been an administrator for 11 years in Flagler County. I've tried it without school resource officers, I've tried it with school resource officers, and it's much better with the school resource officers," Oden had said earlier. "They have such a special gift, that unit, and they've been trained in a different way, that when they work with the students, the goal is really to have the child see the error of their ways, have the child rehabilitated as best that we can. It's really a uniform approach to say what is broken in this child, and then what can we do to fix it."
Jon Netts, the mayor, summed it up: "I've spent 25 years in education, I was in the classroom and as an administrator. I wish during my time in the school system, I'd had a resource like this. Bill's right. There are some parents who abdicate their responsibility. That's nothing new. That was the case when I went into teaching back in the late 60s, and it's still true today. You can't–you shouldn't turn your back on those kids."