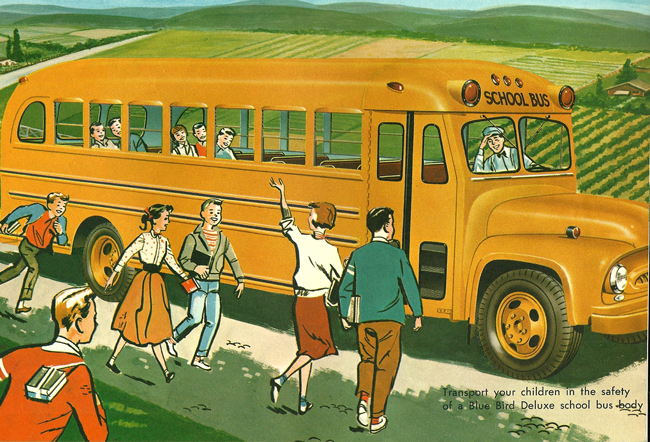 Until a few months ago, advertising was prohibited on Flagler County school district vehicles, including buses, on the district's website, in its facilities and on uniforms. That changed last fall. Faced with budget shortfalls, the school board opened the way to advertising in schools and uniforms and on almost all district-owned vehicles. But it stopped short of allowing advertising on school buses. State law forbids it, as it does in most states.
That, too, is about to change.
A bill that would make Florida the seventh state in the nation to allow advertising on school buses won approval from the Senate Pre-K-12 Committee today. It has two more committees to clear, but chances are that it will. A similar bill failed to make it out of any committee last year. This year the budget shortfalls are more severe and lawmakers are looking for every alternative to make up for more than $1 billion they're looking to eliminate from local school districts' funding.
"We're certainly interested in any revenue that might be available with the declining budget," Mike Judd, the school district's director of facilities, said Wednesday. The policy the district just approved will actually return to the board in April for some clarifications on billboards and advertising banners on school property. Neither is allowed explicitly by the policy.
The proposed law requires advertisers to pay all costs of retrofitting buses to accommodate advertising. It forbids tobacco and alcohol advertising, sexually suggestive advertising or "material that is sexual in nature" (forget those condom ads, Trojan), or ads that "contain material that is not child- and community-sensitive." It forbids school districts from endorsing or implying an endorsement of the advertising. The local school board will define how and where the ads may go and what their design may be, so long as the ads don't cover lettering identifying the bus, windows, doors and equipment. No more than two ads may be displayed at any given time.
All revenue goes to the school district, not the state, but 50 percent of the revenue must go to the district's transportation department, and 50 percent must go to the district's general revenue pot for allocation to be determined by the board.
The Flagler school district transports 11,000 students a day on 96 routes, through 1,368 bus stops, traveling 1.8 million miles in a year, at a cost of $5 million, only $2 million of which is reimbursed by the state. defraying that cost locally would help the district considerably. Michael Beauchamp, president of Alpha Media, an ad agency that manages advertising on 3,000 school buses in Texas and Arizona, told USA Today that advertising on 100 buses would generate, on average, $125,000 a year. ("Your message can now been seen on the side of a bright yellow school bus like a rolling billboard!," the company chants on its website.)
The bill is sponsored by Bill Montford, D-Tallahassee. Montford, who started his career as a math teacher, is the head of the state superintendent association and was a Leon County school superintendent for many years. The proposed law would " make absolutely sure the integrity of the school bus is not jeopardized," Montford told the News Service of Florida today. "It's actually more restrictive than the current practice of advertising on some athletic facilities."
The Flagler school district has accepted advertising at its athletic facilities, though since enacting its more permissive ad policy, no inquiries have been made by potential advertisers. School buses are a more attractive target to advertisers because the buses run twice a day, have high visibility, and travel slowly. In Flagler County, where there's not much of a public transportation system (the county's on-demand transportation fleet accepts advertising too), school bus advertising would be similar to mass transit bus advertising. New Jersey started allowing school bus advertising in January. Arizona, Colorado, New Mexico, Tennessee and Texas already do so. Florida is one of five states—Kentucky, Oklahoma, Utah and Washington are the others—considering adding the allowance.
Advertising on school buses is not as simple as it may sound. When a student newspaper in California in the mid-1980s accepted a military recruiting ad but turned down an anti-draft ad, a lawsuit followed and the school district lost when the court said that once the district accepted one type of ad, the space took on the make-up of a "limited public forum," so similar type ads had to be accepted. In December 1993, a federal district judge ruled that a Boston mass transit authority's "G-rated" advertising policy violated the First Amendment. An agency wanted to advertise a public service ad about condoms to prevent the spread of AIDS.  The authority rejected the ad. The agency, the court ruled, "cannot open its transit car doors to public service advertising and hang only its favorite posters."
Other objections to advertising on school buses have been raised, including claims that it makes buses less safe by distracting drivers and making crashes more likely. That claim has not been strongly backed by evidence. There are also objections to turning school buses into billboards and commercializing children, or turning school district into corporate-sponsored adjuncts.