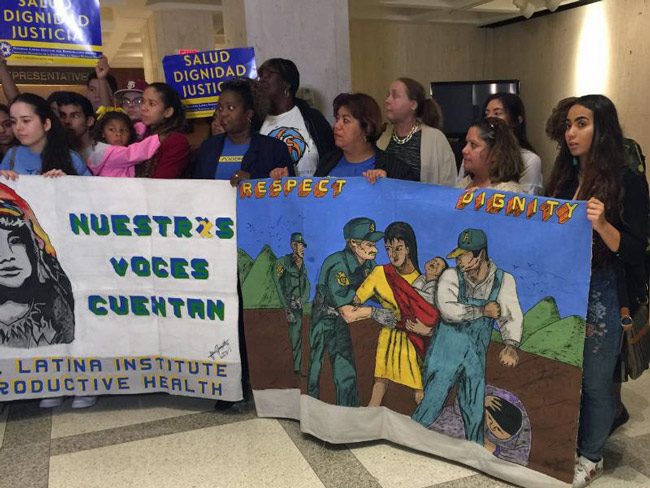 Amid a national debate about immigration reform, the Republican-dominated Florida House is poised to approve a measure banning so-called "sanctuary cities" despite the objections of Democrats, immigrant advocates and civil-rights groups.
The House debated the controversial policy for hours Thursday — day three of the 2018 legislative session, an indication of its importance to Speaker Richard Corcoran, a Land O' Lakes Republican who is mulling a run for governor.
The proposal mirrors a measure passed by the House last year, though it has been branded by critics this time around as an election-year political ploy by GOP House leaders, including Corcoran.
"This bill is not just cruel. It's absurd," Sen. Jose Javier Rodriguez, a Miami Democrat who is a lawyer, said before the House took up the proposal during Thursday's floor session.
The measure (HB 9), which likely will pass the House on Friday, would require local governments and universities to comply with federal immigration laws and would impose stiff penalties on those that declare themselves sanctuaries from immigration enforcement.
Under the measure — dubbed the "Rule of Law Adherence Act" — state or local governmental entities or law enforcement agencies would be fined up to $5,000 for each day they are deemed to be out of compliance. The bill would require complying with U.S. Immigration and Customs Enforcement detention requests and repealing current sanctuary policies.
State Rep. Larry Metz, R-Yalaha, began crafting the anti-sanctuary measure in 2015 in reaction to the fatal shooting of 32-year-old Kate Steinle in San Francisco, allegedly by an undocumented immigrant who had previously been deported. A jury last month found Jose Ines Garcia Zanate not guilty of second-degree murder charges in Steinle's death.
"How did we get to a point in the country where we have over 11 million foreign citizens in our country without any screening, without any permissive authorization to come here? What does that do to the rule of law?" Metz said before Thursday's afternoon floor session.
The House took up the issue a day after federal immigration officials raided 7-Eleven convenience stores in 17 states, including Florida, resulting in 21 arrests. The debate occurred on the same day President Donald Trump sparked outrage after reportedly questioning why the U.S. should accept immigrants from "s—hole countries" such as Haiti and African countries.
Metz, a lawyer, conceded that the state would likely be sued if the anti-sanctuary proposal were enacted. Several cities sued the state of Texas over a similar law last year.
A federal judge found that portions of the Texas law echoed in Metz's plan — including banning cities from refusing to assist federal immigration officers, prohibiting municipalities from adopting policies that limit the enforcement of immigration laws and requiring law-enforcement agencies to comply with detainer requests — were unconstitutional. A federal appeals court in New Orleans is considering the case.
"Do I believe that we could be sued? It's probably likely that we would be, because in every other instance … advocates for open borders find a way to bring a lawsuit," Metz said. "So I wouldn't expect it to be any different in Florida but I wouldn't let that chill my legislative zeal for the rule of law."
Rep. Al Jacquet, D-Lantana, said the U.S. Immigration and Customs Enforcement raids — which he pointed out did not include Walgreens or Wal-Mart — highlight concerns that the proposal could prompt local law-enforcement officials to target blacks and Hispanics.
"Can you agree that your bill has the potential of creating a major racial profiling issue here in our state?" Jacquet asked.
"No," Metz responded.
But Jacquet said the bill would give law-enforcement officers "authority to choose where to raid, and when to raid."
Metz disputed that, saying his bill "doesn't authorize or permit any raids by law-enforcement officials solely for immigration" enforcement.
He also rejected concerns that the anti-sanctuary measure would prompt local officials to launch dragnets in search of undocumented immigrants, whom Metz repeatedly referred to as "illegal aliens" or "illegals," terms the immigrant community considers offensive.
The proposal does not require state or local law-enforcement officials "to go out and hunt for illegal aliens in Florida," Metz said.
It's unclear how many Florida cities, counties or municipalities could be affected by the proposal, and it's also uncertain whether the measure has a shot in the Senate, which ignored the plan the past two years.
Senate President Joe Negron said Thursday evening he expects a companion bill (SB 308) to receive at least one vetting by a committee.
"Every official should cooperate with all of law enforcement to make sure that our laws are being uniformly enforced," Negron, R-Stuart, said.
But Senate Majority Leader Wilton Simpson, R-Trilby, said the measure is "not anything that I've spent any time and any discussion on."
"It's not something that's been put on my radar screen yet," Simpson said.
Immigrant advocates, a handful of Democratic lawmakers and Tallahassee Mayor Andrew Gillum, a Democrat running for governor, decried the proposal during a press conference outside the House chamber Thursday morning.
"Undocumented immigrants are just as American as the rest of us. They just don't have the paperwork. This bill creates two criminal justice systems, one for undocumented immigrants and one for everyone else," Rep. Carlos Guillermo Smith, D-Orlando, said during the media event, attended by dozens of Hispanic men, women and children.
Julio Calderon, campaign manager of the Florida Immigrant Coalition "We are Florida" campaign and the organizer of Thursday's event, said the proposal is a reflection of "anti-immigrant rhetoric" that blossomed leading up to and following Trump's election in 2016.
"They just keep repeating it. They think that it works. It does not work. It has not passed for a reason. We've been here in the past, for the last seven consecutive years. We will keep coming out. It will be challenged if it passes," Calderon said. "We're letting them know that we will be here as long as the end of the legislative session to make sure that our communities do not get criminalized."
–Dara Kam, News Service of Florida