Flagler County School Board member Sally Hunt may be a brilliant business woman and "a very strong, competent person," as she seems fixated on reminding us every time she's near a mic. She "booked about a million and a half in business on my own" during the campaign! Applause.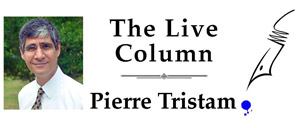 As a public official, she has problems. She has a problem with truth. She has a problem with transparency. She has a problem with process. She has a problem with judgment. And she has a problem with the law. She's also our problem.
Hunt has been a Flagler County School Board member for only four months. Newly elected officials deserve some slack. They often trip on good intentions. But they generally don't double down.
Hunt does. Rather than explain herself, she continues to dissimulate, dissemble, scheme and fabricate. The two board members elected alongside her–Christy Chong and Will Furry–have been Churchillian in comparison. They may be smiling. We shouldn't be.




Hunt's problem with the law: She has been the subject of public record requests for some of her school-business-related text communications since March 6. She has yet to comply. She's given the district various explanations. She seems to be on an endless vacation (though she has plenty of time for softball radio and newspaper gigs). She uses her cell phone for her business (who doesn't?). She doesn't trust the district to hand over her phone for a 10-minute download of the relevant texts (cue QAnon).
Meanwhile, she's flouting the law, which does not accommodate delaying tactics when it comes to producing records. Officials who flout public record laws so brazenly get sued, and lose. Hunt knows better. She's probably just delaying turning over records as long as she can, possibly because of issues coming up before the board. Of greater concern: these officials, and we've known our share, project an above-the-law attitude that usually doesn't stop with public records. Hunt's conduct in other regards is Exhibit A.
Hunt's problem with judgment: It's normal for a board member assigned to a school as its liaison to spend some time there, meeting with the principal and others. It's abnormal for Hunt to spend more than twice as much time with Paul Peacock, the principal at Wadsworth Elementary, than she has with Superintendent Cathy Mittelstadt. The liaison claim is bunk: Hunt is also assigned Rymfire Elementary. She's been there once. Either she has something against the R-Section or the gossip mill at Rymfire mustn't be as lush.
It's also poor judgment to spend so much time with a principal who has a grievance going before the board next week, as Peacock does, and who has threatened to sue the district. Hunt claims she didn't know. Watch this clip if you believe that. Giving her the benefit of the doubt anyway, it's equally dismal judgment for Hunt to rely for counsel on an administrator demoted from the district after several missteps–bargaining with the unions, the future of the Belle Terre Swim and Racquet Club, alienating the Carver Center board–and who has an ax to grind with the superintendent, as Hunt does so soon into her rookie semester. She claims she's conducting her "due diligence." Diligently duped is more like it.




Hunt's problem with transparency: She claims she wants everything in the open as far as Mittelstadt is concerned. But she's been dissimulating the extent and nature of her backroom meetings while refusing, in board meetings, either to discuss her maneuvering or explain her motives behind her undermining campaign against the superintendent. Perhaps Hunt should file a grievance: it would be more public.
She told WNZF (not her fellow board members) that she's meeting with "a lot of people, community leaders, staff, district level leaders." She won't name one, other than Peacock and Sims, and only because document requests forced that out of her. What sort of "leaders" are we talking about that deserve secrecy while playing into a school board member's decision making affecting an entire district? Hunt must like pre-Sunshine, 1950s style politics: Maybe she's going off that list of 205 names Joe McCarthy had in his breast pocket in Wheeling, W.Va. that February day in 1951. She wouldn't be the first and won't be the last politician to pull that trick.
In her (unchallenged) interview with the Observer this week, supposedly explaining her concerns with Mittelstadt, she "cited an audit showing that a large percentage of background checks were not being completed." That sounds shocking. It's also a mischaracterization at best. The paper did not ask her to explain, nor did it look into the claim, as it should have.
The claim is based on "preliminary and tentative audit findings" presented to the board in February, regarding background checks of volunteers to ensure they're not sex offenders. The audit looked into 30 volunteers (out of 424), and found that records for three of them were missing. "According to District personnel, the original searches or screening records were probably misplaced," the audit found, which is bad enough–but it does not mean the background checks were not conducted. (Auditors re-checked the three. They were not on any offender list.)




That's not to diminish the problem. Audits are there to point those out for improvements. But audits, like baseball games, are never perfect in an organization of 13,000 students, 1,800 staffers and hundreds of volunteers. There's always room for concern. But for Hunt to go nuclear on a misrepresented audit item again reflects disproportion and irresponsibility on her part. It's exactly the sort of tactics her predecessor and new fan, Jill Woolbright, used in her attacks on personnel and policies. Look for Hunt to throw out similarly de-contextualized claims at coming board meetings. But beware. Her problem with transparency makes her as unreliable as those "moms for liberty" indicting all of Faulkner on a single corncob.
Hunt's problem with process: Picking a superintendent isn't the private purview of backrooms and back-scratching. It's as elaborate a process as it gets, as it should be. It's also board members' most important public job, and by necessity it follows a rigorous process grounded in fairness.
Before hammering the last nails in Mittelstadt's coffin, Hunt has been shopping around for a replacement, without her board's knowledge or approval, eying for the job Dusty Sims, the former principal at Flagler Palm Coast High School and an old pal of Peacock's. So Hunt is sabotaging the next superintendent search before it starts, if it were to come to that. Her willingness to give anyone an inside track telegraphs to every potential applicant that board members here do things the old slimy way instead of in the open. Come on back, good ol' boys.
Arrogance or ignorance made her think none of it would be exposed. The public record requests threw her off. She lost her bearings, and pulled off that weird resignation stunt, kicking up a whole new level of absurdities she's been trying to walk back since with her little media tour of outlets she calls "trustworthy," meaning that they won't question her or pull records on her. That's given her free rein to lie.




Hunt's problem with truth: she made a phone appearance on WNZF's Free For All Friday show last week to claim that there was a day when she was "heavily contemplating a resignation," and that while "thinking about resigning" may have been newsworthy, FlaglerLive's reporting about it was just "poking the bear," in her words.
It's distasteful when reporters, bloggers, hacks–whatever you want to call us is fine with me–end up part of a story. But Hunt unfortunately chose to make me and FlaglerLive reporting part of this story. Hunt was not thinking of resigning. Nor was the reporting poking the bear.  Hunt called my office line the evening of March 9 and left a message, saying explicitly she had resigned by letter to the governor, and had done so before I had filed a public record request for some of her emails. I was covering the swearing-in of blessedly less dramatic elected officials in Flagler Beach. I called her as soon as I had the chance.
She did not answer. I texted her twice. Almost two hours later, she texted that she had "not formally resigned," calling it a "miscommunication," but not explaining further. When an elected official says in her own words that she resigned, then un-resigns and blames "miscommunication," it says something alarming about her state of mind and her equally alarming communications skills.
Reckless is perhaps a better word, the way she characterized as "harassment" on the radio my attempts to reach her–a word which, in this climate, carries connotations she knows well, and knows better than to use falsely. She did anyway, because that's how irresponsible she can be.




There was of course no harassment. To the contrary.  Two days after her "miscommunication" text, I sent her a long text asking for an interview about her contacts with Peacock and Sims, giving her every opportunity to speak at her convenience, but making clear that I would not give chase. She declined to meet that weekend. I offered any time until the middle of the following week. She did not respond. She's been fabricating stories and moping since. (As a helpful example to Hunt of how to make texts public even when they don't have to be, you can see the exchange here).
The problem with Hunt: By my count, I think I've had three actual conversations with Hunt, maybe four, two of them during the campaign, each preceded by the usual toadying typical of candidates or elected officials who think they're gaining an advantage with the hack with the pen.
The second time was when I was trying to get her to return the follow-up questions to her Live Interview as a candidate, a particularly good interview for a first-time candidate. She was telling me–in what now appears as the glimmer of a habit–that she was quitting the race. We spoke for a long time. By the end of the conversation she was pledging to respond and go on. I don't doubt it was yet more puffery when she told me (the blogger whose name she won't speak now) that I'd convinced her to stick with it. She probably said the same to a few dozen people.
Regardless: Hunt had genuinely won our admiration back then, even more so when she pulled off her win. Her bizarre turn has nothing to do with party politics–I could care less what Democrats think of her or what she thinks of Democrats: partisanship and ideology are irrelevant here–but with her behavior.
She's been freelancing not as the interesting centrist, maverick, essential school board member we thought we were getting, but as a rogue astride loose cannons, jeopardizing the stability of an entire district on suspect counsel while playing the victim. But she can't take credit for winning her race without taking blame for mucking it up since. She alone did both.
Which means it's still her choice: return to form, or keep mistaking her school board seat for Hunt's magic fiefdom. The choice is hers. The consequences won't be. She'll either lift this district or drag it down. Right now it's not looking up.